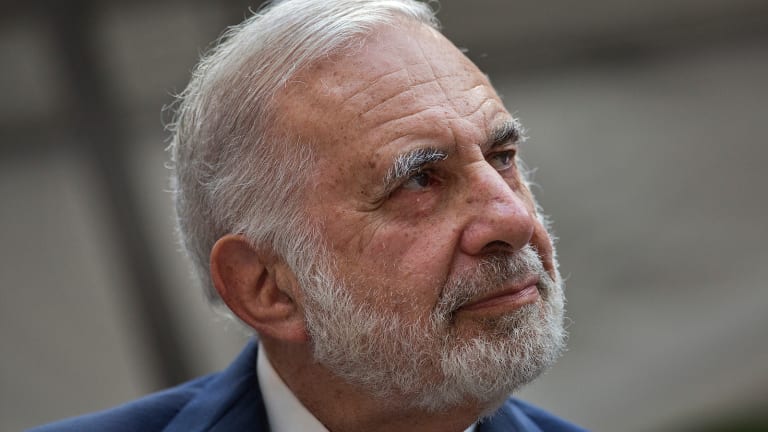 What Will Carl Icahn Do Now That Xerox and Fujifilm Are Combining?
The deal, if approved, would keep Xerox CEO Jeff Jacobson in as chief executive, even though Icahn has said he is 'incapable of creating long-term value' for shareholders.
Xerox Corp.'s (XRX) - Get Xerox Holdings Corporation Report deal reached early Wednesday, Jan. 31, with Fujifilm Holdings Corp. (FUJIY)  to combine the two companies and their longstanding Fuji Xerox joint venture puts the ball in the court of corporate-raider-turned-activist Carl Icahn.
There is no doubt the deal was announced, at least partly, in response to a battle Icahn launched last month, seeking to install a minority slate of four dissident directors to the company's 11-person board. Icahn and Xerox's third-largest shareholder, Darwin Deason, earlier this month joined forces to form a group targeting Xerox, its CEO Jeff Jacobson, and its joint venture with Fujifilm. In an interview with TheStreet, Icahn had argued that Jacobson hasn't performed well during his roughly one-year tenure at the helm of Xerox and that his boardroom battle was instigated in part to oust Jacobson from his job.
That's why it is likely that Icahn will not be pleased that Xerox and Fujifilm have agreed to install Jacobson as CEO of the combined company. In a conference call with analysts, Jacobson said Xerox officials haven't talked to its largest shareholders on the merger. "We only know what we read at this point," he said.
According to people familiar with the situation, Icahn is studying the deal, waiting to see further disclosures and evaluating his options. His initial reaction is that Fuji underpaid and that Xerox shareholders should have gotten a much better price when considering the synergies between the two companies, the people said. A key question involves what protections Xerox shareholders will have after they become 49% holders of the new Fuji Xerox, they added.
Nevertheless, Icahn has yet decide whether to press ahead, and early indications suggest that shareholders are supportive of the deal, with Xerox's share price rising about 4% to $34.13 a share in trading Wednesday. It is possible that Icahn will ultimately conclude that the deal provides enough value to Xerox shareholders that a campaign to block it is not necessary.
On a call with Xerox executives, analysts applauded Jacobson on the combination. As part of the deal, Fujifilm will own 50.1% of Xerox shares. Under the terms of the agreement, Xerox shareholders will receive a $2.5 billion special cash dividend, or about $9.80 a share, funded from the combined company's balance sheet, and own 49.9% of the combined company at closing. The cash dividend represents a 30% premium to Xerox's unaffected share price of $30.35 on Jan. 10 before the reports of a possible deal surfaced.
One analyst, Shannon Cross of Cross Research, suggested on the call that Xerox shareholders will receive about $50 a share in value, when considering the $9.80 a share cash dividend, $12 a share in effective benefits from synergies Xerox expects to receive over the next few years from the combination and a 49.9% stake in a company, Fujifilm, which generated about $2.6 billion in Ebitda in 2017.
Jacobson, on the call, defended the combination, suggesting that the combined companies will "create a global innovation powerhouse," which will be dramatically stronger than either company on their own, partly because it removed duplicative costs related to research and development spending and corporate functions and it will consolidate both companies' supply chains to improve their global distribution. The two companies are expected to begin a $450 million JV cost reduction program immediately.
The deal, if approved, is expected to set up six innovation labs, bring together more than 6,600 engineers and cumulatively have almost 11,500 patents. He added that the combined company is expected to produce $1.5 billion in free cash flow by 2020 and that the combined company will maintain an investment grade rating.
Nevertheless, Icahn and Deason could launch a campaign to block the merger if they aren't happy with the value for Xerox shareholders. The deal requires a vote of Xerox shareholders, which is expected to take place before it is set to close, expected in the second half of 2018. As a result, it is a possibility that Icahn shifts his campaign to one that pushes other investors to block the deal. Icahn has campaigned successfully to block deals in the past -- he just recently succeeded in pressuring oil and gas company Sandridge Energy Inc. (SD) - Get SandRidge Energy Inc. Report  to cancel its proposed $746 million acquisition of fellow Rocky Mountain region oil producer Bonanza Creek Energy Inc. undefined .
Also, Icahn and his partner, Deason, who together own 15% of Xerox, earlier this month issued a statement suggesting the company should terminate or renegotiate the joint venture in light of a recent accounting scandal. According to reports in June, Fuji Xerox, the joint venture, said that due to losses from accounting problems in the South Pacific, it had overstated revenue by about $340 million.
Both Icahn and Deason have argued that the joint venture with Fuji is opaque and should be disclosed immediately and that Xerox should find advisers to help it explore alternatives, which could include a sale of the whole business.
However, it is unclear whether the deal announced Wednesday would provide any clarity around the joint venture or appease Icahn.
Alternatively, Icahn could decide that the combination's structure has enough positive elements for Xerox shareholders that a campaign to block the deal isn't necessary.
The combined company will bring in five independent directors from Xerox to a 12-member board. The remaining seven will be appointed by the Fujifilm board. Shigetaki Komori, Fujifilm's chairman and CEO, will become the company's chairman.
Mitsubishi UFJ Morgan Stanley Securities Co. Ltd. and Morgan Stanley are providing financial advice to Fujifilm. Morrison & Foerster LLP is acting as the company's legal counsel. Centerview Partners LLC is Xerox's financial adviser, and Paul, Weiss, Rifkind, Wharton & Garrison LLP partners Robert Schumer, brother of Senate Democratic leader Chuck Schumer, D-N.Y., and Ariel Deckelbaum are providing advice to Xerox.
Robert Schumer previously advised the Xerox board on its separation of the company into two public companies. He also advised Xerox's board on its settlement with Icahn in 2016. --Lisa Botter contributed to this report