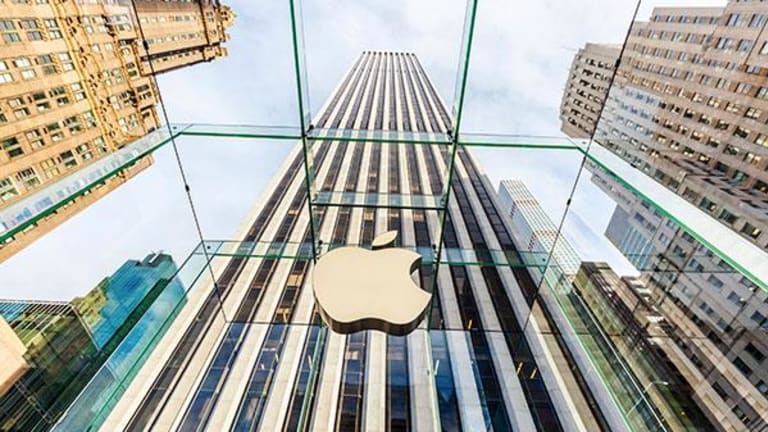 What Will Apple Do With All That Cash?
Apple has more cash than any other company in the world, but it has not made any big investments since its $3 billion acquisition of Beats by Dre in 2014.
Apple (AAPL) - Get Free Report , a key holding of the Action Alerts PLUS portfolio, is the king among a growing crowd of businesses that have been hoarding cash since just before the Great Recession. All told, non-financial U.S. companies held $1.7 trillion in cash in 2015, about double the amount held in 2007.
Tech companies make up the vast majority of these holdings, with four companies in the field among the top five cash hoarders: besides Apple, Microsoft (MSFT) - Get Free Report , Google (GOOGL) - Get Free Report  and Cisco Systems (CSCO) - Get Free Report  are awash with cash, too. The tech sector accounted for a record 46% of total cash in 2015, up from 41% a year earlier. 
Apple held about $215.7 billion at the end of last year. It has kept the cash, short-term and long-term investment crown it has held since 2009, according to Moody's. However, most of that money is stashed overseas, so as to not be taxed at the U.S. 35% corporate rate. 
That cash pile is equivalent to the market cap of Disney (DIS) - Get Free Report , or the GDPs of either the Czech Republic or Peru. Apple could hand every U.S. citizen a check for $632, that's how big its cash pile is. But despite this, earlier this year Apple took on more debt, issuing bonds that mature as soon as 2018 and as late as 2046.
With enough cash on hand to fund 275 round trips to the moon, the question is, what is Apple going to do with all that money? 
The most obvious thing would be to go shopping. An Apple executive raised the possibility of buying entertainment giant Time Warner (TWX) during a meeting between the two companies earlier this year, according to a report in the Financial Times. However, the meeting did not feature Apple CEO Tim Cook or Time Warner CEO Jeff Bewkes and the talks never passed the preliminary stage, according to FT's report. 
There have also been persistent rumors that Apple is considering buying Netflix  (NFLX) - Get Free Report .
"Several bankers said Apple was more likely to go after a streaming company such as Netflix than a pure content player," the May FT report stated. The time to buy the company would be now. While Netflix was able to top Wall Street's earnings estimates for the quarter -- 9 cents vs. the 2 cents per share expectated -- it missed badly on subscriber growth estimates. 
However, Real Money's Jim Cramer believes that Apple missed its window to purchase the movie streaming service, and the $35 billion company is now too expensive for Apple to purchase. 
For a while, it looked like Apple was all in on developing a self-driving car by the end of the decade, but according to a Bloomberg report, the company is now mainly focused on developing the autonomous driving system as opposed to an actual vehicle. Project Titan appears to still be in the works, but an iCar does not look to be in the cards. 
In May, Apple invested $1 billion in Chinese ride-hailing service Didi Chuxing, which in turn is acquiring the Chinese operations of rival Uber. The company reportedly had also been in talks to acquire Uber competitor Lyft. During its earnings call last month, CEO Tim Cook said that making cash investments in companies has been rare in the past, but it's something he would consider doing again in the future. 
Thinking outside the box, Apple could go into space, like Amazon (AMZN) - Get Free Report CEO Jeff Bezos' Blue Origin and Tesla (TSLA) - Get Free Report CEO Elon Musk's SpaceX aerospace companies.
Or, Cook could always give some of that money to Kanye West. 
Kanye has been extremely vocal in his request that Apple purchase music streaming service Tidal, of which West is a minority owner. 
Kanye's prodding isn't completely out of left field, as Apple purchased music streaming service and headphone maker Beats Electronics for $3 billion -- its largest acquisition ever -- in August 2014. 
The fruits from that investment have not been fully realized yet, though the company did report an increase in paying subscribers to 13 million from 11 million in the previous reporting period. Spotify still has a stranglehold on the music streaming market however, boasting 30 million paying subscribers. Tidal has about 3 million subscribers as of April. 
Whatever the case, Apple has a lot of money to spend, and the time has come for it to open its wallet. With revenue growth slowing amid faltering iPhone sales, a splashy but prudent investment could help the stock get back to 2015 levels. 
Editor's Note: This article was originally published on Real Money at 10:45 a.m. on Aug. 26.
Employees of TheStreet are restricted from trading individual securities.
Action Alerts PLUS, which Cramer co-manages as a charitable trust, is long AAPL, GOOGL and CSCO.