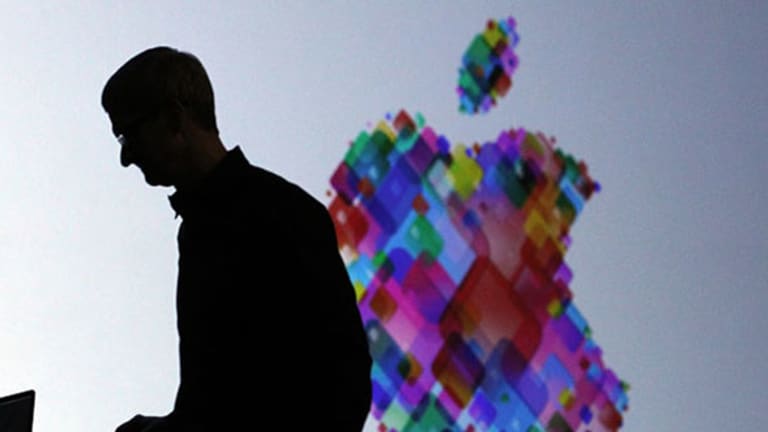 What Will an Apple Electric Car Mean for the Company?
An iCar would be bigger -- in more ways than one -- than any product Apple has produced. It's a risky move.
NEW YORK (Real Money) -- Apple (AAPL) - Get Apple Inc. (AAPL) Report product lovers received quite an interesting piece of information Monday. According to The Wall Street Journal: "Apple Inc. is accelerating efforts to build an electric car, designating it internally as a 'committed project' and setting a target ship date for 2019, according to people familiar with the matter."
The story pushed Apple shares from $114.18 to close at $115.21 Monday. The shares fell back to the $112 range in midday trading Tuesday.
On its face, Apple entering the electric-car race firmly plants the company in the next battleground of the Connected Car. It also reminds us that even though Apple has brought a number of software innovations to market, first and foremost it is a product company.
Personally, I believe the automotive industry and how we go about buying cars -- from dealers, not the company directly -- is an aged business model and one that simply screams for a change. How I hate having to deal with the salesperson only to then encounter the managers, all the while being told how great a deal I'm getting even though it sure looks like I'm going to be spending more than I thought I would. Ugh!
Now here comes the "buts."
An Apple Car, the iCar, or whatever they wind up calling it, will be a far bigger price point product than Apple has ever had. Moreover, Apple has been a premium product company, and in some cases an aspirational one, that has allowed it to avoid, at least so far, the pain of the maturing smartphone market and crowded tablet market.
The upgrade cycle for Apple's products ranges from almost every two years with the iPhone to several years for its Macs, with the iPad falling somewhere between the two for most people. By comparison, the average age of the typical car on the road in the U.S. is a record-high 11.5 years old, according to a new IHS Automotive survey.
Entering the automotive industry raises a number of questions. As much as it likes to control the consumer experience, will Apple build its own stores and service centers like Tesla (TSLA) - Get Tesla Inc Report has, or will it instead look to partner with existing dealers? Given my experience at car dealerships, I would bet Apple would look to build its own store network for the Apple Car. That alone raises all sorts of capital usage questions given that a car dealership with service center is far bigger in size and requirements than most Apple Stores.
What will this do to Apple's profitability? Looking at Tesla, which continues to post operating losses, the 2% to 5% operating margins "enjoyed" by General Motors (GM) - Get General Motors Company (GM) Report, Ford (F) - Get Ford Motor Company Report and other automotive companies pale in comparison to the 28% to 32% operating margins that Apple has delivered of late. While Apple will likely mimic Tesla's staged model introduction, which echoes its limited product portfolio strategy for its iDevices, that means the Apple Car will be a high-end product with what will likely be modest volumes to all those Apple early adopters until the product hits a mainstream price point.
At least for a period of time after the Apple Car is introduced, it's likely to be a drag on the company's margins, profits and earnings.
Apple is not expected to bring its electric car to market for a few years, so much of this conjecture is moot for the next 12 to 24 months. While that gives Apple some time to put all these pieces together, it also means that for a good while longer its recently updated product portfolio will be driving revenues, profits and earnings. I may have questions about Apple's car strategy and what it means to the business, but I am rather comfortable with the company's product portfolio in the short and medium terms.
Even so, if the WSJ article is accurate, I wonder how long it will be until Apple decides to build homes as it targets the Connected Home? Look out Toll Brothers (TOL) - Get Toll Brothers, Inc. Report! #Sarcasm.
This article is commentary by an independent contributor. At the time of publication, the author held no positions in the stocks mentioned. Versace manages a portfolio that owns shares in AAPL.
Follow Chris Versace on Twitter and Facebook.