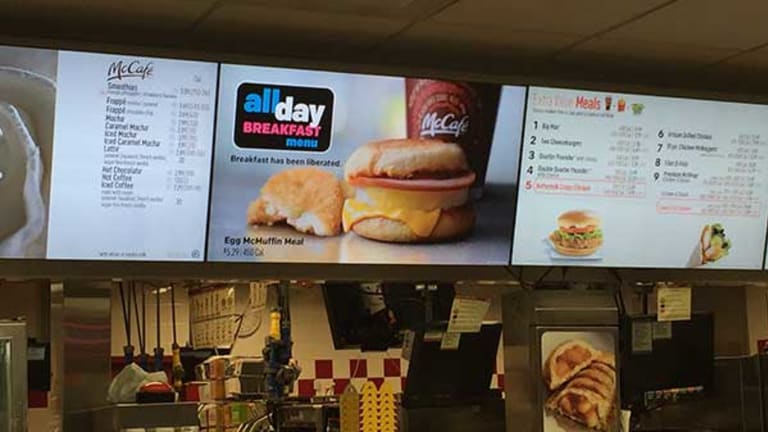 What We Learned from Ordering a McDonald's Egg McMuffin at 8 P.M.
Luckily for struggling McDonald's, its signature breakfast sandwich tastes just the same at night as it does in the morning.
NEW YORK (TheStreet) -- An Egg McMuffin purchased at night from McDonald's (MCD) - Get McDonald's Corporation (MCD) Report  tastes just the same as one ordered in the morning, and that's good news for the struggling Golden Arches.
This week, we took advantage of McDonald's new all-day breakfast availability that went live nationwide on Tuesday. After walking past the barrage of signs promoting all-day breakfast in the drive-thru lane and in the restaurant entrance, we placed an order for a single Egg McMuffin.
Although we had mild concerns that the signature breakfast sandwich would come out smelling and tasting like McDonald's burger grease, we kept an open mind while waiting in line at a location in Islip, New York. After all, McDonald's has been testing all-day breakfast in some parts of the U.S. since March in order to get any kinks out in the prep process.

Your local McDonald's is now likely overrun with ads for all-day breakfast.
A timer on our Apple Watch was set to see if buying an Egg McMuffin in the evening amid jam-packed drive-thru lanes of folks ordering Big Macs and fries would be slower than in the morning.
"I love that we have all-day breakfast now, people are actually showing up for it," said an excited McDonald's worker hanging around the register. About four minutes and thirty five seconds later, out came a smiling McDonald's server with an Egg McMuffin in a brown bag. It took about a minute longer to receive our order compared to one placed in the morning for the same sandwich, somewhat disappointing given the simplicity of an Egg McMuffin.
The slowness may have been a function of McDonald's employees also handling busy drive-thru orders alongside interest inside the restaurant for breakfast food.
The cost for this experience: a pricey $3.90, with none of the frequent discounts offered onEgg McMuffins in the morning. 


A McDonald's breakfast sandwich eaten at a dinner table.
To our surprise, the sandwich resembled what we have occasionally ingested before 10:30 in the morning, which is when McDonald's used to stop serving breakfast -- a round egg, a slab of ham, gooey American cheese, and a crispy, lightly blackened English muffin. The sandwich was piping hot, a reminder that McDonald's is going through great lengths to ensure its food is hotter than ever before (it's almost too hot now, the heat from the Egg McMuffin cutting right through the thin yellow wrapper).
The rather pleasant experience bodes well for McDonald's as it seeks to improve declining sales in the U.S. by tapping into an affinity for its breakfast menu of egg sandwiches, hashbrowns and pancakes. The company's breakfast offerings have continued to perform well, currently representing about 25% of McDonald's U.S. sales before all-day availability was launched.
"Breakfast remains very resilient," said McDonald's CEO Steve Easterbrook on the company's Aug. 12 earnings call. McDonald's central U.S. division, which has emphasized breakfast promotions, delivered same-restaurant sales and traffic that outperformed the U.S. division's 2% drop in the second quarter. According to a McDonald's spokesperson, the response to all-day breakfast so far has been "incredible."

An Egg McMuffin in the evening looked and tasted just like one sold in the morning.
The real question is whether once the novelty of all-day breakfast availability wears off, will efforts to promote value, improve service and make its food hotter be enough to turn around waning sales in the U.S., where same-restaurant sales have fallen for an alarming seven consecutive quarters. 
Easterbrook concedes that the jury is still out. "I believe we are making the right moves to begin to stabilize the U.S. business, but there is no silver bullet -- no one move will turn a business that's been in decline for nearly three years."