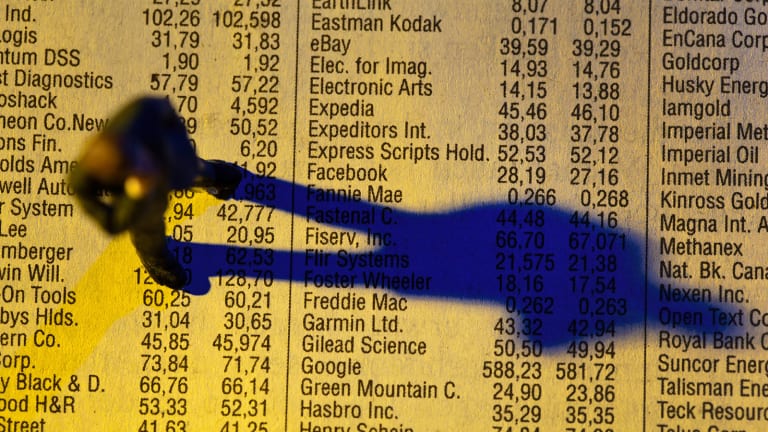 What U.S. Jobs Data Tell Investors : Stay in European Stocks
Capital flows over the past few weeks have shown investors shifting out of the U.S. into European stocks and bonds.
NEW YORK (Real Money) -- The euro promptly fell around 1% to $1.11 after U.S. nonfarm payrolls beat expectations, coming in at 285,000 jobs in May vs. forecasts of just 225,000.
This confirms hopes that the U.S. recovery is on track but it also re-ignites market speculation that the Federal Reserve will opt for a rate hike sooner, rather than later.
European bond yields, already volatile due to a combination of low liquidity and higher-than-expected inflation for the eurozone for May, increased after the data, with Bund yields trading around eight basis points higher at 0.9%, French yields at 1.2%, Italian bonds at 2.2% and Spanish bonds at nearly 2.2%.
The 10-year U.S. Treasury yield recently rose by 11.3 basis points at 2.42%. European stocks were little changed, with the U.K's FTSE recently down 0.8% and France's CAC and Germany's DAX down 1.55%.
A Fed rate hike looks increasingly likely, but by contrast the European Central Bank will keep purchasing bonds at the pace it promised or will even increase its quantitative easing to ensure a sustained recovery in the single currency area.
Therefore, investors should maintain exposure to eurozone stocks, which had the best earnings in a long time in the first quarter. Capital flows over the past few weeks have shown investors shifting out of the U.S. into European stocks and bonds.
Recent data in Europe showed Italy, Spain and France were on the mend, with job creation in these countries faster than in Germany's, so it looks like Italian, Spanish and French companies will benefit substantially from ECB QE.
Within the eurozone equity space, investors should rotate from consumer staples -- which were favorites at the beginning of the ECB's QE -- to other sectors, analysts at French bank Societe Generale say.
This is also because European consumer staples have a tendency to underperform when the U.S. 10-year Treasury yield increases, a tendency that will continue when the Fed starts a new rate hike cycle, according to the analysts.
The European financials, technology hardware and construction sectors are strongly correlated with the U.S. 10-year yield, therefore they are likely to outperform as the yield rises.
The euro's exchange rate is likely to remain weak vs. the dollar (something that will please ECB President Mario Draghi, no doubt), and the sectors that benefit the most from a weak euro are of course those with costs in euros and sales outside the eurozone.
Among these, Societe Generale's analysts list durables and luxury goods, aerospace and defense, capital goods, and semiconductors. They also upgraded their view on food products to neutral from underweight, with the food sector supported by the weaker euro that could trigger some mergers and acquisitions potential, and by the recovery in the eurozone.
Among the sectors that tend to underperform when the euro weakens they quoted steel, metals and mining, utilities, construction, oil services, chemicals and telecommunication services.
Editor's Note: This article was originally published at 9:05 a.m. EDT on Real Money on June 5.