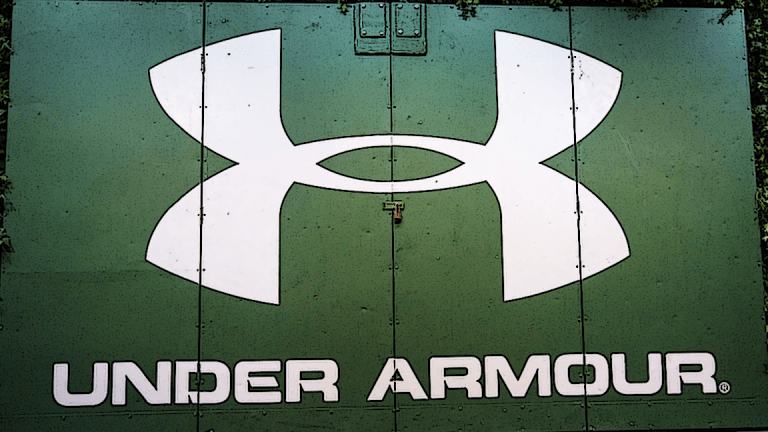 Under Armour's Founder Reveals a Big Secret That Explains Brand's Bad Year
Cramer says Kevin Plank's comments represent 'the beginning of when you want to buy the stock.'
Cramer says Kevin Plank's comments represent 'the beginning of when you want to buy the stock.'
Jim Cramer says CEO Kevin Plank of Under Armour (UA) - Get Report admitted that he "lost focus" and let the formerly hot athletic-wear company's performance slide -- a confession that Cramer said represents "the beginning of when you want to buy a stock."
Cramer said that after he recently criticized Under Armour on CNBC, Plank called and said: "'You're right, I lost focus. ... I apologize. I didn't do it right.' It makes me intrigued when you have a guy who recognizes what he did."
Cramer added that when Plank sent him a bottle of high-end rye whiskey made by a company the Under Armour CEO operates on the side, "I sent back a note saying: 'I thought you were making Under Armour.' He lost focus. [And Plank replied]: 'I'm done. I'm not going to make anymore rye.' And I said, 'Listen, I'm going to go out and say that that's the beginning of when you want to buy a stock.'
Under Armour shares have shed nearly two-thirds of their value over the past year, falling from an intraday high of $33.45 in December 2016 to as low as $11.40 in October. 
Cramer said rival Nike (NKE) - Get Report has "really crushed" Under Armour, which he said demonstrates an important lesson for investors -- always watch a company's competitors.
"People should understand that when they buy an individual stock, they should be thinking about the competitors, because nobody [operates] in a vacuum," Cramer said.
More Trading Strategies
You can watch our entire November Trading Strategies roundtable here.
Or, check out our special November Trading Strategies section, where you can read: