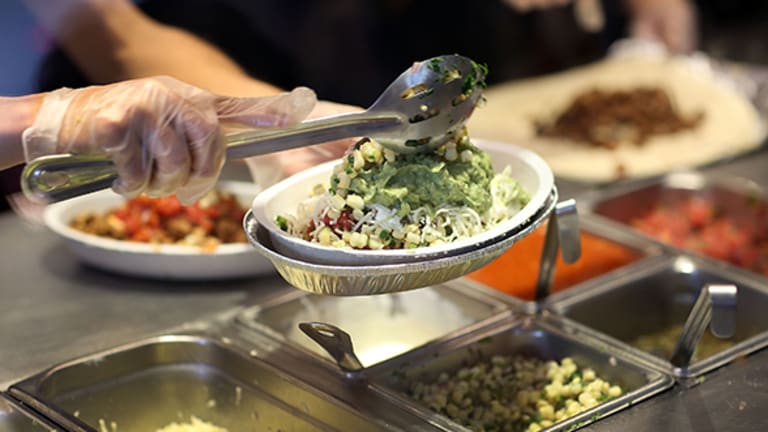 What to Watch This Week: Can Chipotle Redeem Itself?
More than 20% of companies in the S&P 500 are set to release earnings this week, but these are the ones we're focusing on.
More than 20% of companies in the S&P 500 are set to release earnings this week, but these are the ones we're focusing on. First, online giant Alphabet (GOOGL) starts off the week, reporting after Monday's close. Troubled fast-casual restaurant chain Chipotle Mexican Grill (CMG) and even more troubled Yahoo! (YHOO) on Tuesday. Then midweek, we hear from Comcast (CMCSA) , Mondelez International (MDLZ) and General Motors (GM) . On Thursday, Occidental Petroleum (OXY) , Credit Suisse CS and Philip Morris International (PM) will report. Finally, we end the week with Tyson Foods (TSN) . (Alphabet, Mondelez and Occidental are all holdings of Jim Cramer's Action Alerts PLUS portfolio.)
All eyes will be on Chipotle when the Mexican restaurant chain reveals its fourth quarter 2015 results. Analysts are calling for earnings of $1.86 cents a share on revenue of over $1 billion. Both the top and bottom line are expected to fall from a year ago. We already know this because the company issued a profit warning earlier this month, reflecting the sales declines linked to  E. coli and norovirus outbreaks traced to its restaurants. So far, a noticeable percentage of its consumers have been hesitant to eat there again. Going forward, investors are wondering if Chipotle can restore its formerly strong reputation.
Scott Berman, a portfolio analyst for TheStreet, said, "As a consumer, I personally would eat at Chipotle. I know that the majority of the issues have been in the Pacific Northwest, and I know that management in really on top of trying to fix these issues. Now, to that light, the company is closing down its stores on Feb. 8 to address this issue, and I really think on the upcoming earnings call, investors are going to be looking for their outlook moving forward and whether or not this is going to be a long-lasting issue or whether it can be fixed quickly."
On the economic calendar, we'll kick off the week with personal income and outlays, and the ISM manufacturing index. On Tuesday, we';l see the motor vehicle sales report followed by the ADP employment report. And toward, the end of the week we get the new jobless claims, the employment situation, and international trade numbers.