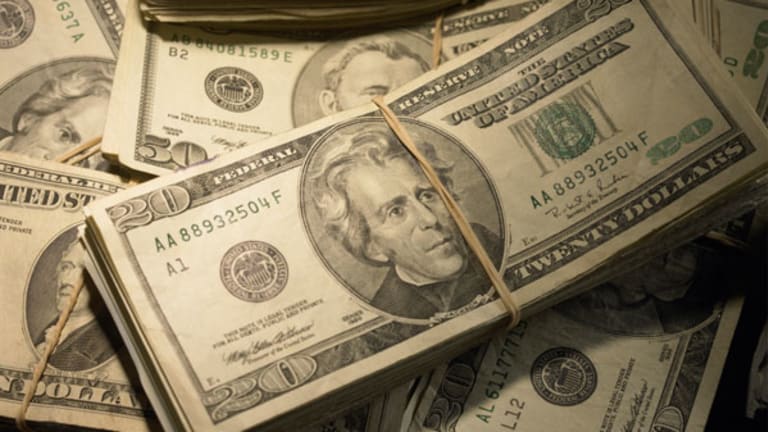 What to Watch for in 2013
Jim Cramer, Doug Kass, Stephanie Link and the rest of Real Money offer their stock and bond market predictions for 2013.
Editor's Note: This is an excerpt of an article originally published on Real Money on Dec. 4. Sign up for a free trial of Real Money to see predictions from Jim Cramer, Doug Kass, Eric Jackson and the rest of the Real Money team.
We are coming up fast on the end of 2012, so it's time to think long and hard about what the coming year will bring for investors. Here at Real Money, contributors are brimming with market predictions, economic musings and stock picks for 2013 -- and you'll find a number of choice ones here. Below are individual stock recommendations for the coming year, general market predictions, currency insights, thoughts on the bond market and more.
----------------------------
Stephanie Link: Stock Pick
The industrial space has been been one of the worst-performing groups in 2012, largely due to the global macroeconomic slowdown and uncertainties around the U.S. fiscal cliff. But diversified industrial firm Eaton (ETN) is one name that has bucked the trend, with shares having climbed more than 18% year to date. Over the last decade Eaton has transformed itself from a cyclical truck-and-industrial equipment maker into a power-management company with an emphasis on energy-management solutions -- an area that has seen strong secular growth as companies have tried to deal with rising energy costs and the need for more efficient equipment. It holds either the No. 1 or No. 2 position in each market that it serves, thanks to its 50-plus acquisitions and 10 joint ventures since 2000.
While the stock has been one of the stronger performers in the group year to date, I think 2013 will set up in an even better fashion, given the soon-to-be-closed Cooper Industries (CBE) acquisition and the synergies that this will bring. Cooper makes a variety of electrical equipment, and the buyout is a direct play on nonresidential construction -- an area I like within the industrial segment. Its end markets include industrials (with customers here as blue-chip as they come), along with utilities and a commercial segment.
The $11.8 billion deal -- the largest on record for Eaton -- will really transform the company. For one thing, the combined entity will have a good mix of early-, mid- and late-cycle businesses, which stands to smooth out Eaton's earnings base. That should raise the stock's multiple from the current 11x forward earnings, and bring it closer to the 13x average for the electrical/conglomerate group. The Cooper acquisition also gives Eaton more North American exposure and, most important, it marries two industry leaders with complementary electrical businesses. At the same time, it is consistent with Eaton's strategy to expand in this higher-margin, faster-growing segment.
Cooper brings $5.4 billion in sales and carries 14% operating margins, and the combined company will enjoy broad-based end-market exposure in the right areas, with the ratio of electrical-and-aerospace sales to rise substantially as we see a decline in the percentage of auto, truck and hydraulics revenue. In 2013 I expect electrical will benefit from continued improvement in construction and from a reacceleration in power-quality markets. Aerospace should find support in aircraft-replacement and maintenance demand -- and autos, with a 2-percentage-point decrease in total revenue share, should benefit from new products and technology to improve vehicle fuel economy.
Synergies are expected to be earnings-accretive by $0.35 per share in 2014, with dime-a-share climbs anticipated in both 2015 and 2016 -- and management is likely to exceed those targets, given its strong M&A track record. Eaton recently reiterated its 2011-to-2015 financial goals, which include 12%-to-14% sales growth, 20% compound earnings growth, healthy margins and free cash flow, and nearly one-third of revenue to be derived from emerging markets. With CEO Sandy Cutler running the new company, I expect continued strong execution in achieving these goals.
----------------------------
Roger Arnold: Bond Forecast
U.S. bank loan growth has been anemic of late, having come in at about 1.25% annually since the recession ended in June of 2009, even as the Federal Reserve has engineered the lowest cost of debt capital in history. Lenders are not lending, and borrowers are not borrowing. I expect the Fed to respond to this lender/borrower malaise with another round of QE that will focus on rapidly lowering long-term U.S. Treasury yields and loan rates by an average of 50 to 100 basis points. That implies a 10-year Treasury yield of 1%, a 30-year bond of 2% and a 30-year mortgage of 2.5%.
----------------------------
Helene Meisler: Stock-Market Forecast
If we forget the fiscal cliff and just look at a weekly chart of Nasdaq, we see that this current rally looks as though it should form the right shoulder of a head-and-shoulders top.
​
It ought to take a few more weeks for the Nasdaq to rise toward the underside of that black uptrend line -- which, at present, comes in around 3100. That is essentially the same level where the left shoulder has formed. That would make the chart very symmetrical -- too perfect, perhaps -- but this is the general picture I see. If the indicators fail at lower highs, as I expect they will do, that could coordinate with the right-shoulder formation when the oversold rally is done.
--------------------------
Get more
2013 stock market predictions from Jim Cramer
and bookmark our section on
(updated frequently).
At the time of publication, Khan had no positions in the stocks mentioned.
Prior to joining the Premium Services team at
TheStreet
as deputy managing editor, Kamal Khan worked as a news editor at
CNBC
in London. Before
CNBC
, Khan worked at
MSN Money
and
CNNMoney.com
. He has a bachelor's degree from the University of Virginia and a master's degree in journalism from Columbia University.