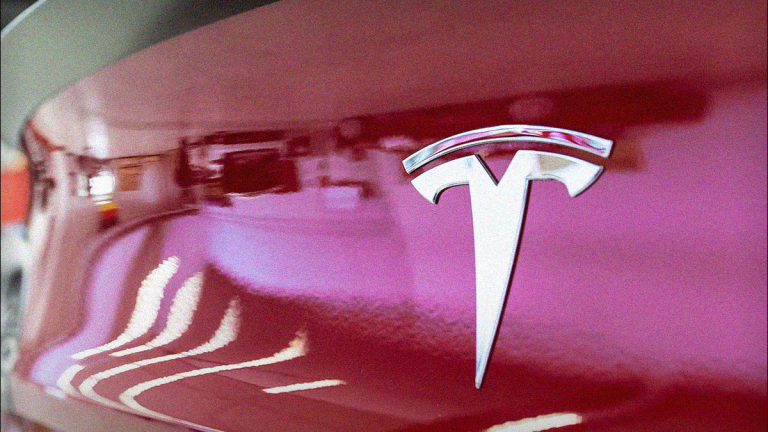 Tesla Stock Flirting With Major Breakdown After Its Big Earnings Miss
Tesla stock is clinging to support after a dismal quarter. Will this finally break the stock?
On Wednesday after the close, Tesla (TSLA) - Get Tesla Inc Report reported fiscal first-quarter earnings, and boy, even the bulls are having a tough time spinning this one in positive light.
Just a few quarters after Tesla churned out a record profit once it began delivering on its massive Model 3 backlog (not that the bar was all that high), CEO Elon Musk was confident on forward profits. After reporting fiscal Q3 earnings in late October, Musk said he believes Tesla can be profitable and cash flow positive in the quarters to come, with the exception of one-time events, such a large debt payment. 
The disappointing first-quarter results can be rationalized by a bevy of explanations, ranging from debt repayments to logistic headaches shipping the Model 3 to Europe and China. Ultimately though, it's disappointing to see revenue of $4.54 billion miss expectations by more than $600 million and for a GAAP loss per share of $4.10 come in almost twice as bad as the consensus estimate. Tesla's non-GAAP loss of $2.90 per share was far worse than the loss of 94 cents per share analysts were expecting.
Cash fell from $3.7 billion in the quarter to $2.2 billion, with a $920 million convertible debt payment acting as the largest draw on that balance. In all, Tesla lost more than $700 million in the quarter and had an operating loss of more than $520 million. All of the top takeaways can be read here, but at the end of the day, it's a good thing Tesla had a strong second half in 2018 to buoy itself for this difficult start to 2019.
Musk says he expect a "significantly" smaller loss in the second quarter and a return to profitability in the third. Still, this is not what the bulls had in mind six months ago when the company was basking in its newfound profitability.
It's always been the case, but Tesla is very much proving to be a "show me" stock. While it may have superior electric vehicles to General Motors (GM) - Get General Motors Company (GM) Report , Ford (F) - Get Ford Motor Company Report , Toyota (TM) - Get Toyota Motor Corp. Sponsored ADR Report , Volkswagen (VLKAY) (VLKAF) and seemingly every other automaker out there, it has badly lacked consistency.
Ranging from material tweets from its chief executive to giant swings in its bottom line, Tesla has been all over the map. The Model Y, Semi and Gigafactory 3 in Shanghai all sound great. But when the company is as inconsistent as Tesla has been, it's really hard to be invested in its future.
Given this quarter, it's nearly preposterous to the bears that Tesla stock isn't drowning right now. Will it though?
Elon Musk Says There Is 'Some Merit' to Tesla Raising More Capital
Trading Tesla Stock
Above is a three-and-a-half-year weekly chart of Tesla stock. The name has been largely range-bound between $250 and $380 for more than two years, but as we have pointed out more than once in 2019, Tesla remains locked in a nasty downtrend.
Initially, Tesla stock was about flat on Thursday morning despite the discouraging report. But there was no way shorts were going to throw in the towel after a report this. Shares closed lower by about 4.26% to $247.63, as the afternoon weakness presses Tesla below long-time range support.
Tesla stock has been below $250 on several occasions in the past, just as it has been below the 200-week moving average. However, these occurrences have had short lifespans. We don't know if TSLA stock will recover $250 in the short term, but it has been building south of the 200-week moving average for an uncomfortably long time.
Love the product or hate it, investors need to watch the price action. Right now, the chips are stacking up in the bears' pile. A break below $242-ish puts Tesla stock in no man's land.
This article is commentary by an independent contributor. At the time of publication, the author had no positions in the stocks mentioned.