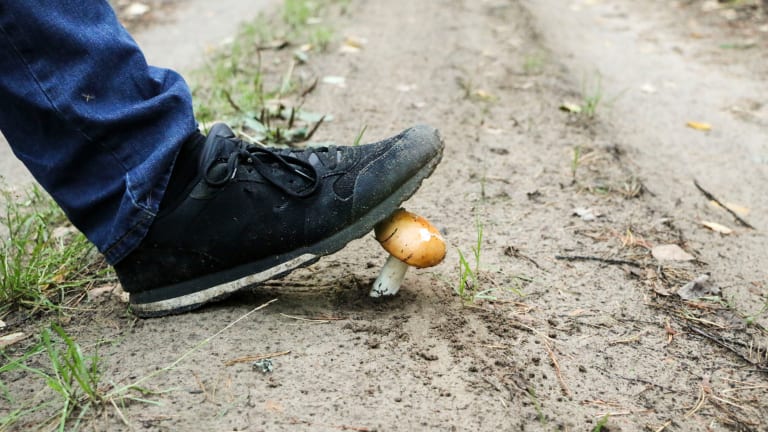 Michael Flynn to Crush Stock Markets on Monday?
The Michael Flynn fallout will likely keep reverberating in the markets early this coming week. It might be time to sell some hot tech stocks like Facebook and Alphabet.
"The truth is rarely pure and never simple."
-- Oscar Wilde
Thunder
The market was trading sideways to higher. Birds were chirping. The S&P 500 was holding on to Thursday's surge to the upside. Dogs were barking.... You could almost hear Choirs singing, and see children dancing contently while all dreamed that the Senate would iron out, and then pass a tax reform bill. Yes, it would be a grand bill that would make progress toward a compromise that both Houses of Congress would then agree upon. Until lightning struck.
Okay, maybe not lightning. Maybe it was a news brief first cracked by ABC News stating to the world that Lt. Gen Flynn had pleaded guilty to one count of lying to the FBI. Lt. Gen. Flynn, you may recall resigned as President Trump's national security adviser just a few weeks after Inauguration Day, after having admitting to lying to Vice President Pence. It gets worse. Special Counsel Robert Mueller claims that the General made false statements that impeded the FBI's investigation into Russian interference in the 2016 presidential election. The period targeted by Special Counsel Robert Mueller is the transition period between the election, and the inauguration. Anyway, back to our story.
The Pea
Shortly after 11 am Friday in New York, a pea rolled off of a table ... or at least that's what the daily chart of any of your favored broad equity indices looked like at the time. It was awful. Free-fall almost. The national news networks reported that Flynn had received leniency from the U.S. government in what they sought as a sentencing in exchange for turning over a bigger fish.Some even went as far as to say that this fish was the president, himself.
Down went the market. Down went Frazier. The S&P 500 gave up 45 points in a straight line. The Dow Jones Industrial Average? Oh, just a mere 372 points. The children stopped dancing, the choirs stopped singing, and traders were forced to surrender their Dow 24,000 ball-caps. The words "Constitutional Crisis" made the rounds throughout the media ... but wait, the White House was about to return fire.
The Georgia Peach
The president's lawyer, Ty Cobb publicly stated that " Nothing about the guilty plea, or the charge implicates anyone other than Mr. Flynn." As Mr. Cobb went on, he seemed to praise the Special Counsel for moving deliberately, and clearing the way for a conclusion to the investigation. Too easy? You buying that? It sure seems that the market bought it. Sort of. Then again, it could be that the Senate seemed likely to vote on their version of tax reform on Friday night. Maybe it was both.
My Gut
Heck, gang... I'm not a lawyer, and I do not pretend to be. For the good of our nation, I truly hope that nobody in an important position committed any serious crimes.That said, for the good of our nation, if any person in an important position had committed a serious crime, I would hope that they were caught, and then face the result.
My expertise is the marketplace, again... not law. The market stormed almost all the way back, and though it is obvious that traders are trying to price in tax reform legislation that seems to change by the second, and only becomes more complicated, the focus for our industry is going to be the corporate tax rate.
Whether that rate lands at 20%, or anywhere up to 25%, this will boost S&P 500 aggregate corporate earnings that are already expected to grow a rough 11% in 2018, even with no tax reform. That's why traders are so fired up.
Now, if the president were somehow implicated in such away that the market feared an eventual indictment, I think that today's sell-off would have been sustained throughout the afternoon, and much lower levels for equities would have been approached by the closing bell. The fear has clearly abated.
It's Not Like I Did Nothing
I think it likely that this Sunday's news talk shows on most of the major networks will get very rough from the administration's point of view. If this is what happens, Treasuries will show strength Sunday night into Monday morning, equity index futures will open lower, and the U.S. dollar will show further weakness. Again, this depends on how Sunday plays out in the media. In preparation for such a possibility, I took my Alphabet (GOOGL) - Get Alphabet Inc. Class A Report (Still a significant winner) position off of the table, and added to my Kimberly Clark (KMB) - Get Kimberly-Clark Corporation Report long, which happens to be my cheap dollar play due to the international nature of it's business lines. On top of that, I further trimmed a couple of my semiconductor names. Don't worry, i still love them. Sort of. I think.
Alphabet is a holding in Jim Cramer's Action Alerts PLUS Charitable Trust Portfolio. Want to be alerted before Cramer buys or sells GOOGL? Learn more now.
More of What's Trending on TheStreet:
At the time of publication, Stephen Guilfoyle was long Kimberly Clark.