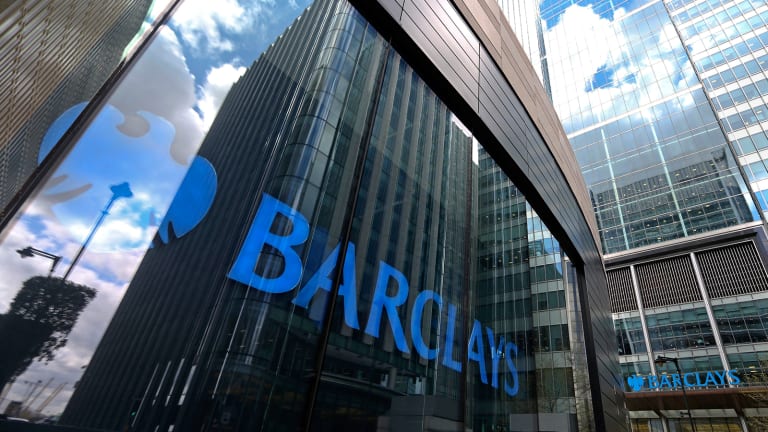 Publish date:
What To Expect From Barclays' Third-Quarter Results On Thursday
All eyes are on the lender's core bank performance and litigation provisions following a shock announcement from Lloyds.
All eyes are on the lender's core bank performance and litigation provisions following a shock announcement from Lloyds.
Barclays (BCS) - Get Report shares fell on Wednesday as some investors cashed in ahead of the bank's third-quarter results.
Analyst estimates suggest that the recent quarter was another period of mixed progress for the gradually-turning-around bank, with revenue seen under pressure, but earnings likely to be higher for the three month to the end of September.
Consensus is for the bank to report total income of £4.8 billion ($5.8 billion) on Thursday morning, down about 20% from the £6.1 billion it recorded in 2015, while profit before tax is slated to be down by 7% to £1.3 billion, according to a consensus compiled for Barclays by Vuma. Net profit is seen likely to be 21% higher at £795 million, with earnings per share up by a similar measure at 4.7 pence.
According to estimates, Barclays' core bank will contribute close to £1.6 billion to group pretax profit tax, although this is seen being whittled down by more than £300 million of losses from the noncore bank.
Like most banks, Barclays has been restructuring ever since the financial crisis. It has sold off risky assets and scaled down, or exited entirely, some lines of business and geographies, with the sale of its Egyptian business in October marking the latest exit. 
The group has set its sights on slimming its global presence to become a transatlantic consumer, corporate and investment bank with the bulk of its geographic operations located in the U.K. and the U.S. 
Barclays shares were down 1.4% by early afternoon in London at 181.0 pence. The stock is down by 15% for the year to date but it has gained 15% since July.
Price action among U.K. banking stocks was  volatile on Wednesday after Lloyds Banking Group (LYG) - Get Report delivered a mixed earnings report in which its also announced a higher-than-expected £1 billion charge to compensate consumers for mis-sold payment protection insurance.
Although the larger charge might form the bulk of Lloyds' remaining liability, the announcement sent a ripple across the banking sector as concerns grew over whether investor expectations for remaining "conduct" costs had been too low.
Payment protection compensation has been a sensitive topic given that consumer redress for mis-selling has cost the industry more than £20 billion since 2011. But with an amnesty-like deadline for the submission of outstanding claims to likely to be set for some time in 2019, some investors and analysts have been bracing for a deluge of charges ahead of that.
Analysts expect that Barclays will announce conduct and litigation charges of £46 million when it reports earnings on Thursday. Any number significantly higher than that may upset investors.
Three out of the five analysts listed as covering Barclays on Factset have a hold rating assigned to the stock, while one has rated it as sell and another as buy.
Barclays is faced with the threat of economic instability in its core U.K. market, since the Brexit vote in June, as well as the likelihood of further litigation costs when it eventually enters negotiations with the U.S. Department of Justice over the sale of mortgage-backed securities before the financials crisis.