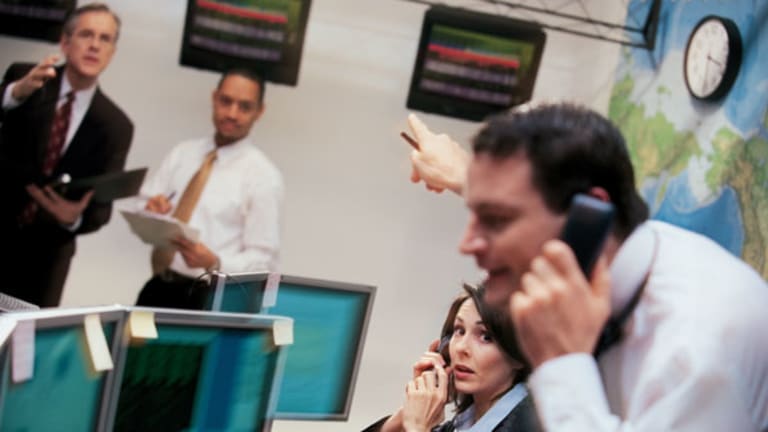 Publish date:
What To Do if Washington Takes Your Retirement Dividends Away
With the 15% cap on taxes on qualified dividends possibly going away at the end of this year, investors had better take heed.
With the 15% cap on taxes on qualified dividends possibly going away at the end of this year, investors had better take heed.
NEW YORK (
) -- While all eyes are on the tight election race between President Obama and Mitt Romney, income-seeking investors had better focus on tax strategies heading into 2013.
There are major worries as the tax cuts signed into law by President George W. Bush are set to expire at the end of this year, considering that control of the two houses in Congress is split. President Obama has expressed a desire to extend the tax cuts again -- except for individuals earning more than $200,000 a year and couples filing jointly who earn more than $250,000.
For investors, an obvious concern is that their top margin tax rates will increase in 2013. Taxpayers whose current marginal rates are 25%, 28%, or 33%, will see their top rates increase by 3%.
Taxpayers currently in the 35% bracket -- for 2012 earning $388,351 or more, filing jointly -- will see their top marginal rate increase to 39.6%.
For joint-filers earning more than $250,000 ($200,000 for individual filers and $125,000 for married couples who file separately) there will be an additional 3.8% Medicare tax beginning in 2013 to pay for the Patient Protection and Affordable Care Act of 2010, also known as "Obamacare", for the lesser of earnings above the threshold, or investment income.
Taxes on qualified dividend income is currently capped at 15%, which will expire at the end of 2012, without action from Congress and the president. This means that the expiration of the Bush tax cuts can have a huge effect, even on filers who aren't in one of the higher tax brackets.
Under the current cap on dividend taxes, if an investor's adjusted gross income -- again, married, filing jointly -- is below the $70,701 threshold for the 25% tax bracket, the investor is paying no taxes at all on qualified dividends, which include most income from corporate bonds and preferred stock. For higher-income investors, the top "all-in" rate paid on taxable dividend income, including the new Medicare tax, can be as high as 43.4%.
At this point, many readers can rightly point out that nobody pays the top rate because of the various income deductions and tax loopholes that exist. But it is a graduated rate, and a portion of the investor's income may well be taxed at or near their highest graduated rate. Therefore, the highest rate can be used for comparing taxable and tax-exempt income investments.
With municipal bond rates being so low for so long, and with the 15% cap on taxes on qualified dividends, many investors have avoided municipal bonds for years. In the low-rate environment, with long-term rates declining for many years, some yield-hungry investors have decided to take additional risk by focusing on preferred shares or trust preferred shares for income.
So the main factor in deciding between taxable or tax-free income paper -- of the tax on dividends is reinstated -- is your tolerance for risk.
Taxable or Tax-free?
For investors who wish to stick with higher-rated bonds, here's a quick comparison, illustrating the tax implications, the dismal overall rate environment, and the market pressure on municipal bond prices. Keep in mind that these are not investment recommendations. They are just examples to provide food for thought, and it would be a good idea to have detailed discussions with your broker or investment adviser about various was to invest for current income.
A newly issued New York Triborough Bridge and Tunnel Authority bond that settles on Thursday and matures on November 15, 2023, has a coupon of 5.00%, with a yield of 2.26%, through its optional redemption date of November 15, 2022. The bond is rated Aa3 by Moody's Investors Service and AA- by Standard & Poor's. While that may not seem to be a very impressive yield at first, the interest is exempt from federal, New York State and New York City income taxes.
In case you're wondering why the yield is so low relative to the coupon, it is because many municipal bonds are issued with above-market coupons and huge premiums. If rates move up sharply and the market price of the bond declines below par -- known as a "de minimus" situation -- some investors are subject to federal income taxes on the otherwise tax-exempt dividend.
If you divide that 2.26% yield by one minus your combined marginal tax rate, you have the taxable equivalent yield, which can be used for comparison. Going to extremes, if you are in the highest federal tax bracket, with your investment income also subject to the new 3.8% Medicare tax for a combined 43.4% federal rate, your taxable equivalent yield on the Triborough Bridge and Tunnel Authority paper is 3.99%.
If you live in New York State, are married, filing jointly, and earn between $300,001 and $2 million, your highest state income tax rate for 2012 is 6.85%, and your taxable equivalent yield is 4.54%. Using this rate for the taxable equivalent calculation is not as extreme as it may look, because the state income tax rate is 6.45% for couples earning from $40,001 to $150,000, and 6.65% for those earning from $150,001 to $300,000.
For New York City residents earning between $90,000 and $500,000, the income tax rate during 2011 was 3.648%. Using that rate and the above state tax rate, the taxable equivalent yield is 4.90%.
Even without considering the tax advantages, the yield on the New York Triborough Bridge and Tunnel Authority bond is higher than some corporate bonds with the same investment-grade ratings.
An
IBM
(IBM) - Get Report
bond rated Aa3/AA- with a coupon of 1.875% expiring on August 1, 2022, was trading Friday at a yield of 2.35%.
Why would a corporate with the same rating trade at a yield only slightly higher than a muni of the same quality? The answer is that the market has been rough for municipal bonds, because so many municipalities are having budget difficulties, and some analysts, including Meredith Whitney in September 2010, expressed fears that there could be a significant number of municipalities defaulting. There have been a few defaults, but nothing like the "hundreds" of defaults that Whitney expected.
The New York Triborough Bridge and Tunnel Authority bond example cited above is for a new issue, and it's too late to get in on that one. Municipal bonds are thinly traded, being snapped up immediately by institutional investors and individuals when they are issued. The best approach is to talk to your broker, request information on upcoming municipal issues, and try to make purchases "off the shelf," which may be your only way of making these investments.
Municipal Bond Funds
You can also consider a municipal bond fund. Of course, since bond prices move in the opposite direction of interest rates, holding shares in a municipal bond fund can require a lot of patience, as you watch your share price drop while rates are rising. But if your long-term objective truly is to generate current income, you should be able to stay committed and ride out the price fluctuations over the years.
TheStreet Ratings provides free ratings for all exchange-traded funds trading on U.S. exchanges that have operated for one year, and also for open-ended funds that have operated for three years. The ratings evaluate and measure ETFs and funds according to variables which include the Fund Family, Fund Style, Performance, Net Assets and Expense Ratio.
An example of a tax exempt ETF rated a "Buy," by TheStreet Ratings is the
BlackRock Muni Holdings Fund
(MHD) - Get Report
, which is rated an A+ (Excellent), with a current yield of 5.65%, as of Friday's close. The fund uses significant leverage, and as of June 29, the average coupon, including zero coupon bonds, was 4.47%, according to
BlackRock Investments
. The fund "primarily inportfolios of long-term, investment-grade municipal obligations." As of June 29, 28.7% of the fund's managed assets were rated above the equivalent of BBB ratings form S&P, while 6.0% of the managed assets were rated the equivalent of BB or below, and 7.1% were unrated.
An example of a buy-rated open-ended municipal bond fund is the
Dreyfus New York Tax Exempt Bond Fund
(DRNYX) - Get Report
, with a 30-day yield of 1.87%, as of Friday's close. This fund seeks to invest "substantially all of its assets in municipal bonds that provide income exempt from federal, New York state and New York city personal income taxes." Dreyfus also says that "the fund will invest at least 80% of its assets in investment grade municipal bonds (Baa/BBB or higher), or the unrated equivalent as determined by Dreyfus."
Losing Trust Preferreds
During the years before the bursting of the real estate bubble and the banking crisis in 2008, income-seeking investors faced with ever-declining municipal, corporate and Treasury bond yields, who were willing to take additional risk, moved into preferred stocks and trust preferred stocks. For many investors, these were favorable income plays, despite the lack of tax advantages.
Investors holding trust preferred shares in banks are going through a painful transition right now, because the
Federal Reserve's
proposed rules to implement Basel III capital requirements will exclude most trust preferred shares from regulatory Tier 1 capital. Since this change is considered a "capital treatment event," the banks are able to redeem the trust preferred shares, even before their call dates, often at face value, despite any premium the market previously placed on these high-yielding securities.
Banks can still issue preferred equity and have it make up between 1% and 1.5% of their Tier 1 common equity ratios, provided that the new issues are perpetual noncumulative preferred shares, meaning that the issuer does not need to make up any missed dividend payments.
JPMorgan Chase
(JPM) - Get Report
on July 12 redeemed $9 billion in trust preferred shares, including nearly $4.2 billion with coupons higher than 6.5%. All the shares were redeemed for face value.
Bank of America
(BAC) - Get Report
on July 25 redeemed $3.9 billion in trust preferred shares, all of which had coupons of 6.00% or higher, with $2.3 billion paying over 7.50%. The company paid premium redemption prices for $1.8 billion of the redeemed trust preferred shares.
These redemptions are great news for the banks, since they have been done on the cheap, as a result of the regulatory change, and will save the companies quite a bit on dividend payments. That's good for common shareholders too, of course, while income-hungry investors are left in the cold.
Neither Bank of America nor JPMorgan Chase have issued any preferred shares since the trust preferred redemptions, but other banks have, at lower rates, which will still be attractive to some investors.
BB&T
(BBT) - Get Report
on July 18 redeemed $2.475 billion in trust preferred and other capital securities, of which $1.525 billion had fixed coupons of 6.75% or higher. $350 million in enhanced trust securities had a coupon of 8.10% and $575 million paid a whopping 9.60%. The company then on July 25 issued $1 billion in noncumulative preferred shares, with a coupon of 5.625%, callable on August 1, 2017. The preferred shares are rated Baa2/BBB, and were trading at a slight premium on Monday, closing at $25.17.
Wells Fargo
(WFC) - Get Report
on June 15 redeemed $1.8 billion of trust preferred securities, with an average coupon of 6.31%. The company on August 13 issued $750 million in noncumulative preferred shares, rated Baa3/BBB+, with a coupon of 5.20%.
Pursuing Higher Yields
There are opportunities out there for investors looking for a higher level of current income, who are willing to take on greater risk than that represented by the above bond or preferred stock examples.
Energy limited partnerships can offer attractive dividend yields, with some growth prospects. While the following two examples have seen moderate share price declines year-to-date, in a weak market for energy prices, they both feature attractive dividend yields, with dividends increasing over time, and very strong price performance over the long haul.
Kinder Morgan Energy Partners, LP
(KMP)
is mainly a gas pipeline operator. The partnership shares have a yield of 5.98%, based on the most recently quarterly distribution of $1.23 and Monday's closing price of $82.23. The company has had a very strong track record for dividend increases over the past several years. The five-year total return for the partnership units was 130%, through Monday's close.
KMP
data by
AmeriGas Partners LP
(APU) - Get Report
is a domestic propane distributor. The partnership shares have a yield of 7.68%, based on the most recent quarterly distribution of 80 cents, and Monday's closing price of $41.67. APU has returned 79% over the past five years:
APU
data by
Regarding energy prices, Deutsche Bank analyst David Bianco on Monday said "the sharp selloff in oil prices in May-Jun was among the first signals of slowing global growth. The rebound in oil prices since then despite no improvement in China growth, stronger dollar and diminished likelihood of
additional monetary stimulus by the Federal Reserve is a welcome signal," since "high oil without
quantitative easing by the Fed should raise confidence in high price sustainability," which supports "the Energy sector's PE."
Of course, for KMP and APU, the investor's main focus should be income, with the hope of price stability. The growth prospects are gravy.
--
Written by Philip van Doorn in Jupiter, Fla.
>Contact by
.
Philip W. van Doorn is a member of TheStreet's banking and finance team, commenting on industry and regulatory trends. He previously served as the senior analyst for TheStreet.com Ratings, responsible for assigning financial strength ratings to banks and savings and loan institutions. Mr. van Doorn previously served as a loan operations officer at Riverside National Bank in Fort Pierce, Fla., and as a credit analyst at the Federal Home Loan Bank of New York, where he monitored banks in New York, New Jersey and Puerto Rico. Mr. van Doorn has additional experience in the mutual fund and computer software industries. He holds a bachelor of science in business administration from Long Island University.