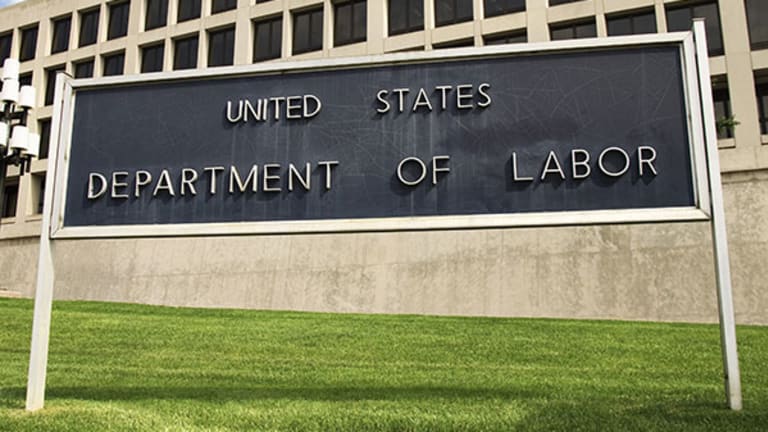 What the Weak Jobs Report Means; Assessing Altisource: Best of Kass
In highlights from his trading diary of the past week, Kass said Friday's weak jobs report adds to growing evidence of a slowing economy, and examines Altisource's restructured agreement.
NEW YORK (Real Money Pro) -- Doug Kass of Seabreeze Partners is known for his accurate stock market calls and keen insights into the economy, which he shares with RealMoney Pro readers in his daily trading diary.
This past week, Kass wrote that Friday's jobs report adds to the evidence that economic growth is slowing. He also explained why he's no longer interested in trades involving Altisource Residential (RESI) - Get Front Yard Residential Corp. Class B Report.
Monday, Bloody Monday?
Originally published on Friday, April 3 at 9:54 a.m. EDT
March's nonfarm payrolls report was much weaker than expected, at 126,000 jobs created vs. a consensus estimate of 245,000. Importantly, February was revised downward by 30,000 to 264,000. Unemployment held steady at 5.5%, while the participation rate fell to 62.8%.
Despite the weak print, wage growth of 0.3% was ahead of expectations, raising the year-to-date gain to 2.1%.
With the poor labor report, the jobs market (the last holdout within the Economic Surprise Index) brings every sub-category (housing, consumer, industrial surveys) into negative readings. 
In summary, most economic data recently pointed toward a general slowdown in the rate of growth. Now the jobs data is joining the club, with the magnitude of the miss an eye-opener.
The yield on the 10-year U.S. note is down, as are S&P 500 futures, on the report.
The crowd that thought weakening growth signposts are good news will likely be wrong on Monday, and perhaps in the weeks ahead. Bad news is bad news as the "Ah-Ha!" moment, in which market participants lose faith in the Fed's ability to catalyze growth might be lost, as I wrote about in January's "Fear the Reaper?"
Lower for longer may no longer be constructive for the markets.
In the meantime, I'll leave you with Peter Boockvar's take to chew on until Monday:
After ADP said 189k net private sector jobs were created in March, the BLS said it was only 129k vs expectations of 235k. The government shed a net 3k to give a headline figure of just 126k vs the consensus of 245k. Also, net revisions were down by 69k in the two prior months. The household survey added just 34k and with a 96k person drop in the size of the labor force, the unemployment rate held steady at 5.5% as the participation rate fell to 62.7%, the lowest since 1978 from 62.8%. The U6 rate fell one tenth to 10.9%, the lowest since August '08. The goods producing sector was a particular area of weakness as 13k net jobs were shed with 1k in each of construction and manufacturing. In services, leisure/hospitality and education/health saw a slowdown in job growth m/o/m. With respect to the oil and gas industry, the BLS said the sector ADDED 3k jobs. I'm not sure how that is possible but I'm sure it will be revised lower. Positively, average hourly earnings rose .3% m/o/m, one tenth more than expected and the y/o/y gain of 2.1% is up from 2% last month. The average workweek fell one tenth to 34.5, the lowest since September.
Bottom line, while the jobs number was very disappointing, it will be revised another three times over the next year so while we should definitely focus on, the final read could be much different than today's. That said, we have to deal with what we got and today's number brings the Q1 job growth to 197k on average vs 260k in 2014 in what was a very soft economic beginning to the year. What this means for the Fed is certainly complicated in that the labor market is still showing signs of tightening as the supply of labor continues to shrink as seen in the participation rate and those not in the labor force rose to 93.76mm people, an astonishing figure as way too many are getting paid not to work. The unemployment rate for those with a college degree or higher is down to just 2.5% vs 3.4% one year ago. Those with a high school diploma without college saw its unemployment rate fall to 5.3% vs 6.3% in March '14. For someone without a high school diploma their unemployment rate is at 8.6% vs 9.4% the same month a year ago. So, the Fed is left with a mediocre economy and with a labor market that is on the cusp of more substantive wage gains because the labor market is tight and productivity is punk. It's a very tough spot for them and they have no bullets to respond to further economic weakness IF it were to occur.
Another Look at Ocwen, RESI
Originally published on Thursday, April 2 at 7:24 a.m. EDT
Altisource Asset Management (AAMC) - Get Altisource Asset Management Corp. Report and Altisource Residential finally announced a restructured management agreement, which approximated my previous guesstimate. Though I am no longer involved in RESI or any other affiliate in the Ocwen (OCN) - Get Ocwen Financial Corporation Report complexes, as promised, I listened to this week's conference call.
If the new economics had been employed in 2014, RESI would have paid only $36 million in base, incentive and conversion fees compared with the $76 million of total fees paid. I had previously estimated a revised $40 million payout against a forecasted $80 million of fees paid last year.
So, as I surmised, the fee revision of nearly 50% was a positive for RESI and a negative, relative to consensus expectations, for AAMC.
On the plus side for AAMC was the 15-year agreement with some extensions beyond that. (Note: The previous agreement was yearly.)
In 2013 the inclusion of RESI on my Best Ideas list made nearly 120% on RESI, and gained 17% in our recent trade.
Though RESI announced it now has an equity partner (to facilitate asset acquisitions), I am not confident that the company will be able to fund much growth going forward as it is tainted by its relationship with Ocwen. I suspect consensus profit forecasts for 2015 and beyond are too ambitious and may not be met, as acquisitions of nonperforming loans could fall short of the company's goals.
Finally, RESI named AAMC CEO George Ellison to run the company -- a somewhat "tone deaf" move considering the accusations leveled by the New York Department of Financial Services. As a result, I am no longer interested in RESI (or any part of the Ocwen complex) owing to a number of business, liquidity, profit model and regulatory considerations.
At the time of publication, Kass and/or his funds were long ProShares Short 20+ Year Treasury (TBF) and short SPDR S&P 500 ETF (SPY) and iShares 20+ Year Treasury Bond ETF (TLT), although holdings can change at any time.
Doug Kass is the president of Seabreeze Partners Management Inc. Under no circumstances does this information represent a recommendation to buy, sell or hold any security.