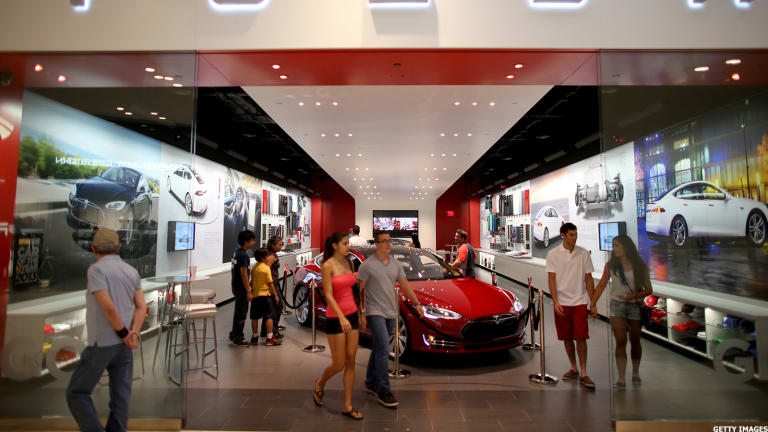 What Tesla's Typical Shopper Looks Like (Hint: They Like Mickey Mouse)
Tesla is attracting shoppers who can afford higher price tags in 2018.
Who's buying Tesla Inc. (TSLA) cars right now?
That's one of the biggest questions that short sellers have been trying to wrap their heads around, as Tesla made the switch from taking reservations for the Model 3 to opening a direct order system for the higher-priced versions of the car. Can Tesla really continue to move big-ticket models while they scale up enough production to build a $35,000 Model 3?
The early data say yes.
According to the numbers from location data firm Factual, Tesla is attracting shoppers to its stores that can actually afford to buy high-dollar vehicles - not just tire kickers.
Factual tracked retail foot traffic at Tesla stores and galleries, to figure out what types of consumers are shopping there. The results are interesting.
For instance, Tesla shoppers are overwhelmingly more likely to be relatively young and successful: Compared to others in the same geographical area, Tesla store visitors were 109% more likely to have an annual income between $150,000 and $175,000, and 40% more likely to be between the ages of 35 and 44.
That suggests that the prototypical Tesla store visitor is in a very desirable consumer demographic: Other retailers frequented by the Tesla trope include Apple (AAPL) , Nordstrom (JWN) , Lululemon (LULU)   and Crate & Barrel.
That's not a shock, given that Tesla hired George Blankenship, the guy behind Apple's retail presence, to build out its own store network.
Some other statistics are a little more surprising...
Like the fact that a Tesla shopper is 70% more likely than average to be a new home owner, and 135% more likely to be a Disney (DIS) enthusiast (perhaps they're Mickey Mouse fans because they're also more likely than average to be an expecting parent).
Also interesting is the types of competing car brands that the typical Tesla store shopper is likely to visit. According to Factual, these are the top-ten dealership brands most likely to be visited by someone in a Tesla store:
Jaguar Dealer
Land Rover Dealer
MINI Dealer
Volvo Dealer
Audi Dealer
Volkswagen Dealer
Porsche Dealer
BMW Dealer
Lexus Dealer
Honda Dealer
Most of those shouldn't come as a huge surprise given Tesla's current high average selling-price mix. But others, like Honda and Volkswagen, confirm what Elon Musk pointed out on the company's second-quarter update: "[The Model 3 is] drawing customers from many other segments, including non-premiums, sedans and hatchbacks."
Tesla appears to be attracting the exact sort of shopper it needs to move cars at a higher-average selling price in 2018.
Apple and Nordstrom are holdings in Jim Cramer's Action Alerts PLUS member club. Want to be alerted before Jim Cramer buys or sells AAPL or NVDA? Learn more now.
This article is commentary by an independent contributor. At the time of publication, the author was long AAPL.