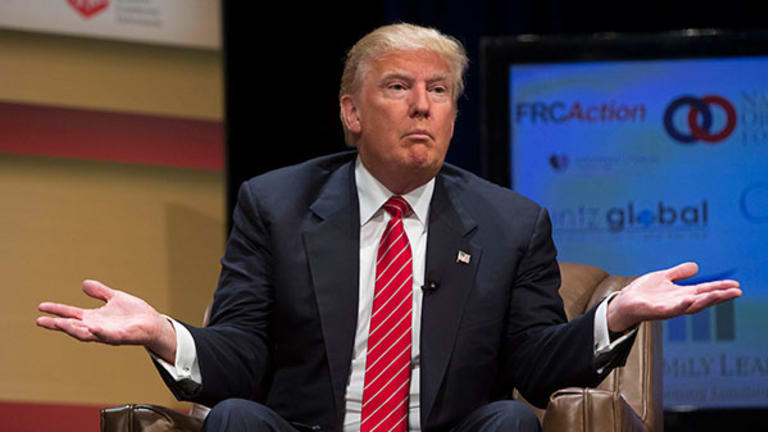 Publish date:
What Sound Bites Will You Get From Trump in Wednesday's GOP Debate?
The third Republican presidential debate will be focused on the economy.
The third Republican presidential debate will be focused on the economy.
The third Republican presidential debate will be focused on the economy, but don't expect too many details from the candidates.
"'We'll probably get a lot more rhetoric," said David Nelson, chief strategist at the Greenwich, Conn.-based Belpointe Asset Management. "None of the candidates on either side of the aisle (have devised a broad economic plan) and we're getting a lot of sound bites."
Nelson thinks Donald Trump will stress his negotiation skills and tout an ability to form better trade deals with other countries, having decades of experience building a multi-billion dollar real estate company. "He's talked badly about the North American Free Trade Agreement and I'm sure he's going to talk about (the recently formed) Trans Pacific Partnership and how he could have cut a better deal," Nelson added.
Trump has also claimed his tax plan could lift economic growth to 6%, a big step up from the 3.9% the economy grew during second quarter. Yet, Trump has a harsh stance on immigration, saying he would deport 11 million illegal immigrants.
"Six percent growth is a pipe dream," said Ian Winer, head of equity trading at Los Angeles, Calif.-based Wedbush Securities. "Even if Superman were president, I'm not sure we'd get to 6% growth."
Winer said most of the things Trump says are sound bites. "I'm sure (Trump) wakes up every morning thinking, 'I can't believe I'm actually this high in the polls and leading still,'" Winer added.
Meanwhile, neurosurgeon Ben Carson is leading Trump by four points in a new national poll from CBS News/New York Times. Carson also has a double-digit edge against Trump in the all-important state of Iowa, which holds its caucus in early January.
"Carson wants to cut federal spending in every agency by 10%," Nelson said. "But I don't think we'll get a broad (economic) plan from anyone including Carson."
Another important economic issue that is expected to be raised during the debate is the risk of government shutdowns amid gridlock in Congress. Lawmakers may have just averted a crisis before a looming Nov. 3 deadline, agreeing to a tentative deal to keep the government funded until September 2017.
"All of these supposed fiscal conservatives are probably going to make a lot of noise about the debt ceiling," Winer said. "But at the end of the day it's still the same old drill: postpone [the debt crisis] for two years, hope the Fed keeps rates low so our interest payments are nil and we'll worry about it later."
The next Republican Presidential debate starts at 8 p.m. ET Wednesday but TheStreet.com will be covering it all week! Tune in for stories, videos, and more all week, and make sure to follow us at @TheStreet on Twitter for live commentary during the debate.