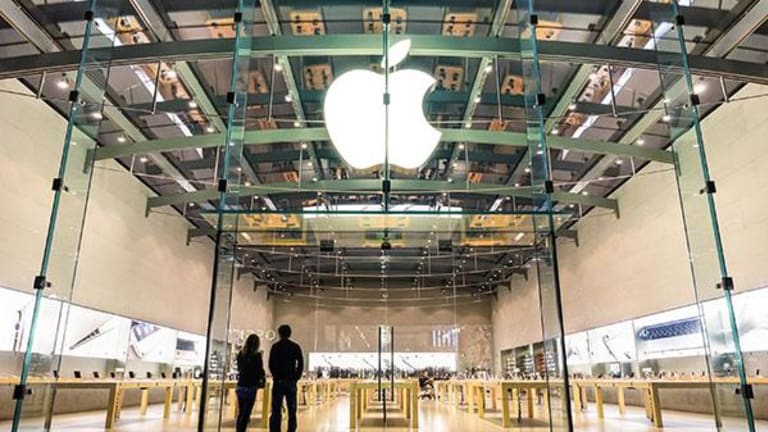 What Should You Do With Your Apple Shares Now?
Is the stock finally ready to rise after treading water?
Apple (AAPL) - Get Report  has been essentially treading water for the past two years, but is the stock finally ready to move higher? Shares closed at $96.67 Tuesday -- essentially flat from the $97.67 finish on July 25, 2014 -- but are above $103 in premarket trading Wednesday morning after Apple beat analysts' quarterly earnings estimates last night after the bell.
Apple is a stock that everyone used to love but more recently became the name critics love to hate. It's a former market leader turned laggard -- a one-time Wall Street champ that became a lackluster performer.
But a look inside Apple's latest earning report shows both positive and negative developments. In fact, the dichotomy between its phone and watch products best exemplifies Apple's split personality.
On the positive side, the company sold more than 40 million iPhones during the quarter -- a figure driven by the success of the new, low-end SE model. Analysts initially met Apple's decision to release a less-expensive iPhone with skepticism, but the move paid off in this quarter and will probably lead to even greater benefits down the road.
After all, there isn't much more that Apple can do at the smart-phone market's high end because it already owns that space. So, it makes sense for the company to attack the lower end.
Not only did this maneuver boost sales during the latest quarter, but it also drew new recruits into Apple's famous "ecosystem." Many consumers are just getting their first bite of the Apple, and they're likely to come back for more in the form of iPads, Macs and other AAPL products.
On the downside, the Apple Watch has turned out to be a major disappointment for the firm. Apple doesn't offer a breakdown of watch sales, which hints at how little the product contributes to revenues. Instead, the company simply lumps the Apple Watch into its "other products" segment. Revenues for that area dropped by 16% year over year during the latest period.
But while Apple won't reveal specifics about watch sales, market-research firm IDC is more forthcoming -- and the news isn't good. According to IDC, Apple Watch sales were down 55% in the latest quarter vs. a year ago. That's even more shocking when you consider that rivals like Samsung and Lenovo are growing their watch sales by over 50%.
And of course, Fitbit (FIT) - Get Report  remains the wearables segment's leader. While the Apple Watch is all about form, Fitbit products are mainly concerned with function.
My suggestion: Apple should simply purchase $3 billion Fitbit and offer a much broader spectrum of wearables. Just like the iPhone SE's release, this maneuver could attract new consumers to the Apple ecosystem -- which in turn would generate future sales.
Editor's Note: This article was originally published at 9 a.m. EDT on Real Money on July 27.
At the time of publication, Ponsi was long AAPL
.