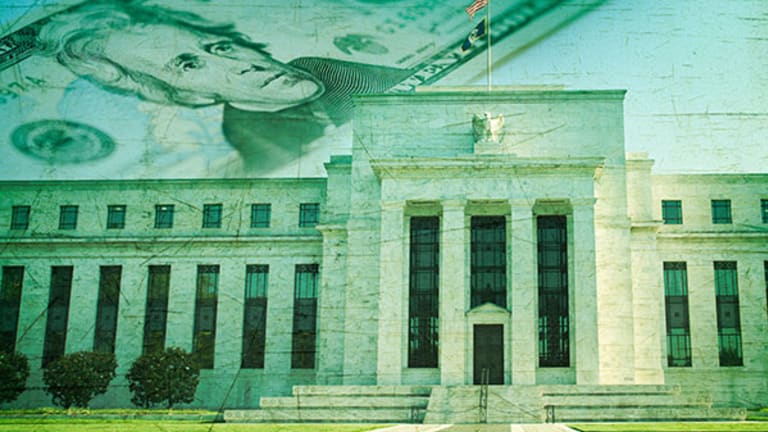 What's Next at the Federal Reserve
Keep yourself abreast of the Federal Reserve's outlook on interest-rate hikes by following data releases and speeches with this handy calendar.
What's happening with interest rates?
When the Federal Reserve's monetary policy committeewill next adjust rates -- and how -- remains a hotly debated topic from Wall Street to Washington, D.C. Speculation among traders ranges from as many as four increases in 2016 to none, with only a negligible possibility of the former.
Oddsmakers now say the most likely scenario is that the Fed will hike rates just once this year, and not before September. That's also the view of Morgan Stanley economist Ellen Zentner, who reiterated her prediction last week that the sole increase will come in December, partly because she believes core inflation peaked at 1.7% in January and will slump to 1.4% by mid-year.
The Fed wants inflation to rise to 2%, and central bank policymakers tied further rate hikes even more closely to "inflation developments" after its March meeting, Zentner said in a note to clients.
"We believe the Fed will have a devil of a time justifying further hikes" with inflation narrowing through the middle of the year, she noted. Indeed, the Federal Reserve indicated this month that it may raise rates only twice before 2017.
That's a sharp turnaround from the end of last year. After a hike of 25 basis points in December that lifted short-term rates from almost zero for the first time in seven years, the U.S. central bank signaled interest rates might increase four times to as much as 1.5% in 2016.
The volatility of financial markets in the first two months of this year, however, created pressure to act more slowly. A slowdown in China, the world's second-largest economy, has roiled trading; oil prices have dipped as low as $26.21 a barrel before rebounding and some pundits have speculated that the economy may dip into a recession.
Indeed, U.S. economic growth has been pressed as rising interest rates strengthened the dollar against international currencies including the euro and the Japanese yen, both of which have weakened as the European Central Bank and Japan's central bank set negative rates in attempts to bolster expansion.
A stronger U.S. dollar hurts manufacturers who sell goods overseas by making their products more expensive. "Surprisingly persistent headwinds from diverging central bank policies have been a major drag on headline GDP and will depress core inflation for longer than anticipated," Zentner noted.
Still, employment data for February showed strength, with an increase of 242,000 jobs that outpaced economists' expectations and a stable unemployment rate of 4.9%. 
Oil prices, meanwhile, topped $40 a barrel last week before paring gains. They remain more than 60% below their 2014 peak of above $107.
Want to gauge what the Fed might do for yourself? Following are key dates for the central bank's data releases -- which are posted to its website -- and scheduled meetings, speeches and statements for the rest of this year.
March 29: San Francisco Fed President JohnWilliams speaks in Singapore
March 29, 4 p.m. ET: Dallas Fed President Robert Kaplan speaks at University of Texas at Austin.
March 30, 1 p.m. ET: Chicago Fed President Charles Evans speaks on economy and policy at a Forecasters Club of New York luncheon.
March 31, 9:30 a.m.: Chicago Fed President Charles Evans speaks at the New York Hilton Midtown
March 31, 5 p.m.: New York Fed President William Dudley speaks on financial crises in Lexington, Va.
April 1, noon: Cleveland Fed President Loretta Mester discusses the monetary policy outlook in a speech at the Harvard Club in New York.
April 1, 10 a.m.: Foreign exchange rate data for March is released
April 5: Chicago Fed President Charles Evans speaks at the Credit Suisse Asian Investment Conference in Hong Kong.
April 6, 2 p.m.: Minutes from the Federal Open Market Committee's March meeting are released
April 26-27: Two-day meeting of the Federal Open Market Committee.
June 14-15: Two-day meeting of the Federal Open Market Committee.
July 26-27: Two-day meeting of the Federal Open Market Committee.
Sept. 20-21: Two-day meeting of the Federal Open Market Committee.
Nov. 1-2: Two-day meeting of the Federal Open Market Committee.
Dec. 13-14: Two-day meeting of the Federal Open Market Committee.
This article was written by a staff member of TheStreet.