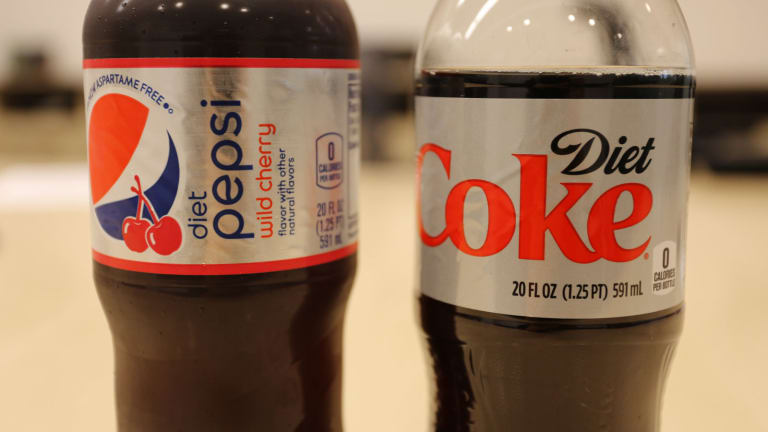 Coke's a Better Stock to Buy Than Pepsi on Surprising North America Sales
Coca-Cola is the proverbial choice.
Though PepsiCo Inc. (PEP) - Get PepsiCo Inc. Report  surged after its earnings beat expectations on Thursday, April 26, rival Coca-Cola Company (KO) - Get Coca-Cola Company (The) Report  make for a better investment, industry sources said.
Pepsi and Coke are neck-and-neck in ofgfering similar products ranging from cola to juice to water, but shareholders will find thing go better with Coke because of its better control of sales in North America, thanks in part to its success in appealing to health-conscious consumers.
Coke beat Wall Street projections in its first-quarter earnings and revenue Tuesday, posting 5% sales growth driven largely by the beverages it sells that aren't carbonated soda pop. And while Pepsi also exceeded analyst predictions for earnings and revenue Thursday and reported volume growth in non-carbonated drinks, its North America revenue fell by 1%, compared with Coke's 1% growth.
"Coke had a stronger quarter because they communicated the right message but more so because its North American [operations] are on a better footing than Pepsi at this point," said BMO Capital Markets analyst Amit Sharma.
Overall, Pepsi reported 2% revenue growth and earnings of 96 cents per share, exceeding analyst consensus of 93 cents, according to Factset. Pepsi CEO Indra Nooyi attributed Pepsi's shortcomings to Coke's spending more on advertising.
"Our share of voice has fallen dramatically relative to our key competitor, who has substantially stepped up their media spending on colas over the past two years," she told analysts in the earnings call Thursday.
In turn, Pepsi will follow suit and increase media spending, "beginning with the launch of our new Pepsi Generations campaign," she added.
Coke spent close to $4 billion on advertising expenses in 2017, plus an additional $6.2 billion were paid to bottlers, resellers and other customers of "our company's products, principally for participation in promotional and marketing programs, according to its latest 10-K filing with the Securities and Exchange Commission. Pepsi spent $2.4 billion on advertising in 2017, as well as $46 million in "deferred advertising," according to its 10-K.
Indeed, consumers have responded to Coke's marketing efforts, such as its recent repackaging of Diet Coke. "Our surveys show show that people are slightly more satisfied with Coke than they are with Pepsi," said Josh Blechman, director of Exponential ETFs, which analyzes consumer companies based on customer satisfaction.
Aside from its Diet Coke campaign, Coke also changed the name of its Coke Zero product to Coke Zero Sugar, which was positively received, Blechman said.
"This is proof that Coke has done a good job conveying a message that appeals to the health conscious consumer," he told TheStreet, "although both we think Coke and Pepsi are doing a similar job at diversifying their business lines to include non-soda drinks."
Coke shares rose 32 cents, or .75%, to $42.75 in trading on the New York Stock Exchange on Thursday. Pepsi rose $2.11, or 2.1%, to $103.26.
Pepsi is a holding in Jim Cramer's Action Alerts PLUS Charitable Trust Portfolio. Want to be alerted before Cramer buys or sells PEP? Learn more now.