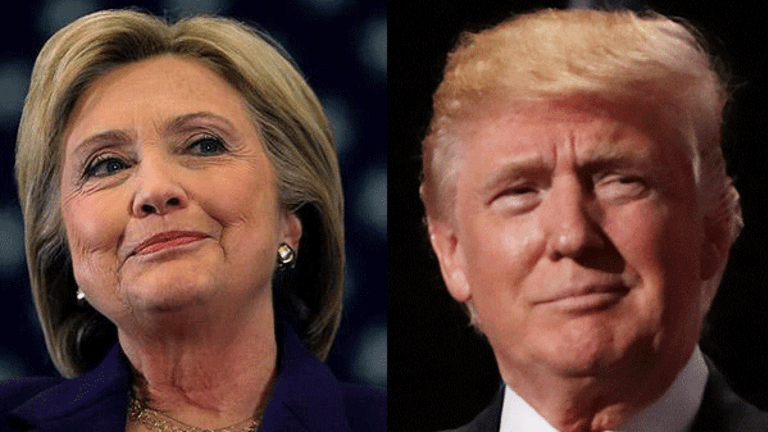 What Republicans and Democrats Have in Common on Wall Street Regulation -- and Where They Differ
Both parties' platforms favor bringing back some version of the Glass-Steagall Act, but they hold different views on Dodd-Frank and big banks.
The Democratic and Republican parties disagree on most major issues. When it comes to Wall Street, however, it's a mixed bag. Take the Dodd-Frank Wall Street Reform and Consumer Protection Act of 2010.
Democrats believe the bill has reined in the type of out-of-control behavior that led to the near collapse of the banking industry in 2008 and prevented a similar crisis. Republicans have criticized the legislation calling it "the Democrats legislative Godzilla." They feel the financial regulations have made it too difficult for small lenders and community banks and has indirectly slowed the growth of small businesses. 
Regulation of the financial services industry has been a major issue not only in the current presidential election but in house and senate races. Democrats believe that the electorate largely sides with them that banks have overstepped and that they can use their position to win votes and take back the Senate. Republicans currently hold a majority 54 votes. Because of gerrymandering rules, Democrats will have a tougher time retaking the House.  
Dodd-Frank was intended to increase transparency and accountability in the financial services industry and to protect consumers. Among other things, the bill created a new consumer protection agency and standards for a number of common financial services products. 
The bill has been a point of pride for the Obama Administration, which supported the bill sponsored by then Connecticut Senator Christopher Dodd and Barney Frank, a former congressman from Massachusetts. Both are Democrats. "We will also vigorously implement, enforce, and build on the landmark Dodd-Frank financial reform law, and we will stop dead in its tracks every Republican effort to weaken it," the Democratic Party Platform says.
But Republicans have said that no financial institution is too big to fail and that U.S. bankruptcy laws can resolve problems tied to financial overreach. Wall Street lobbyists have vigorously opposed the legislation.
Yet the parties share some common ground when it comes to financial regulation. Both support reinstating some version of the Glass-Steagall Act of 1933. That legislation, which was a response to the Great Depression, prohibited commercial banks from investment banking activities. Glass-Steagall was repealed in 1999 under Bill Clinton after years of lobbying by the banking industry, which said the law was too restrictive.
Critics of the repeal say that its absence helped usher in an era of deregulation by allowing commercial banks to engage in risky, speculative activities. They say that banks are more powerful than they were before the 2008 crisis and that a new Glass Steagall will help curb speculative trading activities and the influence of big banks.
This position coincides with the Democrats' platform, although it is one that the Democrats' presidential nominee Hillary Clinton has had to embrace. Earlier in her campaign, Clinton felt that Dodd-Frank was sufficient for regulating banking activities. But when Vermont Senator Bernie Sanders, a vocal proponent of increased banking regulation, mounted a surprisingly vigorous primary challenge, and the party's liberal wing pressed for stronger measures, Clinton changed her position. She now says that she will be tougher on big banks.
Certainly, a return of Glass-Steagall-type regulation will not please major banks that have posted largely strong results in recent years, including JP Morgan Chase, Bank of America, Wells Fargo and Citigroup. JPMorgan Chase & Co. Chief Executive and Chairman Jamie Dimon told CNBC on Aug. 1 that the 1999 repeal had "nothing to do with the crisis" in 2008.
To be sure, a break-up of big banks under an updated Glass-Steagall will also not be easy. It could disrupt the banking and investment industries and impact investors in the banks themselves. 
But for many banking critics, that would represent a temporary setback for the greater good of limiting banks' influence over the economy -- and over the political landscape.
This article is commentary by an independent contributor.