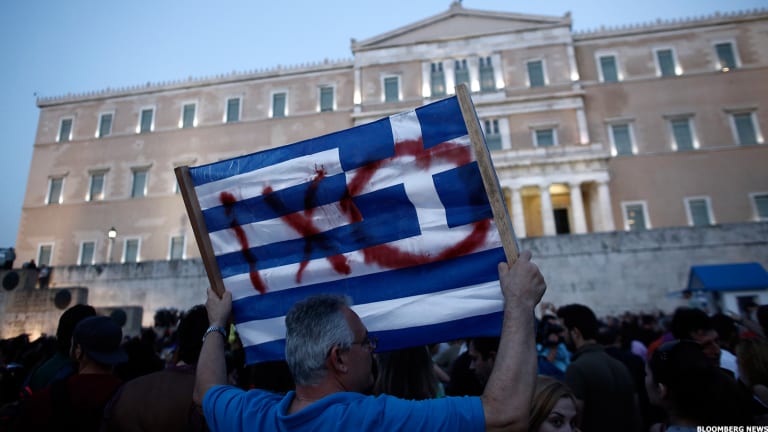 What 'PIIGS' Can Tell You About What Happens After Greece
Political precedent may become economic headache if Greece leaves the euro currency and becomes an example to others.
NEW YORK (TheStreet) -- If Greece leaves the Euro, investors should watch its neighbors, including Italy, Spain and Portugal, to see if they're next out the door.
While analysts predict the impact of a so-called "Grexit" on U.S. and global markets would be small, the move may set a precedent for how other Euro countries deal with financial trouble going forward. If a Euro exit becomes standard procedure, it could spell the end of the currency union.
The most likely nations to be affected in the near future might be those with some of the group's highest debt-to-GDP ratios, such as Italy, Spain, Portugal and Ireland, which along with Greece were once unflatteringly referred to as the 'PIIGS' bloc. Indeed, Spain, Portugal and Ireland have also received bailouts from their fellow Eurozone members.
Yields, which rise in tandem with perceived risk, gained between 10 and 20 basis points for Spanish, Italian and Portuguese bonds on Monday, then pared some of the gains on Tuesday, according to data compiled by Bloomberg.
"You could have political contagion where you see groups that, in Spain, in Italy, in Portugal, decide that they want to emulate what's going on in Greece," Peter Tchir, managing director at New York-based Brean Capital, said in a telephone interview. "Particularly if the Greek situation works out well in favor of Greece, it becomes a no-brainer for some parties to rabble-rouse to try and to get that same sort of momentum Tsipras had."
Those groups include left-leaning parties similar to Tsipras' Syriza, such as Spain's Podemos, which oppose austerity measures.
Should Greece leave the Euro -- something no country has done since the currency's introduction in 1999 -- the other nations might follow suit if they have difficulty repaying debts, Tchir said.
What happens with such debtors is a pivotal concern for Greece's EU creditors, and the main reason they don't want to restructure their bailout, said Nicholas Burns, a professor at Harvard's John F. Kennedy School of Government who was the U.S. ambassador to Greece from 1997 to 2001.
"The Europeans are very reluctant to give that debt relief because they don't want to establish a precedent for other countries that could possibly be a difficult situation in a year or two," Burns said in a telephone interview.
Whether that precedent will actually be set depends on the success of current negotiations. After a landslide majority for the "no" side in Sunday's referendum, Greek Prime Minister Alexis Tsipras is meeting again with the heads of the Eurogroup and the International Monetary Fund on Tuesday.
But his country's referendum may not have strengthened Tsipras' hand as much as he predicted.
"The Europeans are going to have to engage in another round of negotiations with Greece now," German Vice Chancellor Sigmar Gabriel said on Monday. The resignation of outspoken finance minister Yanis Varoufakis, who was succeeded by bailout negotiator Euclid Tsakalotos, is "an indication that Tsipras is trying" to establish a different tone in negotiations, he said.
Varoufakis, an economics professor whom Tsipras recruited when his party was elected in January, developed a reputation for being unpredictable and confrontational during talks with Greece's creditors.
The challenge for his successor and the rest of Tsipras' government, Burns said, is that its view of austerity is fundamentally at odds with that of its creditors. "[Europeans] are wedded to austerity," but Tsipras wants to get rid of it, he said. "What the Greeks really want is a renegotiation of the debt, not of repayments."
So far, most analysts agree that the stalemate will have little impact on the global markets. "Greece accounts for 0.33% of global GDP and less than 0.1% of global stock market capitalization, so perspective is in order," PNC analyst E. William Stone said in a note on Monday. The crisis, which is weighing on the Euro, could increase interest in Treasuries and other dollar-backed securities, he said.
But the series of events that will unfold if and when Greece leaves the Euro is not clear, according to Brean's Tchir. Although there has been no selloff or panic in the style of 2008's collapse of Lehman Brothers, new problems may arise as Greece cuts ties with the Eurozone.
"What's going on in Greece could have that issue where you find hidden problems and issues come up over the following days and weeks," he said.