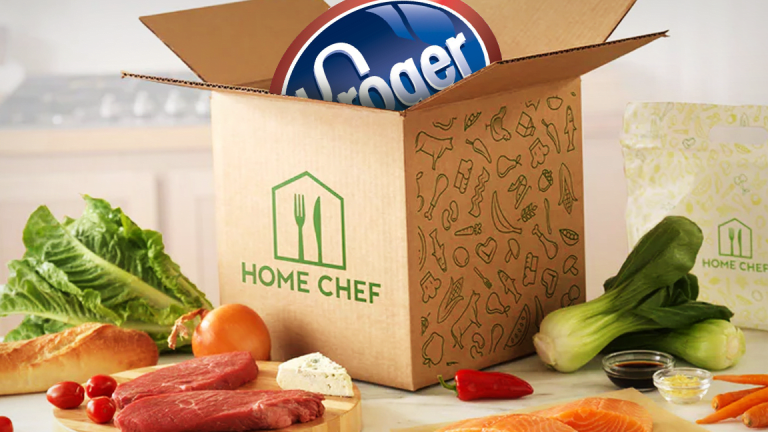 How a Sales Call Turned Into a Merger Between Kroger and Meal Kit Firm Home Chef
Sometimes a small thing turns into a very big deal.
Sometimes a small thing turns into a very big deal.
Sometimes a small thing turns into a very big deal.
Case in point: Pat Vihtelic, CEO and founder of Chicago-based meal kit company Home Chef, approached Kroger Inc. (KR) - Get Report about selling its meal kits through the supermarket chain. After all, Home Chef already sells its kits through Walmart Inc. (WMT) - Get Report  , so why not Kroger, too, thought Vihtelic.
As Vihtelic told the story to TheStreet when he popped into the office last week, his team and Kroger's kept talking. About a half a year later, the five-year-old startup, and Kroger decided to not only merge, but also to put Vihtelic in charge of the Cincinnati supermarket giant's meal kit and prepared meals operation, called Prep+Pared meal solutions portfolio. 
"We started with an innocent commercial conversation the end of last year, with us thinking about selling our meal kits through Kroger," said Vihtleic. "We then decided to do something a little more strategic than just a business or commercial partnership."
The terms of the deal are that Kroger will be paying an initial $200 million in cash, with future payments of up to $500 million over five years. The earn-out would be contingent on Home Chef reaching certain milestones, including significant growth of in-store and online meal kit sales. Sources told The Deal, a sister publication of TheStreet, in February that Home Chef could sell for more than $600 million. The companies expect the deal to close in the second quarter, after meeting customary conditions, including regulatory approval. Home Chef will become a subsidiary of Kroger and also maintain its e-commerce business on homechef.com.
Certainly, the appeal for a big grocer like Kroger is that meal kits are becoming more popular. According to Nielsen Insights, last year, in-store meal kits "generated $154.6 million in sales, posting growth of more than 26% year over year, while total brick-and-mortar sales for edibles, such as grocery, dairy and frozen foods, dipped 0.1% to $374 billion." About 25% of American consumers, or 30 million households, told Nielsen that they, too, would buy meal kits by September 2018.
That growth is driven by the time constraints that many families experience, coupled with their desire to make a home-cooked meal. Vihtelic could relate. 
"I've always loved to cook and always loved being around food, but I found it's hard to make time to go to the grocery store if I have a really demanding job," he said. "So in coming up for a solution for myself and my family, I really recognized that there's a real product market fit and a real solution that people can latch on to."
The former technology investment banker and programmer decided that meal kits were the way to go. Yet, he had to convince investors that he was onto something lucrative. 
"It required quite a bit of education at first," he said, and also explaining what a meal kit is to the uniatiated. It is a box of proportioned fresh ingredients with prep instructions that available at a store or through a subscription in which the meal kit is delivered to the door according to a schedule set by the customer.
Meal kits are mostly for dinners, but Home Chef also offers, 5-minute meals for lunch, smoothies, fruit baskets and a limited number of breakfasts. He said meals cost the consumer $9.95 per serving.
Vihtelic was obviously a good salesman because he raised $57 million in seven funding rounds, according to CrunchBase. The largest was a $40 million Series B round led by consumer brands investment firm L Catterton in 2016. What also helped, he added, were enticing results.
"Last year, we grew over 150% and had a couple of profitable quarters. So metrics like that attract potential investors and partners like Kroger."
Home Chef has about 1,000 employees and $250 million in revenue.
However, not all is booming in meal kit land. The meal kit company Blue Apron Holdings Inc. (APRN) - Get Report went public in June 2017, but not before missteps leading to the IPO, including lowering the stock price. Since the IPO, the stock has fallen 66% and there has also a been shakeup in senior management. In May, Blue Apron began selling meal kits at select Costco Inc. (COST) - Get Report locations in California.
Looking at Blue Apron from the outside, with an industry insider's perspective, Vihtelic credits the company with forging the path in the meal kit space. Yet its example offers a cautionary tale to entrepreneurs. "They got really big, really fast," he said. "We have been fortunate to have enough capital that we're not getting ahead of ourselves."