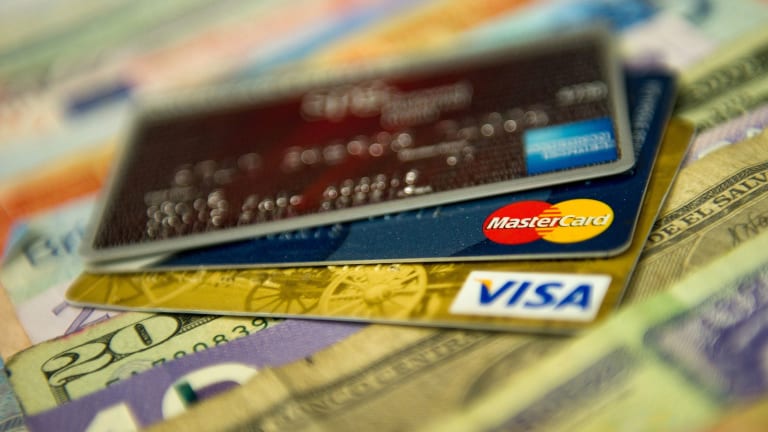 What MasterCard and Visa Earnings Say About the U.S. Economy
MasterCard and longtime rival Visa both reported higher profit than analysts had estimated as customer purchases increased in the last three months of 2015.
MasterCard (MA) - Get Mastercard Inc. (MA) Report and rival payment processor Visa both posted higher earnings than Wall Street expected as U.S. customers increased card spending at the end of 2015, a period including the lucrative holiday shopping season.
MasterCard reported profit of 79 cents a share on Friday, topping the 70-cent average of analysts' projections, while Visa's (V) - Get Visa Inc. Class A Report earnings of 69 cents a share, excluding some items, compared with estimates of 68 cents. Both companies benefited from double-digit gains in purchase volume, which totaled more than $1 trillion for each and was led by the U.S, their biggest market.
"We continue to see challenges in many parts of the world," MasterCard CEO Ajay Banga said on a conference call with analysts Friday. "The U.S. economy seems the most resilient, with good growth in consumer spending and jobs," while emerging markets such as Brazil and China are grappling with weak or slowing expansion, he said.
Net income for the Purchase, N.Y.-based company climbed 11% to $890 million in the fourth quarter, the company said. Revenue increased 4.4% to $2.5 billion as the number of transactions at businesses from restaurants to department stores rose 12% to 12.97 billion.
At Visa, which now expects to complete the repurchase of its Visa Europe business by the end of June, net income climbed 24% to $1.94 billion on sales of $3.57 billion, the San Francisco-based company said in a statement on Thursday afternoon. That included a one-time gain of $255 million from revaluation of an option linked to the deal. Without that, income was up just 7.5%.
Like MasterCard, Visa reported solid business in the U.S. with weaker results in most emerging markets, including China and Brazil. "Even though there's been much talk over the past few weeks of slowdown in the U.S., our business volumes in January have been strong," CEO Charles Scharf said on an earnings call Thursday.
While Visa's total payment volume of $1.3 trillion was in line with an estimate from investment bank Goldman Sachs, analyst James Schneider said that U.S. card spending was tempered by lower gas prices as crude oil plummeted. 
Total transactions on Visa debit and credit cards in the U.S. rose 8.9% to $841 billion, compared with declines in all of its other regional markets except Asia Pacific, executives reported. 
"We view Visa's results as better than feared," Schneider wrote. "U.S. volumes remain solid, and ticked up slightly in January, which suggests that U.S. consumer spending has not worsened thus far," despite challenges in the broader global economy, he wrote.
The trend also held true at Mastercard, after conversions from local currencies to the stronger U.S. dollar. On that basis, U.S. growth of 8.4% to $378 billion led the other regions. On a local-currency basis, which excludes the effect of exchange rates, all the company's markets posted double-digit gains.
"Overall, I'd say 2015 was a year that had it's economic challenges and where we also had to deal with foreign exchange volatility," not only with the euro, the world's second-biggest currency, and the Brazilian real but others, Banga said on the call. "Despite all that, I think we have navigated these circumstances well."
Government data backs up the finance companies' assessments of relative strength in the U.S. While economic growth slowed to 0.7% in the last three months of the year, compared with 2% in the third quarter, personal spending remained a driver for both the quarter and 2015 as a whole, according to the Bureau of Economic Analysis.
The country added 292,000 jobs in December, the Bureau of Labor Statistics reported earlier this month, and the unemployment rate held steady at 5%, the lowest since the financial crisis. 
Visa climbed 5% to $72.96 in mid-afternoon trading in New York, while Mastercard rose 5.4% to $87.93. The card-processing giants gained 12% and 2.5%, respectively, in the 12 months before today.
"What we're seeing is a very stable U.S. consumer environment," Visa finance chief Vasant Prabhu said on the call.
While the strong dollar has curbed the benefits of higher Visa-card usage overseas even as lower gas prices dragged down transaction volume in the U.S. and China's slowdown weighed on some of the company's markets, "our ability to grow over the long-term will be driven by our continued strong underlying payment volume growth," added Scharf, the company's CEO. "We have to be cautious in the short-term due to the headwinds, but the long-term fundamentals of our business, volume and growth, remain strong."