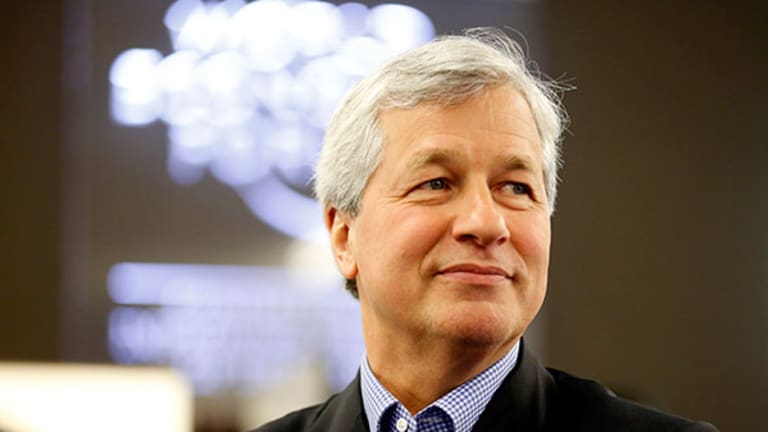 What JPMorgan's Jamie Dimon Thinks Banks Can Learn From Silicon Valley
Silicon Valley is good at getting rid of pain points, while banks are good at creating them, JPMorgan CEO Jamie Dimon said at Bernstein's 31st Annual Strategic Decisions Conference.
NEW YORK (TheStreet) -- JPMorgan Chase (JPM) CEO Jamie Dimon promised analysts and shareholders at a conference on Wednesday that he has the correct answer to the question of when the Fed will raise interest rates
"I know I'm going to be right," Dimon warned the crowd. "[Rate hikes] are going to be sooner or later than you think, they're going to be different than you think, and someone is going to be surprised."
That wasn't the only bon mot Dimon offered Wednesday at Bernstein's 31st Annual Strategic Decisions Conference, an event that gives investors and analysts a chance to hear from an array of Fortune 500 companies including Yum Brands (YUM) ,McDonald's (MD) , and Bank of America (BAC) . Dimon spoke about rate hikes, regulation, and Silicon Valley for about an hour to the crowd gathered at New York's Waldorf Astoria.
With regard to rate hikes, Dimon was upbeat about the US economy. In a "broad-based way," he said, things are OK: people are working, discretionary spending is slowly increasing, millennials are leaving their parents' houses, and unemployment is falling. Dimon even said that unemployment might fall below 5% by the end of 2015; April's rate was 5.4%.
The finance industry in particular, though, faces challenges including heightened regulatory scrutiny, Dimon said. Last week, JPMorgan pleaded guilty to a felony antitrust charge, becoming one of four banks to admit that some employees used an electronic chat room to rig the dollar-euro exchange rate. The New York bank was fined a total of $892 million by the Justice Department and its primary regulator, the Federal Reserve.
The case illustrates the damage that just a handful of people can cause in the banking industry, said Dimon, who noted that no industry is free of "bums and criminals."
The company did learn from its mistakes, though: "We did not do surveillance in chat rooms," Dimon said. "We do now." 
Finally, Dimon doubled down on his warning in this year's shareholder letter that Silicon Valley is increasingly encroaching on businesses once controlled by banks.
"Silicon Valley is good at getting rid of pain points," Dimon said. "Banks are good at creating them. In a capitalist society, you better be looking for ways to do things better, faster, and cheaper."
For its part, JPMorgan has been investing more in the electronic payments space, and Dimon applauded Apple (AAPL) for its customer-first approach with ApplePay. He also highlighted Chasenet, a payment-processing platform that has lower processing fees for merchants and learns consumer habits so the bank can tailor perks to customer preferences.
"We know where you eat on Friday night," Dimon said.