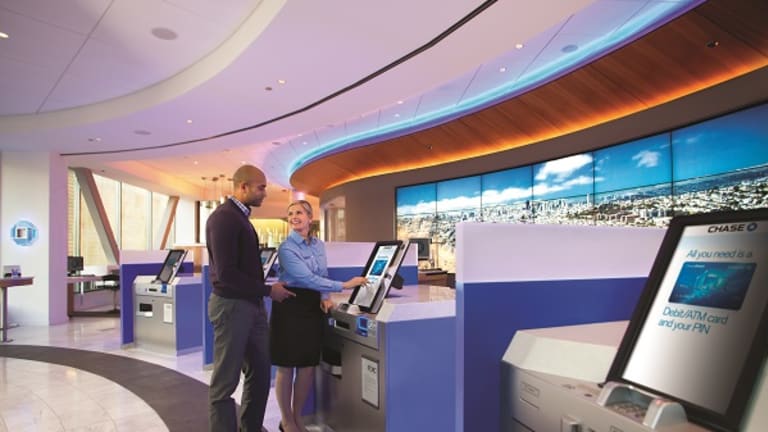 Publish date:
Why Banks Love Their iPhone Apps: Half as Irritating, 99% Cheaper
Companies from JPMorgan Chase to Bank of America and Wells Fargo have expanded their mobile businesses by 71%. A new study from Bain & Co. shows why.
Companies from JPMorgan Chase to Bank of America and Wells Fargo have expanded their mobile businesses by 71%. A new study from Bain & Co. shows why.
This article, originally published at 4:50 p.m. on Thursday, Feb. 4, 2016, has been updated with comment from JPMorgan and video.
Legend has it that guitarist Brian May's inspiration for the first hit from Queen's 1989 album was a catchphrase of a British soap opera star: "I want it all. I want it now."
Nearly 30 years later, he and the actress, EastEnders star Anita Dobson, are married. And the Billboard Hot 100 hit still lurks in the digital libraries of apps like Spotify and iTunes, its title mirroring listeners' expectations of what they should be able to do with their mobile devices -- particularly in terms of banking. 
That attitude, combined with the higher profitability of digital services compared with traditional branches, is prompting banks to upgrade their mobile offerings while letting them close local offices. Bank of America (BAC) - Get Report, Citigroup (C) - Get Report and JPMorgan Chase (JPM) - Get Report all reported reducing the number of branches they operate in 2015, for a combined decline of 10% over three years.
At the same time, their mobile customer base has surged: Users increased 13% to 18.7 million at Bank of America in the last three months of the year, according to data from the Charlotte, N.C.-based company. Checks that Bank of America customers deposit via smartphones and tablets now represent 15% of total deposits, CFO Paul Donofrio said on a January earnings call.
"We expect technology adoption by customers to continue to be a cornerstone of not only improved customer satisfaction but also efficiency gains and operating leverage," Donofrio said. Recent research from management consultant Bain & Co. indicates those projections are well-founded: Visits to a U.S. bank branch are twice as likely to annoy customers as handling transactions on a mobile device, the firm found.
"The banks have generally got their heads around saying, 'Boy these routine transactions we should take out of the branches because it's not a good experience for the customers and it's high cost for us,'" Gerard du Toit, a Bain partner who co-authored the report, said in a telephone interview.
In just the past three years, JPMorgan, Wells Fargo and Bank of America have expanded their mobile customer base by a collective 71%, to 57.7 million, with JPMorgan's 84% growth leading the way. The New York-based company's 23 million mobile customers is the biggest tally among the major U.S. banks, and it's expanding at about 20% a year, CFO Marianne Lake said in January.
Fully 90% of the transactions that once required a JPMorgan teller can now be handled via a mobile device, Gordon Smith, head of consumer and community banking, said during a presentation Tuesday. Last year, about 65% of new customers used those mobile capabilities within six months of opening an account, up from 53% in 2014, he said.
The economics are simple: du Toit estimated that each teller transaction costs $2 to $3, compared with a dime for the same service at an ATM and just a few cents via a mobile device. Mobile devices are helping with customer retention as well: People who use their bank's smartphone app frequently are 40% less likely to switch banks than those who do so only rarely, according to the study. It's based on a survey of nearly 115,000 bank customers worldwide from July through September.
Source: "Customer Behavior and Loyalty in Retail Banking," Bain & Co.
The next step in a transition to electronics that began with the introduction of ATMs in the late 20th century is moving sales of higher-priced bank services to mobile devices, du Toit said. That transition has already begun in the U.S., but the more complex the product, the less likely mobile customers are to buy it on their devices, the study showed.
New checking and savings accounts made up more than 60% of mobile sales in 2015, while new credit cards accounted for more than 20%. Investment accounts, loans and mortgages combined were less than 19%, the study showed.
That's a pattern that Wells Fargo (WFC) - Get Report, the largest U.S. mortgage lender, is taking advantage of. It's the only one of the big U.S. banks that hasn't aggressively closed branches, using brick-and-mortar sites to introduce checking- and savings-account holders to more lucrative options like mortgages and auto loans. 
For each of the past five years, the San Francisco-based company has maintained a network of about 6,000 branches, said Kristopher Dahl, a spokesman.
"Our stores and store team members remain central to our strategy of providing excellent service to meet our customers' financial needs, and we continue to invest in modern technology to improve the store experience," he said in an e-mail.
Exclusive Look Inside: You see Jim Cramer on TV. Now, see where he invests his money and why Bank of America and Wells Fargo arecore holdings of his multi-million dollar portfolio. Learn more now.
Such improvements, from ATMS that let customers pay bills and withdraw cash in any denomination they want at Chase branches to machines with video-chat capability at Bank of America sites, will combine with improvements in mobile banking to further reshape the U.S. banking landscape, Bain predicts.
One model is the Netherlands, which has seen the largest increase worldwide in customers' mobile volume. The rate of branch visits there is about a quarter of that in the U.S., and more than half of all sales, including complex products like mortgages, are made digitally, Bain found.
While borrowers still talk with bank personnel, they do so by video chat, which allows banks to use a smaller number of loan specialists to communicate with customers across wide geographic regions rather than staffing individual sites, he said.
ABN Amro, one of the largest Dutch mortgage lenders, has been able to close about 75% of its branches because "as they digitized all these things including sales, the customers really weren't coming into the branches anymore and they just didn't need them," du Toit said.
Not only does that show how U.S. banks can benefit from continuing to expand mobile services, Bain's study indicates it's what customers want. 
When Bain analyzed responses to the question of what consumers expect to be able to do with their banks via mobile devices, "there were three words that really popped," du Toit said. "The three words were: anything, everything and now. That's what they expect, that's where it's going, that's what's going to happen. Once you can do anything and everything now, why would you go to a branch?"