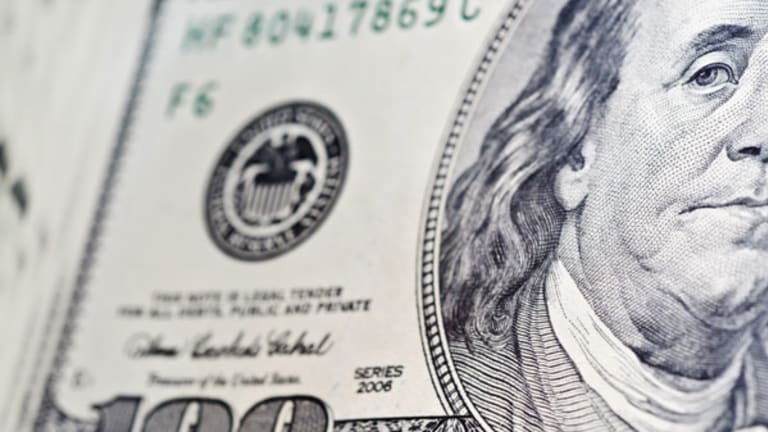 What Janet Yellen Doesn't Want You to Know About QE5
The Fed looks closer to another round of quantitative easing than it's been anytime in the last year -- and that could be a good thing for stock investors.
The Fed looks closer to another round of quantitative easing than it's been anytime in the last year -- and that could be a good thing for stock investors.
BALTIMORE (Stockpickr) -- Think you know what the new Fed boss is up to these days? Think again.
In fact, even as investors feel all hunky dory about stocks again, the Fed looks closer to another round of quantitative easing than it's been anytime in the last year. And it could be a good thing for stock investors.
Let me explain.
This month, brand new Federal Reserve Chairwoman Janet Yellen dropped a "bombshell" on Congress: Even if unemployment does fall below the previously stated 6.5% threshold in 2014, the Fed still wouldn't ease up on its zero-interest-rate policy.
>>5 Rocket Stocks Ready for Blastoff This Week
Yup, it was a real bombshell all right. Oh, and did you hear that Ben Bernanke is starting to lose his hair? That's the caliber of surprise that Yellen's announcement should have been to Wall Street. None at all.
That's because the Fed's interest rate and QE efforts have nothing to do with jobs, GDP growth, stock prices, or any of the other metrics that everyone's focusing on right now. There's just one metric that matters when it comes to stimulus money: inflation.
More specifically, the Fed is targeting a pretty narrow definition of inflation: a 2.2% minimum in the Feds 5-Year Forward Inflation Rate (Note: Thats also 0.2% higher than the Feds stated 2% target for inflation.)
Take a look at how well that 2.2% level acted as signal to open the floodgates on another round of QE to date:
Every time the Fed's inflation gauge has dipped below 2.2%, the Fed has launched a major stimulus program. Put a different way, the chart above has never crossed the 2.2% mark without the Fed immediately announcing a far-reaching QE initiative. In my view, that makes the chart above pretty important to investors.
It also reveals an interesting fact about where the Fed's mind is right now. In 2012, Bernanke and company got more aggressive with stimulus money, launching QE3 and QE4 well before inflation reached its "critical" level. But that makes sense. After all, each of the first three rounds were a stop gap designed to keep the economy from the perils of deflation. With QE3 and QE4, the Fed was giving the economy a shot in the arm, hoping to jumpstart an uptrend in inflation before it got to that precarious point.
>>5 Hated Stocks That Could Get Squeezed Much Higher
The taper is an experiment. Yellen's Fed wants to see if inflation can stay above the white line even if they publicly give the buying a rest. But the initial reaction isn't promising. Since the taper started, five-year forward inflation has been dropping like a rock, pushing to the lowest levels we've seen since the start of 2013.
So if inflation closes in on our 2.2% floor much faster, the possibility for QE5 -- or even more likely, an anti-taper -- is starting to look more probable than it has in a long while.
Do As I Say, Not As I Do
If it sounds like there's a disparity between a possibility of QE5 and what the Fed's been saying lately, it's because there is. But it's mind-boggling that some people think the Fed is in favor of full disclosure.
After all, talk is cheap, and QE isn't.
I said back in June that the language chosen by the Fed in its first taper hints was carefully chosen as a tool to aid in the fight against inflation. Testing the market's reaction to QE moves is a lot more cost effective than actually doing it.
So no one should be surprised if Fed officials are starting to think about more easing at the same time they're telling the media that the taper is sticking. The two key words for Fed statements are "plausible deniability." And frankly, they should be. If the Fed can positively impact the markets without resorting to pumping money into the system, it should.
>>5 Cash-Rich Stocks That Could Triple Your Gains
Meet the New Boss, Same as the Old Boss
Make no mistake, though, Yellen isn't some major change from Ben Bernanke's Fed. The new boss is very much the same as the old boss The biggest difference is that now Bernanke gets to wear his Hawaiian shirts again. The heat is off him for a change.
If anything, Yellen is more apt to hike quantitative easing than Bernanke was. That's worth remembering as inflation drifts down toward the 2.2% mark. Most important, it means that we're likely to remain in an environment that rewards stock investors.
To recap what I said back in June, stocks are still the most attractive asset class out there by virtue of the fact that investors have no other choice. Thats not the most exciting driver of a rally, but its reality. Broad market ETFs such as the SPDR S&P 500 ETF (SPY) - Get Report and the PowerShares QQQ Trust (QQQ) - Get Report remain some of the most attractive ways to get exposure to the trend right now. But this is still a stock-pickers market. Names with increasing relative strength will continue to be the best way to buy stocks in the near-and-long-term.
>>3 Big Stocks Getting Big Attention
More important, with so many investors pricing in upward pressure on interest rates, income investments such as REITs, MLPs and utilities are well positioned to outperform in 2014.
We're still very much in a "buy the dips market" right now. There are very few cracks showing in the current rally, even if some investors are starting to get worried that stock prices are getting ahead of themselves. Compared with historic valuation levels, they're just not.
So forget about jobs numbers, housing prices, and the other economic metrics Fed-watchers are harping on right now. Since the "Great Recession," the Fed has used 2.2% forward five-year inflation as its yard stick for whether it was time to hike stimulus efforts. And that QE gauge is starting to look shaky again for the first time in a year.
While a Fed action isn't imminent yet, it's starting to look a whole lot more likely.
-- Written by Jonas Elmerraji in Baltimore.
RELATED LINKS:
>>5 Stocks Ready to Explode on Bullish Earnings
>>Toxic Stocks: 5 Charts to Sell
>>5 Big Stocks to Trade for Gains in February
Follow Stockpickr on Twitter and become a fan on Facebook. Follow Jonas on Twitter @JonasElmerraji.
At the time of publication, author had no positions in the stocks mentioned. Jonas Elmerraji, CMT, is a senior market analyst at Agora Financial in Baltimore and a contributor to TheStreet. Before that, he managed a portfolio of stocks for an investment advisory returned 15% in 2008. He has been featured in Forbes , Investor's Business Daily, and on CNBC.com. Jonas holds a degree in financial economics from UMBC and the Chartered Market Technician designation.