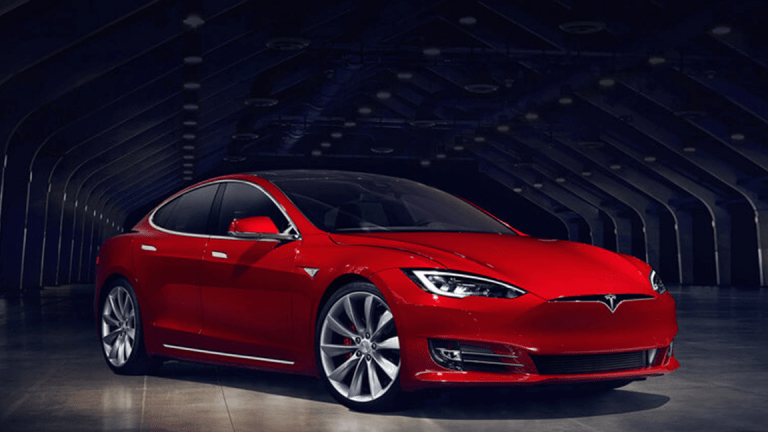 What Is the Model 3 Doing to Used-Tesla Sales?
Is the Model 3 having an impact on the used Tesla market?
2018 hasn't exactly been an explosive year for auto sales. Well, except for Tesla Inc.  (TSLA) .
However, that trend isn't anything new. The U.S. SAAR rate has consistently hovered near 17 million units for several years now. The worry over "peak auto" has seemed to fade, but the stagnation of the auto market in general has kept a lid on stocks like Ford Motor (F) and General Motors (GM) .
U.S. auto sales recovered from its recession-crisis lows. But even as the economy continues to improve, actual unit sales haven't seen much of a boost. That's even as average selling prices go up and promotions go down. However, it's not slowing down used-auto sales.
According to the Manheim Index, which tracks the value of used cars, the market just hit a new high.
From the report, "Wholesale used vehicle prices (on a mix-, mileage-, and seasonally adjusted basis) increased 1.51% month-over-month in July. This brought the Manheim Used Vehicle Value Index to 136.9, which was a 5.1% increase from a year ago and the highest level ever for the series."
Of course, Tesla sales continue to surge higher now that the young automaker is producing its Model 3 vehicle in higher volumes. The company expects to produce more than 50,000 units this quarter alone, along with its Model S and Model X.
That bodes well for Tesla, as its vehicle delivery continues to ratchet higher even in the face of a sluggish sales environment.
What does the used-car market look like for Tesla, though?
According to CarGurus (CARG) , an online auto marketplace, the average price of a Model S has decreased about 10% over the past two years. Bears will immediately jump on this data as proof that demand is faltering for Tesla.
That may not be the takeaway, though. Consider the mix of Tesla's data in August 2016 vs. August 2018. A 2012 Model S was just four years old. Now, though, a 2012 is six years ago, on the precipice of hitting the notable seven-year cycle where many buyers look for a new car. Plus, odds are that a car that's six years old vs. four years old has more mileage and in Tesla's case, that likely means a battery with slightly more degradation.
According to the CarGurus data, average Model S prices are down about 1.25% over the last 30 days and 2.7% over the last three months. Year-over-year, though, prices are actually up 2.7%. Throwing in another tidbit, TheStreet spoke with the data analysts at CarGurus, who told us that volume over the last 90 days and one year is actually up more than 200%.
Again, this isn't necessarily a nod to the fact that everyone is ditching their Tesla's. In fact, given how well the prices of these vehicles have held up, one could argue that there is a big demand for a used Tesla. Tesla recently told investors that the five most common, non-Tesla trade-ins for the Model 3 have been the Toyota (TM) Prius, BMW 3 Series, Honda (HMC) Accord and Civic, and the Nissan Leaf. 
The way that's worded has us thinking that there's a Tesla model (like the S) being excluded from that list. Either way, though, those are likely going into Tesla's certified used car program. As of now, it doesn't look like the Model 3 is causing a wave of selling for other Tesla vehicles. 
This article is commentary by an independent contributor. At the time of publication, the author had no positions in the stocks mentioned.