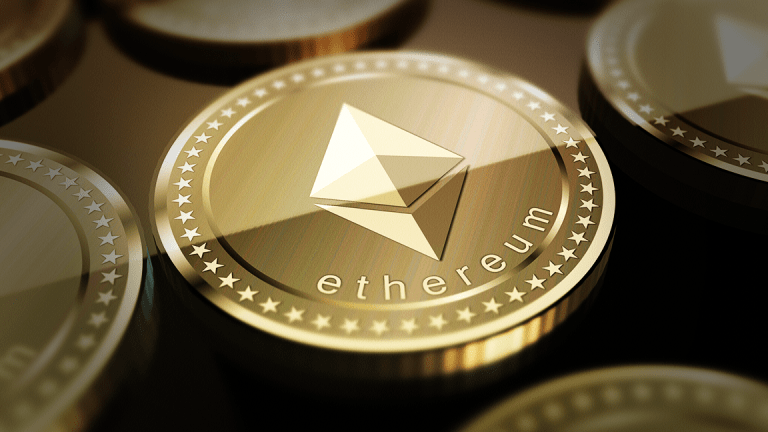 What Is Ethereum and How Does It Work?
What are ethereum and Ether? A look at a blockchain platform that's out to change everything.
You may have heard that ethereum is a cryptocurrency like Bitcoin. Although ethereum is the third-largest cryptocurrency by market cap, it is much more than a virtual coin. It's also a blockchain platform, and the cryptocurrency - used to conduct transactions on the platform - is actually called Ether, though it's often referred to as ethereum, too.
What Is Ethereum?
Ethereum is an open-source platform that uses blockchain technology to create and run decentralized digital applications, or "dapps" that enable users to make agreements and conduct transactions directly with each other to buy, sell and trade goods and services without a middle man. For instance, users can bypass banks to transfer money, skip using a lawyer to draw up a sales contract and launch their own fundraising site for project crowdsale rather than going through a crowdfunding Internet site, among other uses.
Ethereum operates via a global network of computers that work together as a supercomputer. The network assembles and runs smart contracts - applications that are, in theory, independent from any third party interference or censorship, as the blockchain is resistant to tampering. Smart contracts run exactly as programmed, greatly reducing the risk of fraud, and are self-executing, like an automat or vending machine that carries out the contract terms digitally. Once certain conditions are proven to have been met, such as the transfer of a payment, then the merchandise is conveyed or made accessible to the buyer.
The difference between ethereum and the internet is that all of these agreements and all the data pertaining to your transaction are stored in individual blockchain ledgers, not in some central warehouse like Google's (GOOGL) - Get Alphabet Inc. Report cloud or Facebook's (FB) - Get Meta Platforms Inc. Report servers, so it isn't as likely to be compromised by a data breach. The user is in control of her own data.
What Is Ether?
Running the computers that execute code to power dapps is costly and consumes a lot of power, so ethereum created Ether - its cryptocurrency - in order to incentivize programmers to run the ethereum protocol on their computers. Those programmers are compensated in virtual Ether coins for contributing resources and writing quality applications so the network remains healthy.
Just as Bitcoin miners get paid to maintain the Bitcoin blockchain by solving computational problems that allow them to add transactions to the public ledger, developers also use ether to pay to build and launch a smart contract on the ethereum platform. They're awarded 3 ether for each new block they add to the ledger. Ether is also for users who want to access smart contracts on the ethereum blockchain.
Ether debuted in a July 2014 initial coin offering (ICO), pricing at about 40 cents a coin. At its height, the cryptocurrency hit a record intraday high of $1,417.38 on Jan. 10, according to CoinDesk.
Ether's price recently fell to about $114, amid a cryptocurrency selloff that has shaved 73% off its price over the past year. The crypto craze of January has cooled amid a steady stream of negative news reports about ICO fraud and thefts.
Why Was Ethereum Founded?
Ethereum was founded by 19-year-old Russian-Canadian Vitalik Buterin, whose intent was to take the technology that powered Bitcoin's digital currency and use it to democratize everything from organizations, business, currencies and even enable users to create "your own country with an unchangeable constitution" - putting the decision-making and power to create anything and economic control into the hands of individuals and taking it away from the world's central banks, corporations and power brokers.
A major stumbling block for the company has been vocal criticism from those same entities that stand to lose the most if Buterin's vision is realized.
He released a white paper in 2013 delineating his ideas for ethereum, and was awarded the prestigious Thiel Fellowship for his work, along with a $100,000 prize. His ideas attracted other developers such as co-founder Dr. Gavin Wood and Joseph Lubin, who joined him in launching a crowdfunding campaign in July 2014.
Ethereum raised $18 million in a crowdsale that was the most successful of its time. Its first platform, Frontier, was launched in July 2015.
How Does Ethereum Work?
Based on blockchain technology, ethereum consists of a series of cryptographic, or secure, public records linked together that each are difficult to change because they are stamped with user data, time and date and changes that must be approved by all users.
On the ledger, anyone can create a financial contract or keep debt or ownership registries and eliminate the use of an external recordkeeper or trust officer. They're called "trustless" transactions because they eliminate the need for trusting the counterparty to the transaction since the contract is self-fulfilling.
Because of its sweeping size and scope, ethereum's main technical problem has been speed and storage. It has operated at only a few transactions per second, with other crytpo platforms able to carry out hundreds. Users have complained of bottlenecks and the expense of using the platform.
A recent report citing sources close to the project said ethereum developers are discussing an upgrade that could boost the technology's capabilities. The update, known as "ethereum 1x" is expected to potentially be rolled out in January 2019, and includes changes to help slow the ethereum blockchain's growth.
For any changes to be made to the platform, there must be a distributed consensus among the software users, but perhaps the update will be welcome if it addresses the ethereum platform's greatest shortcomings.
Regulatory Concerns About Ethereum
Ether has been dogged by regulatory concerns for a while, as Securities and Exchange Commission officials raised questions about whether ethereum should be regulated as a security. Another dark cloud hanging over all cryptocurrencies has been the ongoing SEC investigation and Department of Justice investigations into bitcoin and other cryptocurrencies.
The altcoin took a hit when Gary Gensler, a former Commodities Futures Trading Commission (CFTC) chairman, said that "there is a strong case that one or both of [Ethereum and Ripple] are noncompliant securities." The word "noncompliant" raised worries that only registered stockbrokers would be able to deal in ether. At the time, the report sent ether plunging.
Despite getting a boost in June when SEC director of corporate finance William Hinman said ether and the ethereum network are not securities transactions, regulators have yet to implement formal regulations for cryptocurrency. Although the CFTC has said it deems bitcoin a commodity, crypto's future still remains shrouded in uncertainty with the multiple investigations.
In addition to pressure from regulators, the the steady flow of criticism from banks, brokerages and economists has contributed to crypto's nosedive this year.
In June, for instance, the Bank of International Settlements - which is made up of 60 central banks that have a lot to lose if crypto were to take over fiat currency's role - issued a scathing report on crypto's "shortcomings," saying it isn't scalable, doesn't have stable enough value and there isn't sufficient trust in the finality of crypto's payments to replace money.
The BIS criticized the energy-sapping behemoth that is crypto mining, saying as the ledgers grow in size, they won't be able to process transactions even with the most powerful facilities.
Others have speculated that cryptocurrencies won't be able to compete with USD or EUR cryptocurrencies once the central banks decide to issue their own digital coins. Those arguments seem to ignore the decentralization aspect of cryptocurrency its proponents favor, as well as the privacy and anonymity crypto provides.
BIS's criticism may be based on an oversimplified view of the technology that doesn't take into account the fact that ether and other large cryptocurrencies have evolving open source platforms with developers around the world who want it to work and have something to gain by solving its problems.
The main obstacle for the technology has been that it is difficult for the average person to understand, so until it becomes more broadly accessible, it will struggle with misperceptions.