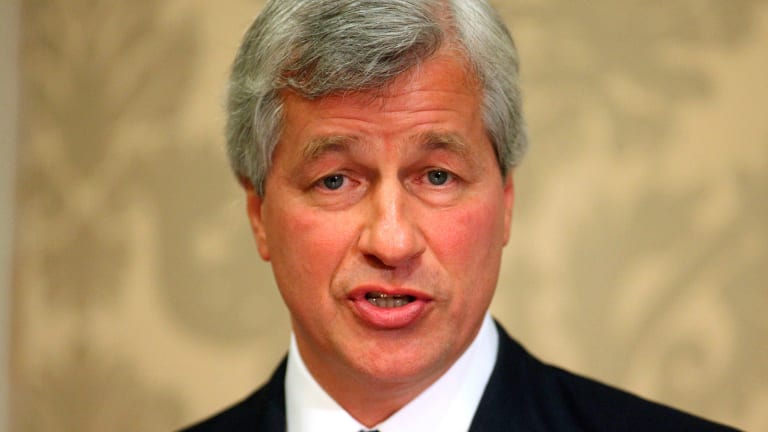 What if Jamie Dimon Is Right and 10-Year Treasury Yields Hit 5%?
These two plays on JPMorgan stock should make you big bucks if interest rates shoot higher.
Fear Jamie.
CEO Jamie Dimon of JPMorgan Chase (JPM) - Get Report said recently that the U.S. 10-year Treasury yield "should be 4% today, [and] you better be prepared to deal with rates of 5% or higher -- it's a higher probability than most people think." Is America's most famous banker right ... and if so, how should smart investors play this?
Well, should Dimon turn out to be correct, then bank stocks will probably perform the best, while utilities, REITs and telecoms -- dividend-payers that are usually identified as bond proxies -- will suffer. After all, no one will clamor for a stock with a 3.6% dividend when the U.S. Treasury will pay you 5% for your money.
But with the 10-year note yielding 4% or more, the spread between the yield curve's short and long ends will expand and push net interest margins higher, making traditional banking a great profit driver. Let's check out some plays on JPMorgan Chase itself.
JPMorgan currently trades at less than 12 times forward earnings. The firm recently reported that revenues from consumer and community banking rose 53% in the second quarter, while commercial-banking revenues grew 21%. However, this was more due to a rise in economic activity rather than improved lending conditions.
Still, throw in a credit-card business that saw volumes rise 11% for the quarter and you're looking at a bevy of business lines that would flourish if we get a higher interest-rate environment. And let's not forget the firm's fortress-like balance sheet.
Add it all up and JPMorgan Chase looks good here to me. Here are two ways to play the stock:
Trade No. 1: Sell a Series of Cascading Put Options
Sell (write) one $110 October put option (last price: about $1.56).
Sell (write) one $105 October put option (last price: roughly 74 cents).
Sell (write) one $100 October put option (last price: around 44 cents).
Best case: The stock goes higher and you pocket $274.
Worst case: The stock goes much lower by expiration. You'd be forced to buy 100 shares at each strike price less your aggregate premium. If disaster were to strike, you'd be long 300 shares at a $105 average price less a 91-cent-per-share average premium for a $104.09 net cost basis.
Trade No. 2: Do a Buy/Write Play on JPMorgan
Purchase 100 shares of JPMorgan (Friday's closing price: $117.09).
Sell (write) one $125 call option (last price: about 99 cents).
Best case: The shares rise in value (analysts' average price target is $122.17). You'd have a $116.10 net cost basis and be committed to taking a profit at $125 should the shares trade above that level at expiration.
Worst case: JPMorgan decreases in value. However, you'd still have a $116.10 net cost basis.
Catch the Market Recon column even earlier each trading day on Real Money, our premium site for active traders.
At the time of publication, Guilfoyle was long JPM, C and GS and short JPM put options., although positions may change at any time.