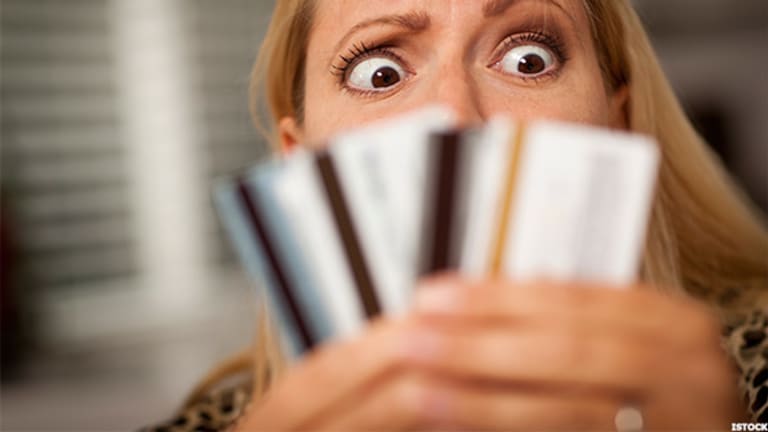 What Highest Credit-Card Debt Since '08 Crisis Means for the U.S.
Credit card debt is increasing to levels seen before the 2008 financial crisis. Does it mean the U.S. economy is head for a downturn or simply show a justified optimism?
Editor's pick: Originally published Dec. 23.
Consumers' happiness with the economy right now has led to elevated spending as 2016 comes to a close.
And as consumers spend, one area to watch is the rise in credit card debt levels as Americans now owe as much on those cards as in the quarter before the 2008 financial crisis began, according to a recent WalletHub study. Their balances rose to $747 billion at the end of this year's third quarter, making up 6% of a total $12.35 trillion in U.S. household debt, a separate report from the Federal Reserve Bank of New York shows.
The question for economists is whether that surge in spending represents a justifiable optimism that consumers will benefit under the administration of President-elect Donald Trump or if it's an early sign that shoppers lack the cash to buy necessities.
Card debt may climb even further next year, topping $1 trillion, but Eric Higgins, an associate finance professor at Kansas State University, said that isn't necessarily a problem -- unless the bills start to go unpaid.
"Until those delinquency rates and default rates start to increase a lot, I wouldn't be terribly worried about credit card debt," Higgins said in a phone interview. "When you get an overall economic contraction, then the credit card debt, student loan debt and everything else starts adding up."
For now, however, charge-off rates are near historic lows: at 2.86% in the third quarter, down from 3.95% in the third quarter of 2007 as the financial crisis was building, WalletHub found.
"Overall, the credit-card delinquency rate has been trending down since the height of the financial crisis," researchers at the New York Fed wrote in a blog post this summer. "The downward trend is consistent with the movement in credit extensions toward borrowers with higher credit scores as well as an improvement in overall economic conditions."
Still, WalletHub predicts that charge-offs, which banks use to remove debt that's more than six months old from their books, may be as high as high as $30 billion in 2017, which would limit credit availability.
One of the factors at play is the Fed's 25 basis-point interest-rate hike in December. Such increases typically spur banks to boost their lending rates, since they benefit from passing higher interest on to borrowers more quickly than to the depositors who provide their funding base.
The average credit card interest rate now is 16.26%, according to Bankrate, and forecasters expect at least two or three interest-rate increases during 2017.
"I think anybody who has an outstanding balance on their credit cards should certainly be worried," Jill Gonzalez, a WalletHub analyst, said in a phone interview.
Consumers are using credit cards more for everyday expenses partly because of improving perks due to heightened competition between financial institutions like JPMorgan Chase (JPM) - Get Report , Citigroup (C) - Get Report , American Express (AXP) - Get Report and Capital One (COF) - Get Report  .
Not only are the firms boosting cash-back incentives for everything from travel, groceries and gas, some are offering 0% interest deals for as long as 21 months on balance transfers and new purchases.
"Because credit card deals are so appealing now, more and more people are applying for them and they're also using them for basic needs," Gonzalez said. "But when you are unable to pay that back, hopefully by the end of your billing cycle, that's when it really adds up. That's where we see these rotating balances that are not being paid off."
The amount at risk has grown recently, with consumer spending hitting the highest average ever recorded by polling firm Gallup -- rising by $5 to an average of $98 daily -- following Trump's surprise victory in the presidential campaign in November.
Another reason for concern about the mounting card debt is the historical pattern of economic troubles in the U.S. coming to a head about every eight years. The last such event was the 2008 financial crisis, which was preceded by the bursting of the dotcom bubble in 2001, the bond-market turbulence of 1994 and the savings-and-loan failures of the late 1980s.
A recent report by the Federal Reserve Bank of New York noted that credit card limits have increased for 15 consecutive quarters, auto loan orginations are at the highest levels in six years, and student loan balances increased over the past 18 years. 
There is going to be a "tipping point" where household debt could become unsustainable, Gonzalez predicts. Right before the financial crisis in the fourth quarter of 2007, average credit card household debt was $8,463, the highest since 1986.
As of the third quarter of this year, household credit card debt reached $7,941, missing the pre-recession mark by a little over $500. That compares with median 2015 household income in the U.S. of $56,516, according to the U.S. Census Bureau.
"There will be a point where people can't afford to make their minimum monthly payment," Gonzalez said in a phone interview. "We think that will be in 2017 when we reach that unsustainable household debt level, of around $8,400." 
EXCLUSIVE LOOK INSIDE: Citigroup is a holdings in Jim Cramer's Action Alerts PLUS charitable trust portfolio.Want to be alerted before Cramer buys or sells the stock? Learn more now.