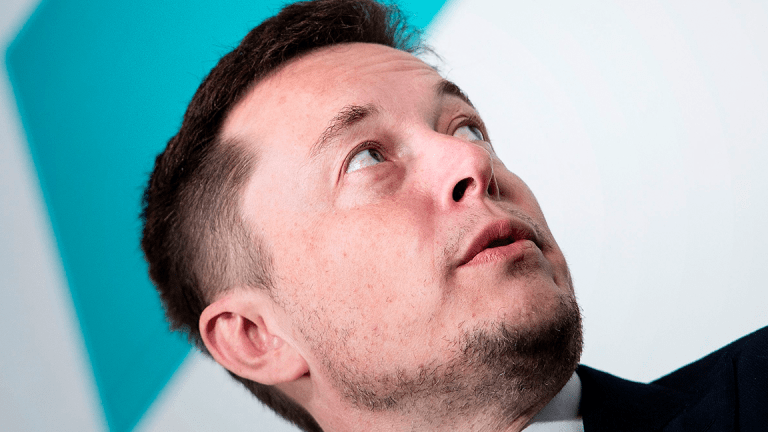 Publish date:
What Happens When Elon Musk Responds to Your Tweet About SpaceX
Elon Musk challenges Boeing to beat SpaceX to Mars. Meanwhile, Netflix bulls have some new positive data to chew on.
Elon Musk challenges Boeing to beat SpaceX to Mars. Meanwhile, Netflix bulls have some new positive data to chew on.
Big week. 
Do you want to know what a day is like for someone with 21-million plus Twitter followers? Try getting a tweet from Tesla (TSLA) - Get Tesla Inc Report and SpaceX founder Elon Musk. Here's the setup. 
When asked by TheStreet on Thursday about which company will be first to Mars, Boeing (BA) - Get Boeing Company Report or SpaceX, Boeing CEO Dennis Muilenburg said emphatically: "Boeing." He said: "We are working jointly with NASA and building that first rocket space launch system. It's about 38 stories tall, the first story is being built right now. It has 9.2 million pounds of thrust on that rocket, it's the biggest rocket ever. We will begin test flights starting next year." Muilenburg added, "I firmly believe that the first person to step foot on Mars will get there on a Boeing rocket."
Meanwhile, Musk has stated that SpaceX will begin test flights of its Mars rocket in early 2019. The big-thinking entrepreneur believes SpaceX will be able to send manned rockets to Mars by 2024. Musk wasted no time responding to Boeing on Twitter, saying Thursday night "do it" in a tweet reply to TheStreet's founder Jim Cramer.
The original tweet that Musk replied to has 3,523 retweets and 33,600 likes as of this writing. Which company do you think will get to Mars first? Take our Twitter poll here. On another note, TheStreet will be sitting down with Dunkin' Brands (DNKN) - Get Dunkin' Brands Group, Inc. Report CEO Nigel Travis Friday at 12 p.m. ET. Interview to go live shortly thereafter. 
Data of the Day 
Here is a pound of flesh for the Netflix (NFLX) - Get Netflix, Inc. (NFLX) Report bulls. Long-time tech analyst Mark Mahaney surveyed more than 1,000 people to get their thoughts on Netflix -- the results came away so upbeat that Mahaney is now even more bullish.
Some fascinating data: (1) "84% of Subs "Not at all Likely" or "Slightly Likely" to cancel in next 3 months, below the 88% average of the last 5 quarters, but intrinsically positive ... perhaps a lag impact from price increase?"; (2) "A RH (registered household) 37% in France & RH 35% in Germany use Netflix to watch Movies & TV shows, vs. 21%/17% in May '17."; (3) "55% of respondents watch Netflix (down vs. 60% in March but up vs. 53% in May '17), with still significant lead over YouTube, Amazon & Hulu, all of which also dropped vs. March." Netflix shares year to date have risen more than 75%.
About the Market
The market is setup for a correction, and there is good reason to think it will continue to play out Friday (Tuesday's selloff was the start). Consider the market's setup on jobs day. If jobs miss estimates again (currently around 190,000 on the headline), it will spark concern of a slowly economy coming alongside a Federal Reserve tightening cycle. That's not good. If jobs beat estimates and wage growth is hot, it will spur fears of inflation that could speed up the pace of rate tightening. Couple that with an escalating trade skirmish, which now extends beyond the borders of China, and investors should be reassessing their appetite for risk.