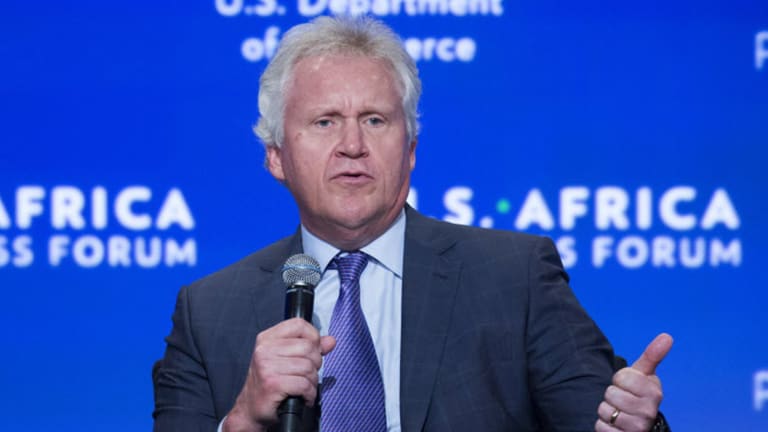 What GE's Latest Moves Tell Us About the Next Oil Boom
The financial oil players of yesterday are jumping ship, but GE CEO Jeff Immelt's plan for the future speaks volumes about where financial markets and the oil business are headed.
The financial oil players of yesterday are jumping ship, but GE CEO Jeff Immelt's plan for the future speaks volumes about where financial markets and the oil business are headed.
NEW YORK (Real Money) -- Hey Jeff Immelt, thanks for the heads up. You've just confirmed a lot of what I've been saying about the trajectory of financial markets and where the next big opportunities in oil are going to be with your proposed sales of GE Capital and your massive real estate holdings to Blackstone (BX) - Get Report.
Oil? How can I talk about the oil markets when GE (GE) - Get Report had absolutely nothing to do with them? The mega-trends that this paring down of GE represent are all about the financial engineering and opportunities that the financial markets, including the oil market, has presented in the last 10 years, both up and down. When GE decides to get out of half a trillion dollars of financial assets today, it says plenty about the next big thing tomorrow.
Immelt wants to have the success in stock price that predecessor Jack Welch had, but all the financial tricks that Welch used are gone. Dodd-Frank has been a big part of stripping financial institutions of much of the leveraged profit schemes from fixed income, real estate and, yes, commodities and oil. For GE, not primarily in the finance game, getting labeled as a too-big-to-fail potential problem, like AIG (AIG) - Get Report and MetLife (MET) - Get Report have, isn't worth it if the regulations don't allow a big profit to flow from all that paperwork and compliance. The insurance companies are whining about it and so is Jamie Dimon of JPMorgan Chase (JPM) - Get Report, now the self-appointed head lobbyist against Dodd-Frank restrictions.
Immelt decided to just get out of the game and concentrate on light bulbs and aircraft engines and 400 other things his company does well. I mean, who needs that headache if you don't have to have it, right Jeff?
Now, let's circle back to oil, as I always do.
Among the biggest winners in the last oil boom from 2003-2008 were the investment banks, as they leveraged up on booming oil prices and booming oil companies. The commodity divisions traded for billions of dollars a year in oil forwards and futures and the financial advisory business on fixed income issuance, IPOs, MLPs, subsidiaries -- just about everything in the oil world -- was booming as well.
One thing we know for sure is that another boom is coming in oil -- my upcoming book "Shale Boom, Shale Bust" discusses all of this -- and another thing we think we know is that the financial oil players of yesterday are leaving the business. As Immelt and others get out, we need to identify those players ready to fill that vacuum and preparing to cash in on the next big move -- preferably without the federal government looking over their shoulders -- and invest in them.
That might let AIG, MetLife, Prudential (PRU) - Get Report, or anyone else out who has been labeled as a systemic risk, including the investment banks. Jamie Dimon may cry, but the regulation and capitalization requirements inside Dodd-Frank aren't going to change soon enough for them to take advantage of the next oil boom.
But it does point to companies like Blackstone and Apollo and other private equity players ready to invest and use the leverage of low interest rates that the IBs now can't. They will surely clean up. It also, perhaps, points to advisory firms who have great relationships inside the oil patch, but have yet to venture into financial services (Bain, Deloitte, KKR and others). It wouldn't take much to interest these companies into moving into oil as the insurance companies did during the 2000s.
So, thanks for the insight, Jeff. You've just provided another reason to start looking for the next winners in a financial business you've decided is just too much trouble.
This article was originally published at 11:51 a.m. EDT, April 13, 2015, on Real Money.
This article is commentary by an independent contributor. At the time of publication, the author held no positions in the stocks mentioned.