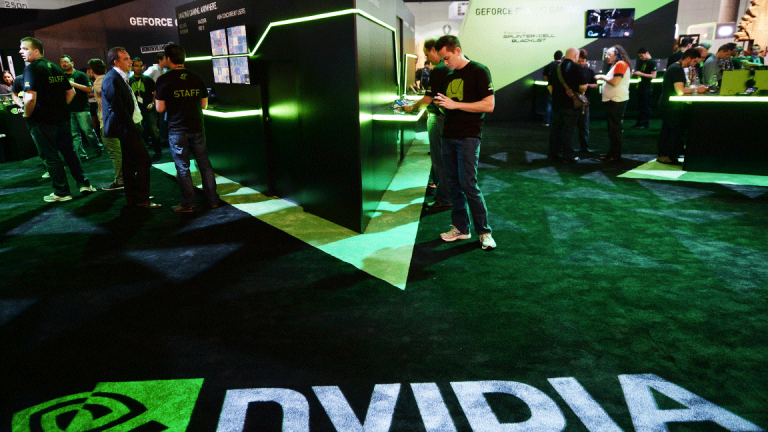 What Could Drive Nvidia's Stock Higher -- and What Could Stand in the Way
The GPU giant should get a boost from new products this year, as well as from powerful gaming and AI trends. But keep an eye out for some potential risks.
Nvidia (NVDA) - Get NVIDIA Corporation Report has a lot going for it heading into the second half of 2018.
But with its shares now trading at lofty forward earnings multiples, it's worth taking a close look at the things that could derail the GPU giant's momentum, in addition to the positive trends that could keep the party going.
The market's reaction to Nvidia's April quarter earnings report drives home the need to look carefully at both positives and negatives. Though Nvidia easily beat estimates and issued above-consensus July quarter sales guidance, its shares fell 2.2% on Friday, in large part due to the company's forecast that sales of graphics cards meant specifically for cryptocurrency miners (only 9% of last quarter's revenue) would drop by two-thirds this quarter. Though gaming and data center trends generally looked very good, bad crypto news was enough to spark some profit-taking.
With that in mind, here's a look at the positive trends/events and potential risks likely to shape how Nvidia's stock between now and year's end.
Positive Trends and Events
Gaming Demand - Though it hasn't launched new high-end gaming GPUs since early 2017, Nvidia's Gaming segment revenue rose 68% annually last quarter to $1.72 billion (54% of total revenue). Gaming graphics card purchases by crypto miners did help out a bit, as did the replenishment of depleted retail graphics card inventories. But strong demand from PC gamers was also clearly a factor, as was healthy demand for Nintendo's Switch console, which is powered by Nvidia's Tegra X1 system-on-chip (SoC).
On Thursday's earnings call, management went out of its way to note how "battle royale" games such as Fortnite and PUBG are boosting demand for gaming graphics cards. Strong interest in playing demanding AAA games at high resolutions and image-quality settings isn't hurting either. As for the Switch, Nintendo has forecast it will sell 20 million units of the versatile console this fiscal year (it ends in March 2019), up from 15 million in its last fiscal year.
The Turing Launches - Judging by recent reports, it won't be too long before Nvidia launches the GeForce GTX 1180, a high-end gaming GPU based on its next-gen Turing architecture. With two years now having passed since Nvidia launched the first GPUs based on the Pascal architecture its gaming lineup currently relies on, Turing should be able to drive decent upgrade activity.
Nvidia CEO Jensen Huang
Moreover, there's little need for Nvidia to price its first Turing GPUs aggressively. The performance of AMD's (AMD) - Get Advanced Micro Devices, Inc. Report most powerful gaming GPU (the Vega 64) trails that of Nvidia's two most powerful Pascal gaming GPUs (the GTX 1080 Ti and Titan Xp), and there's no indication that AMD plans a new high-end launch before 2019 (and maybe not even then). Nvidia should be able to charge premium prices for its first Turing parts (the GTX 1180 is rumored to cost $699), while perhaps cutting prices for some Pascal GPUs to gain share.
A Diversifying AI Boom - To date, Nvidia's AI-related data center sales have been fueled to a large degree by sales to cloud giants using Nvidia GPUs to train deep learning algorithms. And with those cloud giants making massive investments in creating AI-powered services and more generally stepping up their capital spending, this trend is at little risk of going away in the near-term.
But now, Nvidia is also getting a boost from the use of its GPUs by cloud providers for inference (running trained algorithms against live data and content). And from investments by enterprises in AI training -- whether by buying hardware such as Nvidia's DGX training systems, or by relying on third-party cloud infrastructures providing access to GPUs. The upcoming launch of Nvidia's powerful DGX-2 system should provide a lift to enterprise sales.
The GV100 Launch - In late March, Nvidia unveiled the Quadro GV100, a $9,000 workstation GPU that -- through its support of the company's RTX real-time ray tracing tech -- can dramatically speed up the rendering of photorealistic content. GV100 sales to game developers, TV/film studios and various other businesses should give a boost to Nvidia's Professional Visualization segment revenue, which last quarter rose 22% to $251 million.
Potential Risks
Disillusioned Crypto Miners - Back in 2013, Nvidia and AMD's GPU sales nosedived following a plunge in Bitcoin's price, as Bitcoin miners who had bought graphics cards en masse put them up for sale and caused a supply glut. Now that the latest miner-driven graphics card boom is petering out, it's worth paying close attention to whether the graphics card aftermarket once more gets flooded.
Possibly limiting the damage in the event that this happens: The fact that a large portion of the cards bought by miners during the latest boom were mining-optimized cards, rather than standard graphics cards. Such cards could still have some value to gamers, but that value is likely well below a card's list price.
AI Training Competition - Though a number of firms have unveiled rival AI training silicon or announced plans to do so, it hasn't done too much to dent Nvidia's dominant position in this space thus far. Alphabet/Google (GOOGL) - Get Alphabet Inc. Class A Report has arguably made the most headway courtesy of its Tensor Processing Units (TPUs), which are used by Google (in addition to Nvidia GPUs) for some internal training work and are being made available to cloud clients. However, an anticipated Intel (INTC) - Get Intel Corporation Report solution -- the Nervana Neural Network Processor (NNP) -- still doesn't appear to be shipping, and the efforts of AI chip startups such as Graphcore and KnuEdge remain very much wait-and-see stories.
If this narrative changes during the back half of 2018 -- for example, if Intel lands some major clients for the NNP, or if another cloud giant joins Google in unveiling a custom training chip -- markets probably won't react kindly to the news. Nvidia's giant CUDA developer ecosystem remains a big competitive advantage in this fight, as are the big R&D investments that have helped it create products such as the DGX-2 and the flagship Tesla V100 training GPU. On the earnings call, CEO Jensen Huang insisted Nvidia has little to fear from competition -- including from a 3rd-gen TPU Google unveiled earlier in the week.
Infotainment Pressures - Nvidia has cautioned that it's paring its investments in the automotive infotainment processor market in order to focus on autonomous driving efforts that aren't expected to significantly contribute to revenue before late 2019. That's a big reason why Nvidia's Automotive segment revenue has seen very little growth the last couple of quarters.
There's some risk that Automotive growth will turn negative during the back half of 2018, given the design win momentum that Qualcomm (QCOM) - Get Qualcomm Inc Report has reported seeing for its infotainment offerings. In recent months, Qualcomm has reported having a $1 billion-plus infotainment backlog, as well as a $4 billion-plus total automotive backlog.
The Big Picture
Crypto issues aside, business is still very good for Nvidia. And newer products such as the DGX-2, the GV100 and (assuming reports are accurate) the GTX 1180 should act as fresh catalysts in the near future.
But this is a stock that's trading for 33 times its fiscal 2020 (ends in Jan. 2020) EPS consensus. And as such, its margin of error is lower than that of a company like Apple (AAPL) - Get Apple Inc. Report , whose forward earnings multiples are less than half as high.
For that reason, any potential storm clouds on Nvidia's horizon need to be closely watched -- even if they hardly spell doom at this point.
This column originally appeared on Real Money, our premium site for active traders. Click here to get more great columns like this.
Jim Cramer and the Action Alerts PLUS team hold positions in Nvidia, Alphabet and Apple for their portfolio. Want to be alerted before Cramer buys or sells NVDA, GOOGL or AAPL? Learn more now.