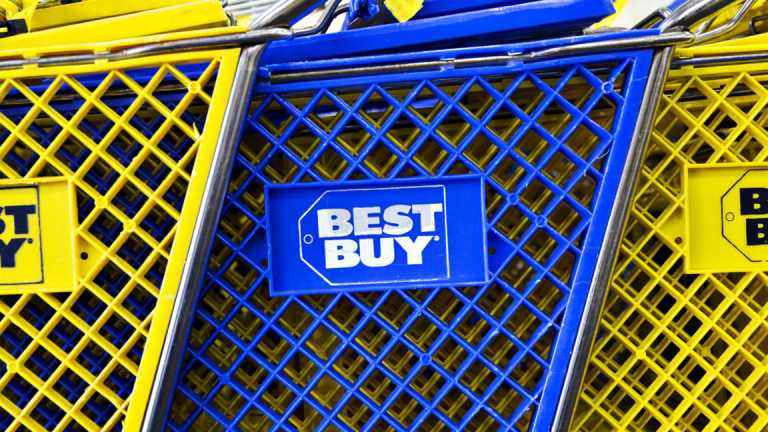 What Can a Trader Do With Best Buy Stock?
I recently decided not to buy any shares in the company. Lucky miss.
Chutes Without Ladders
As toddlers, my sister and I used to play the famous board-game where depending on the spot where one lands, the individual either slides down a long chute, or climbs a ladder. I had intended to carry my long position in Best Buy (BBY) - Get Report into the holiday season as far back as September. This was one of the first names that I got rid of in early October at an average price of $70 and change. The broad market selloff that stated there has now surpassed the threshold of what many consider to be the definition of a Correction (-10% from the highs) was just getting in gear at that time. The retailers were making a lot of noise regarding trade with China, and this name was one of the first deck chairs thrown overboard for me as my ship started taking on water. I could have made a better sale a day of two prior, but then again, these shares never looked back once I made that sale either.
The stock had been so badly beaten that recently I considered buying back what I had sold. As I usually do with the retailers, I visited my local Best Buy location before taking on some shares. I walked around the store, stopped over by the laptops pretending to need help. Nothing. Look around. Employees walk by. Maybe it's just the department, so I walk over to household appliances. Same thing. The employees did not seem interested in making a sale that day. I decided to walk out. I put my hands in my jacket pockets in a way that should have drawn interest from the security employee at the door. Again, nothing. Now it may just be my store, and it may have just been a bad day, but I decided not to buy any shares in the company that day. Lucky miss.
Will I Be Back?
To the store? Definitely. I have thought the employees energetic and helpful in the past. They'll get another chance. The stock may have to prove itself, especially after Bank of America Merrill Lynch made their opinion known this morning. BAML cut it's rating on BBY to "Underperform" from "Neutral", so it's not like they loved the chain to begin with. However, the firm dropped their price objective for BBY from $70 to $50.
Best Buy will report its Q4 results on February 19th. Industry consensus is for EPS of $2.57, which would be good for earnings growth of 6.2%. Revenue is expected to print somewhere around $14.7 billion, which will illustrate a contraction year over year for that line item. The stock trades at just 9.8 times forward looking earnings, and given the general outlook for growth, is it possible that these earnings projections are just too high. If relations with China don't come to an amicable resolution in the near future... perhaps. That's the way BAML feels at least for the current quarter, but also makes a point of mentioning the full year.
The Catch
The analyst behind the BAML opinion is not highly rated by TipRanks, at least not yet. The last highly rated, high profile analyst that I see that still has a buy rating on BBY, and a much higher price target ($81) is Piper Jaffray's Peter Keith. My belief would be that if Keith throws in the towel, that the marketplace will notice. Perhaps at that point I will initiate an entry level long but not without another visit to my local store.
Free Lunch?
So, what can a trader do, other than sit on their hands, and wait to see if another shoe drops? Right now, a trader might be able to sell one BBY $47.50 February 15th put at an implied value of $1.29, instead of taking down an equity stake. Hopefully, this trader pockets $129, and takes his or her significant other out for a nice meal. The risk is that the shares trade below $47.50 by expiration, and the trader is forced to eat these shares at a net basis of $46.21. Note that expiration is four days ahead of this Q4 earnings release.
At the time of publication, Stephen Guilfoyle had no position in the securities mentioned.