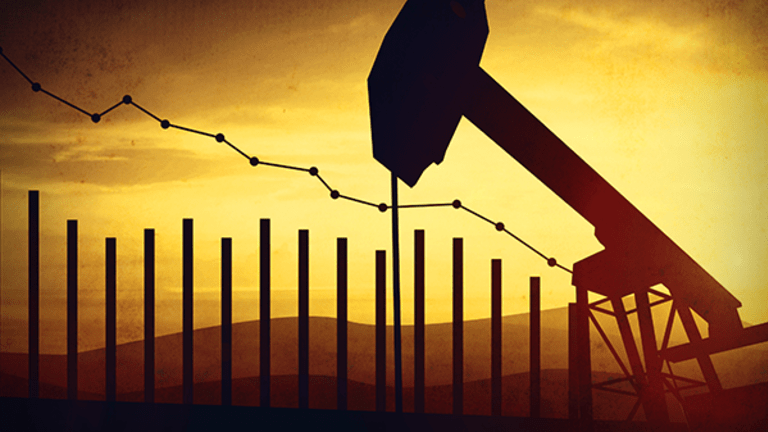 What BHP Means for Oil; How ADP Could Have Avoided a Showdown: Best of Cramer
Cramer explains what a BHP deal could have meant to the market, and also discusses how ADP could have avoided a showdown.
Here are Jim Cramer's top thoughts on some of the biggest stories of the week. 
Cramer: What BHP Deal Could Mean for Oil Stocks
Oil stocks have been in free fall for weeks even as the price of oil is holding at the $47 level. Many oil companies' shares are closing in on their January-February 2016 lows. That's incredible given that oil had plummeted to $26 back then, some $20 lower than crude currently trades at. Some oil and gas stocks, especially the service stocks but also some notable independents, have already crashed through their bottoms from back then.
The bear market in oil, which is taking a slight breather today, has been relentless. Hundreds of portfolio managers are aghast at these declines in what were thought to be value stocks.
Why is it so stunning? Because there had been a belief going into this year that domestic assets, especially those in the Permian, can be very lucrative even below $45 because of all the technological breakthroughs involving quicker and deeper drilling. That means these companies were thought to be making scads of money at these levels.
After this last quarter, though, with so many earnings disappointments, we realize that the vast majority of oil companies are spending more than they have to produce less than we thought, and even the best properties aren't proving their worth.
Now, along comes a total moment of truth and I do not mean Total's (TOT) - Get Total SA Sponsored ADR Class B Report $7.45 billion purchase of Maersk's oil and gas assets. I'm talking about BHP's (BHP) - Get BHP Group Ltd Sponsored ADR Report unloading of its remaining shale holdings left from a disastrous $20 billion buying spree some six years ago in the biggest shale plays in this country, notably the Permian, the Eagle Ford, Fayetteville and Haynesville.
The sale's being done under pressure from activist fund manager Elliott Partners, which has repeatedly stressed that these assets are worth more to other companies than to BHP itself.
When you look at the shale fields that BHP bought and the prices they paid, you have to wonder whether someone had simply lost his mind in calculating value. I blanched back when BHP first bought $4.75 billion in Fayetteville, Ark., assets from Chesapeake (CHK) - Get Chesapeake Energy Corporation Report , a deal that marked a high at the time for natural gas. But then it paid a 50% premium for Petrohawk at the height of the speculative boom. For $15 billion, they got 1 million acres of Haynesville, Eagle Ford and Permian properties.
Now the company has been trimming some of these assets of late in part because embattled BHP CEO Andrew Mackenzie now views these properties as "more of a curse"-- hardly a ringing endorsement -- because of all the resources that need to spent just to maintain the value of these businesses.
BHP's stock has been a huge winner of late because we have been in a roaring commodity bull market. But the fact is these assets, whether to be sold in a package or piecemeal, could be the determinant of the entire pricing environment. I know Anadarko (APC) - Get Anadarko Petroleum Corporation Report has expressed interest in some of these properties. So have several private equity firms.
Nevertheless, I do not believe Wall Street has an appetite for financing any company to buy these BHP assets at any cost. Companies have been forced out of the equity markets. The door is closed. Buyers will have to come up with their own money.
Right now the oil stocks are reflecting either a collapse in oil prices or a collapse in the values of U.S. shale properties.
I think one or both might be the case. We have not had any price discovery during this awful period.
With these BHP assets for sale in an unforced way, we can find out some real hardcore values. Estimates for these properties are all over the map. Suffice it to say that if there are bidding wars for these assets and they fetch anywhere near about $10 billion, then the oil stocks are way too cheap and you will have to buy them. Anything less than $7 billion and these stocks could have still one more big leg down.
Fortunately, it doesn't matter for BHP. It has fabulous mineral assets away from domestic onshore shales and I think the stock goes still higher once the petroleum properties are disposed -- another win for Elliott Partners.
These potential sales aren't getting the attention they deserve. Right now we are all flying blind when it comes to the worth of the stocks that are in free fall. My survey of smart oil and gas money says the prices these properties go for will surprise to the upside and there will be a mad scramble to buy what's been crushed here. To me, that's too optimistic. I'm just hoping these sales begin the much-needed consolidation for the domestics and the bear market in oil shares will at last be at an end.
More of What's Trending on TheStreet:
The 30 Nastiest Storms in Recent U.S. History Have Caused Mind-Blowing Damage
Action Alerts PLUS, which Cramer co-manages as a charitable trust, has no positions in the stocks mentioned.
Originally published Aug. 22 at 2:25 p.m. EDT
Jim Cramer: Sit-Down Could've Avoided a Showdown at ADP
Sometimes you wish things had gone better between two smart people who don't have to be foes.
That's how I felt after listening to Carlos Rodriguez, the president and CEO of Automatic Data Processing (ADP) - Get Automatic Data Processing, Inc. Report , after he was on Mad Money tonight.
Bill Ackman's Pershing Square controls 8% of the company's stock and has produced a voluminous and accusatory white paper about how the company could do much better. Today the company's board said it will not accept his three nominees.
After listening to Rodriguez, it makes little sense to me why Ackman didn't sit down with him and go over the issues that he has with ADP.
I think there would be less distance and acrimony had there been a sit-down and the two had talked. Perhaps if Ackman had met with key players in Rodriguez's team and with the board, what will be a costly proxy fight could have been avoided.
Now it's just World War III.
I do feel that Rodriguez, whose stock has doubled the S&P during his tenure, deserved that sit-down. I also think some of the harsher charges could have been avoided.
But they won't be.
And now it is a free-for-all and will be unusually distracting and it just didn't have to be that way.
More of What's Trending on TheStreet:
The 30 Nastiest Storms in Recent U.S. History Have Caused Mind-Blowing Damage
Action Alerts PLUS, which Cramer co-manages as a charitable trust, has no positions in the stocks mentioned.
Originally published Aug. 21 at 7:04 p.m. EDT
Click here for information on RealMoney, where you can see all the blogs, including Jim Cramer's--and reader comments--in real time.
Jim Cramer fills his blog on RealMoney every day with his up-to-the-minute reactions to what's happening in the market and his legendary ahead-of-the-crowd ideas. This week he blogged on:
How Amazon's foray into food could go.
How gremlins keep putting up roadblocks.
Action Alerts PLUS, which Jim Cramer manages as a charitable trust, has no positions in the stocks mentioned.