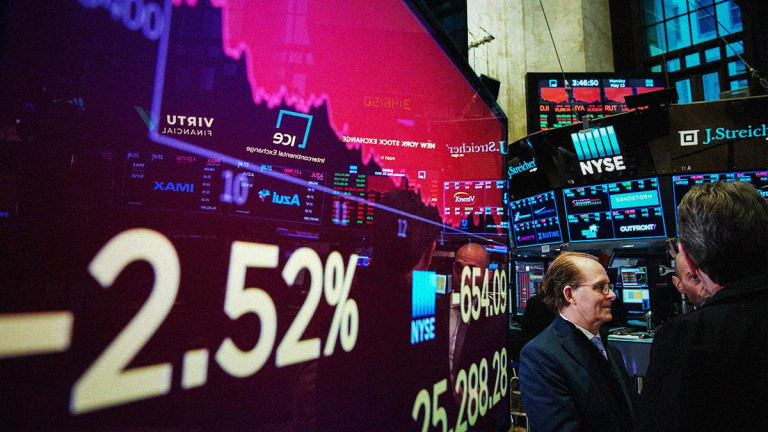 What Are Small-Cap Stocks and What Do They Mean?
Small-cap stocks can offer just as much or more reward than large-cap stocks, but with risks, too. Here's how to find the balance you need to invest in small-cap stocks.
In the world of Wall Street, good things really do come in small packages.
So it goes with small-cap stocks, one of the most prevalent, "go-to" portfolio options for growth-minded investors.
Small-cap stocks have some of the strongest return on investment track records in history.
According to John Hancock Investment Management, since 1927 U.S. small-cap stocks have outperformed large-cap stocks on a regular basis.
That said, small-cap stocks can also come with more risk than larger stock categories. Data from James Research shows that over the past 25 years, small-cap securities have experienced significantly more volatility than large-cap stocks.
That's the conundrum with small-cap stocks - they can offer more financial reward but they also can come with more investment risk.
After all, small companies don't normally have the cash reserves of large companies, nor do they have the seasoned management experience of bigger firms. Additionally, their primary products or services don't have the shelf lives of brand names like Coca-Cola (KO) - Get Coca-Cola Company (The) Report or Amazon (AMZN) - Get Amazon.com Inc. Report , and consumers are more likely to purchase brands they know than brands they don't know.
The key in finding the right balance between risk and reward is learning all you can about small-cap stocks, and calculating how much of a percentage of small-cap stocks belong in your investment portfolio.
What Are Small-Cap Stocks?
Small-cap stocks are publicly traded stocks that have a market capitalization (i.e., financial value) of between $300 million and $2 billion. Compare that to large-cap stocks, which usually have market capitalization ranges of between $5 billion and $10 billion.
Market capitalization is the key metric in determining the value of a small-cap stock. A market cap calculation is straightforward - it's the amount of shares of a company outstanding multiplied by the market price of a given small-cap security.
Here's an example of how a small company stock value, as measured by market capitalization, is calculated.
Market cap = the number of shares outstanding times actual share price.
Let's say a company has 10,000 shares that trade at $40 per share. In this instance, 10,000 x $40 = $400,000 million. Thus, that company's market cap stands at $400 million, classifying the company as a small-cap stock.
Essentially, small-cap stocks earn their name for other reasons that go beyond their market cap numbers.
For example, small cap stocks represent America's most vital job creation engine - small businesses. All in all, 65% of all new jobs come from small companies, according to figures from the federal government.
Make no mistake, Uncle Sam knows the importance of small companies to the U.S. economy. The U.S. Small Business Administration funds the nation's small businesses to the tune of $20 billion annually, aiding the country's estimated 30 million U.S. small businesses.
Small-Cap Companies Aren't Start-ups
There is a common misconception that small-company stocks represent businesses that are just starting out.
That's just not the case.
Small-cap stocks are shares of companies that already have a well-established record of financial performance and business experience. In fact, small-cap companies need to have that record of success, as major U.S. stock exchanges like the New York Stock Exchange and NASDAQundefined , and the investment banks that underwrite initial public offerings, won't accept a private small company as a publicly-traded member unless it meets rigid business performance standards, including annual revenues, cash flow, and ample market demand for its products and services.
Once those hurdles are cleared, a private small company can become a publicly-traded entity, and begin trading on an exchange after its initial IPO.
The Risk and Reward of Small-Cap Stocks
While there certainly is risk with small-cap stocks, the upside is abundant, if you know what to look for in a good, growth-oriented small-cap stock.
Faster Growth 

Compared to large-cap stocks, which have less capacity for share price growth, small-cap stocks can earn money faster, and thus grow faster, than larger companies. That's a big advantage for investors seeking portfolio financial growth - there is simply more opportunity to make money, in a shorter period of time, than large-cap stocks.
Look at small-cap growth from what economists call a capital appreciation point of view. A company that earns $150 million annually is much more likely to double its value to $300 million than a company that earns $1.5 billion would double its revenues to $3 billion.
Inaccurate Stock Pricing 

Let's face it, fewer stock market analysts cover small-company stocks compared to the army of analysts who track an Amazon or a Coca-Cola.
Considering that analysts endeavor to examine a stock to calculate an estimated share price, that means with fewer market mavens covering small company stocks, those small company share prices may not be priced correctly.
That pricing inefficiency can lead directly to buying opportunities for small cap investors who've done the research and better understand a small company's actual financial value, and who can take full advantage of an undervalued stock.
Chances of a Price-Rising Merger are Higher Than With Large-Cap Stocks 
Stock prices appreciate in myriad ways, and one way that small-cap stock price can rise is if the underlying company is bought up in a merger or acquisition by a larger company.
It's fairly common for a larger company to buy up a smaller one, usually to take advantage of unique industry expertise and/or to gain access to a large and potentially profitable customer base.
Often, to acquire a new company, a larger one will beef up the purchase price to outlast competitors and to show markets and industries that it is willing to pay a premium to snap up a small, valuable company.
That scenario works out well for small-cap stock owners, who should see an immediate rise in share price value once the company is acquired.
How to Find the Best Small Cap Stocks: Tips
While the number of small cap stocks trading in the U.S. vary on a regular basis, the Russell 2000 index undefined , the benchmark index for small-cap stocks, holds about 2,000 companies.
That gives investors plenty of options when choosing among small-cap stocks. How do you find the best ones? These tips can guide you on your small-cap journey.
Look for the Right Size 

With a market cap range of between $300 million and $2 billion, small-cap stocks offer a wide range of potential companies to choose from.
Break that range down by looking at smaller companies first, the ones closer to $300 million- to $1 billion-level in market cap value. These are the stocks that have the most opportunity to grow.
Study their performance on investment web sites like TheStreet.com and focus on important metrics like cash flow, debt, recent revenue statements and the experience and quality of the company's management.
If you kick enough tires, you'll find good opportunities in the small-cap stock world.
Who Owns the Company?

The potential value of a small-cap stock is, in many cases, in direct proportion to who owns the company.
If the business is owned by the original owners, that's usually a good sign. They have skin in the game, are passionate about their company and industry, and are committed to making sure the company keeps growing.
That "insiders" passion may not be as strong if the company is owned by a major conglomerate that is distant, on a day-to-day business, with the company's financial performance.
That's not to say corporate ownership is a weak point on its own. It means that nobody knows a company like its original owners, so factor that into any buying decision and focus your research on a small-cap company's majority owners.
Are You Into Growth or Value?

Small-cap stocks usually come in two varieties - value and growth.
Value stocks are usually more conventional in nature, and have already established a record of revenue and share price performance.
Growth stocks have more room to grow, but also come with higher investment risk.
Historically, value-oriented small-cap stocks have outperformed growth-oriented small-cap stocks, but a small cap investor's mileage may vary. By and large, if you're a more conservative investor with a moderate appetite for investment risk, value stocks may allow you to sleep better at night.
Growth stocks do come with more risk attached, but they also come with a higher ceiling, financially.
If you can stand the risk, or if you're young and have the time to recover from stock losses stemming from growth stocks, growth-oriented small stocks or stock funds could be for you.
Take a Look at Small Cap Funds
If you're unsure about choosing the right small-cap stocks, take that scenario out of the equation by investing in small-cap mutual funds and exchange-traded funds.
These funds bundle dozens or even hundreds of small-cap companies all in one fund, taking any guesswork out of the equation.
You'll pay an investment fee of up to 1.5% (less for ETFs) but you'll be able to diversify the small-cap portion of your investment portfolio and spread the risk around.
That way you can benefit from upswings in the overall stock market, but reduce your chances of losing a bundle - something any long-term investor should factor into his or her portfolio management decisions.
Introducing TheStreet Courses:Financial titans Jim Cramer and Robert Powell are bringing their market savvy and investing strategies to you. Learn how to create tax-efficient income, avoid mistakes, reduce risk and more. With our courses, you will have the tools and knowledge needed to achieve your financial goals. Learn more about TheStreet Courses on investing and personal finance here.