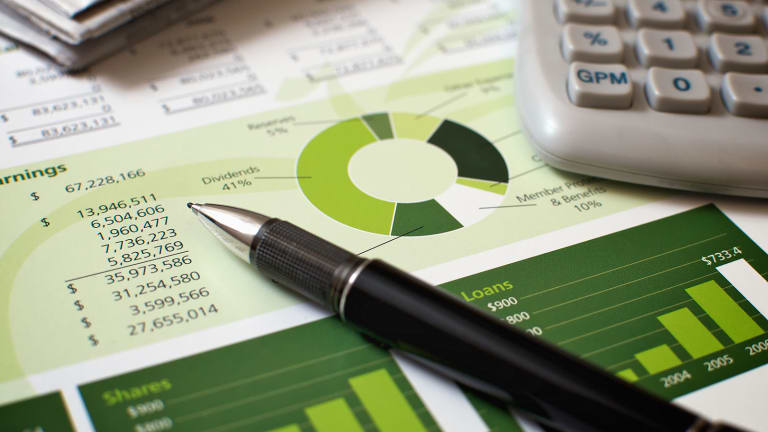 What Is a Dividend Aristocrat and How Do You Join the Club?
It's no secret why the list of S&P 500 'dividend aristocrats' is a who's-who of great Wall Street brands. Here's what makes them so special.
American investors love their dividends.
While they're not exactly free, dividend payouts do come as a bonus when you invest in stocks that pay shareholder dividends. Through that prism, you can't blame an investor who looks at dividends as a great deal, although dividends are linked to the cost (and value) of purchasing a stock.
Stock dividends are especially popular with older investors in retirement. Having a big investment in stock that pay a strong dividend - think 4% or more of the share price - provides a much-needed income infusion for retirees who are living on a fixed income.
Or, consider a middle-aged couple who use their twice-yearly dividend payments to pay off credit card debt, or add an extra mortgage payment, to improve their household financial situation.
Yet just like stocks, some dividends are better than others. Much better than others, in fact.
That's the case with the dividend aristocrats, the kings of the hill in the share dividend world. Dividend aristocrats, by definition, are an illustrious class of Standard & Poor's 500 stocks that have paid out a regular dividend for 25 year in a row. Better yet, each dividend aristocrat can also boast that the payouts also represent 25 years of consecutive dividend increases.
There's not a lot of buzz over dividend aristocrats and that's a shame.
Like Joe DiMaggio's 56-game hitting streak or "The Simpson's" 29-year run on television as a feature television show, a 25-year record of regular and higher dividend payments is the stuff that Wall Stream income dreams are made of.
Let's take a closer look at the dividend aristocrats and shine a light on what makes them so special.
What Is a Dividend Aristocrat?
To understand the value of a dividend aristocrat, you must first understand dividends.
A dividend represents the distribution of public company assets, made payable to shareholders of record by a predetermined date of eligibility. The cash comes directly from a company's earnings, and is paid out on a systematic timetable. Also, it's not just stocks that generate dividend payouts - mutual fund and exchange-traded funds can and do make dividend payments, as well.
Most companies pay dividends quarterly, but some pay twice-yearly or even monthly - the payment is at the discretion of the company, which also steers the decision making over how much of a dividend the company elects to pay.
Dividend payments can be made in multiple ways:
As shares of other company assets or property.
Far and away, cash dividend payments are the favored choice of shareholders, who can elect to get a check or have the cash directed straight into their bank accounts.
While the payment is the most popular outcome stemming from dividend payments, the engine that makes the dividend go is its yield. In short, a dividend yield represents a publicly traded company's annualized dividend payout, divided by the firm's share price at the time the dividend is calculated.
The formula for calculating dividend yield goes like this:
Dividend Yield = Annual Dividend Per Share / Current Price Per Share
Any dividend-minded investor should pay close attention to a stock's dividend yield, as it comprises the cash flow that shareholder will earn through his or her purchase of the company's stock.
It's important to recognize that the stronger the dividend yield, the larger the dividend payment the shareholder will receive.
How to Become a Dividend Aristocrats
As of February 2019, there is a grand total of 57 S&P dividend aristocrats who have issued 25 consecutive years of rising dividend payouts and outperforming other dividend stocks.
It's a rare club to be a member of, given that there are around 4,000 stocks in the U.S. traded on a regular basis.
Getting into the club isn't easy - you've got to clear these three high hurdles:
A dividend stock has to be in the S&P 500.
A dividend aristocrat needs to have a record of 25-plus years of consecutive years of dividend increases.
A dividend aristocrat must measure up for a minimum size mandate and meet share liquidity requirements.
Of the 57 stocks on the list of dividend aristocrats, there are new members appearing on a regular basis.
For instance, on Jan. 24, 2019, the following companies punched their ticket into the dividend aristocrat society. They are:
For a full list of the 57 dividend aristocrats, check out this menu from Dividendgrowthinvestor.com.
In reviewing the list, you'll notice certain "master class" aristocrats, that represent the best of the best even in the rarefied air of the dividend aristocrat list. Check out these eye-popping performance results.
-- 3M  (MM) , Dover Corp. (DOV) - Get Dover Corporation Report , Emerson Electric (EMR) - Get Emerson Electric Co. Report , Genuine Parts Co. (GPC) - Get Genuine Parts Company Report , and Proctor & Gamble (PG) - Get Procter & Gamble Company Report all have 60-plus years of consecutive year-to-year dividend growth.
-- Retailers on the list have a solid track record of dividend activity - Lowes (LOW) - Get Lowe's Companies, Inc. Report , Target (TGT) - Get Target Corporation Report and Walgreens Boost Alliance (WBA) - Get Walgreens Boots Alliance Inc Report are at the top of the list with a 10-year record of dividend growth rates, at 18.36%, 15.43%, and 15.01%, respectively.
-- Some recognizable big-name corporate brands boast the highest dividend yields - the bread and butter of strong dividend payouts. For example, AT&T (T) - Get AT&T Inc. Report has a sturdy dividend yield of 6.89% and health care services provider Abbvie Inc. (ABBV) - Get AbbVie, Inc. Report offers a strong yield to its shareholders of 5.45%.
Five Signs of a Potential Dividend Aristocrat
While a thorough review of any of the stocks listed on the "top 57" list should reveal characteristics of a strong dividend stock, there are unifying signs that might point to a future inductee to the dividend aristocrat list. All of the following points apply here:
1. Sustainability
One theme long-time list members like 3M and Proctor and Gamble is that each has demonstrated the ability to grow financially through economic cycle after economic cycle. Most companies can't say the same. Thus, one strong clue to a dividend aristocrat-worthy company is the ability to generate revenue through good and bad economic times.
2. Valuations are crucial
While the dividend aristocrats don't appear on the front pages of the business news every day, and even appear understated from an investor optics point of view, smart investors already know about them, and often bid share prices up. That's why the proper valuation of a company and the ability to get into the stock at a discounted price is a big deal when it comes to top-paying dividend stocks.
3. The initial yield must be strong
To be worthy of a dividend aristocrat, a dividend-paying stock should have a good yield right out of the gate - right as you buy the stock. Aim for a dividend yield of 2.0%, which is a good starting point for investors, but also offers room for dividend growth.
4. Robust earnings per share
Another metric to focus on when measuring potential dividend winners is earnings per share. Specifically, look for a company that outperforms in its own market or industry, and use earnings-per-share as your benchmark. A business that can keep on producing extra-base hits on a quarterly basis on earnings, is worthy of consideration for dividend-minded investors.
5. Pay attention to stock buyback programs
Much was made of companies that leveraged the tax act of 2017 to use their financial gains to engage in share buyback programs. That may have muddied the water, but as that water clears, it's a good idea to focus on companies that continue with strong share buyback programs. That's because stock buybacks dilute the number of shares available and make each remaining share more valuable, which comes in handy in the form of large dividend payouts.
Seasoning Counts, Too
By and large, it's the bigger, more experienced and seasoned companies that top the list of dividend aristocrats.
These are the stocks that pay out the most aggressive and most consistent dividends over time, and those exact tenets are the driving force behind the rise of the dividend aristocrat - the cream of the crop of dividend-paying stocks - or most other stocks, for that matter.