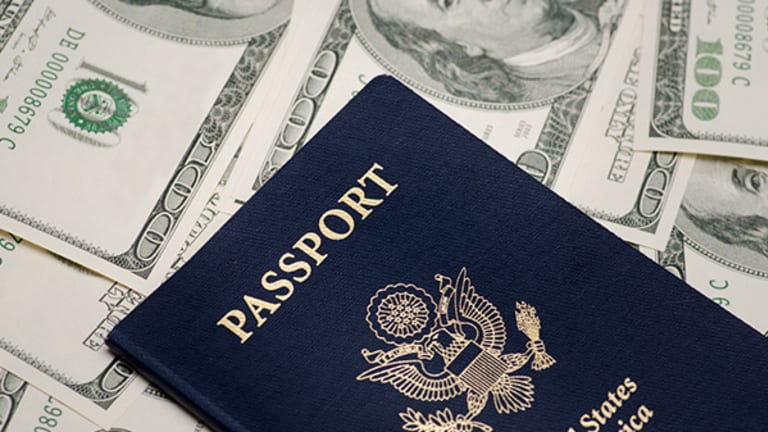 What a Stronger Dollar Means for Investments: Good, Bad and Ugly
A surging greenback means both winners and losers in the stock market. Here's at look at who they are, from corporations to individual households.
Editors' pick: Originally published Dec. 16.
The greenback is back.
The U.S currency has climbed 4.1% this year against a basket of global currencies, and nearly four times that much against the British pound alone.
U.S stock markets, in the meantime, have made double-digit gains across the board, but that masks individual winners and losers. Coming out ahead are the consumers who drive the U.S. economy and can get more bank for their buck, as well as the import companies that sell to them. Exporters, on the other hand, may see sales suffer as overseas customers find American-made goods more costly.
To illustrate how much more, the euro, one of the world's most widely traded currencies, has fallen 3.7% against the greenback this year, and the British pound has tumbled 15%.
In just the past six months, the trade-weighted dollar index has climbed 8%, according to data from the St. Louis Federal Reserve. That trend will likely continue, since the Federal Reserve's monetary policy committee raised the cost of borrowing money by 25 basis points earlier this week, to a range of 0.5% to 0.75%, making the dollar more attractive to investors.
Digesting that move, investors "see little reason to change the broad post-election narrative of higher bond yields and a stronger dollar," states a recent report from the Institute for International Finance.
Consumers
For consumers, a stronger dollar translates to better deals in stores, at least for a while. Why? Because it allows retailers to buy more knickknacks for the same number of dollars and pass the savings on to consumers.
"In the short-term, the strong dollar is going to be deflationary at the retail level," says Steven Blitz, a New York-based independent economist. Initially, lower prices in the stores will help offset the squeeze on household budgets from the rising cost of essentials such as rent, health care and gasoline.
But next year, Blitz sees the possibility that rising wages could give retailers a choice as to whether to pass on the lower costs to consumers or keep increasing their profits.
Assuming retailers choose the latter, that should boost stocks in firms that sell the things that consumers "like to buy," such as clothes and electronics, as opposed to necessities.  If that happens, watch for gains in companies like Apple (AAPL) - Get Report and Macy's (M) - Get Report .
Exporters
Companies that sell goods or services overseas will face a tougher market. Sales of non-military aircraft, such as those from Boeing (BA) - Get Report , or medical devices from General Electric (GE) - Get Report may take a hit, although manufacturers may be able to lower prices a bit since they're likely to be paying less for raw materials.
Multinationals
Large U.S.-based companies like United Technologies and others in the S&P 500 have substantial earnings from overseas -- a little less than half of profits, on average. Unfortunately, as the dollar rallies, the value of the non-U.S. earnings can shrink, or at least not grow as fast as if the dollar were stable.
Lower earnings tend to weigh on stock prices, although the prospect of corporate tax cuts under President-elect Donald Trump may mitigate this effect.
Capital flows
Rising currency values tend to attract more capital: In 2015, when the U.S. dollar climbed, non-residents sent $3.2 billion of capital to the U.S. according to data from the finance institute. 
"Inflows go into real assets, stocks and debt, which pushes up prices, and people use that increased wealth to spend money," says Blitz. "For the next six months, you may see assets price rise due to capital inflows." 
Gold Blues
One asset that will suffer under a strong dollar is gold. Gold is priced in the U.S. currency, which means that when the greenback rises in value, gold prices tend to drop, just as they did in the past six months, down from $1,296 a troy ounce in early May to $1,135 recently. Likewise, gold mining stocks, such as those held in the VanEck Vectors Gold Miners ETF (GDX) - Get Report , took a 25% hit over the past six months.
The author is an independent contractor and owns none of the securities mentioned in this story.