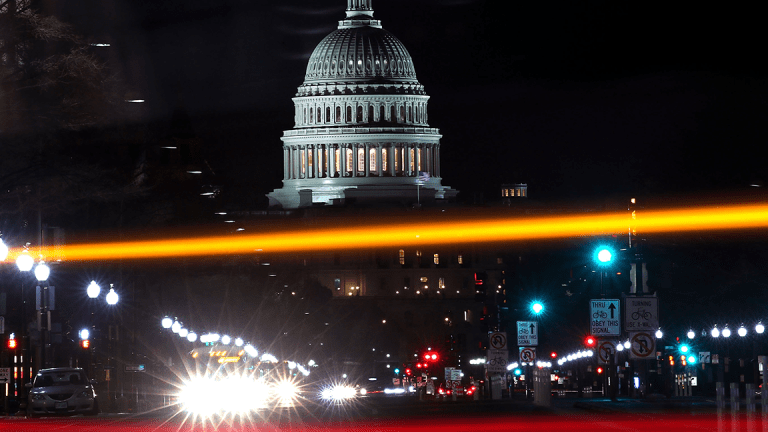 Here's What a Government Shutdown Would Look Like
The Senate could prevent the first government shutdown in more than four years with a vote Friday.
The U.S. government will run out of funding if the Senate does not vote to keep the government open on Friday. 
House Republicans voted Thursday night to approve funding the government for another month, but Democrats and Republicans in the upper house remain divided on multiple issues, raising the possibility of a government shutdown.
The last time the U.S. government went without funding for any period of time was more than four years ago.
At least a dozen Senate Democrats would have to cross the aisle to approve the funding measure, though the group is looking to secure concessions like protections for young immigrants brought illegally into the country as children, more aid to Puerto Rico and increased domestic spending. 
Here are just some of the things Americans could face if the government goes unfunded. 
Stock Market Dips
Markets like stability, and nothing says instability like the federal government being so divided that it chooses not to fund itself. Very few things can throw cold water on the record-setting pace the major indices have been on for the past year quite like a government shutdown. The last government shutdown is estimated to have cost the U.S. economy $24 billion, according to Standard & Poor's.
Rethinking Vacation Plans
America's national parks are a tribute to how beautiful this country is. But those parks, museums, national zoos and such are staffed by federal employees who won't receive funding if the government shuts down.
Vacation plans could also be stalled by tax returns being delayed.  
Medical Research Impeded
Government employees are classified as either "essential" or "non-essential" in the case of a shutdown. Government institutions like the National Institutes of Health would not be able to take on any new patients or begin any new clinical trials in the event of a shutdown. 
Trash Service in D.C.
The District of Columbia's funding is overseen by the federal government, so things like trash pickup will be on the cutting room floor in the nation's capital. 
More of What's Trending on TheStreet: