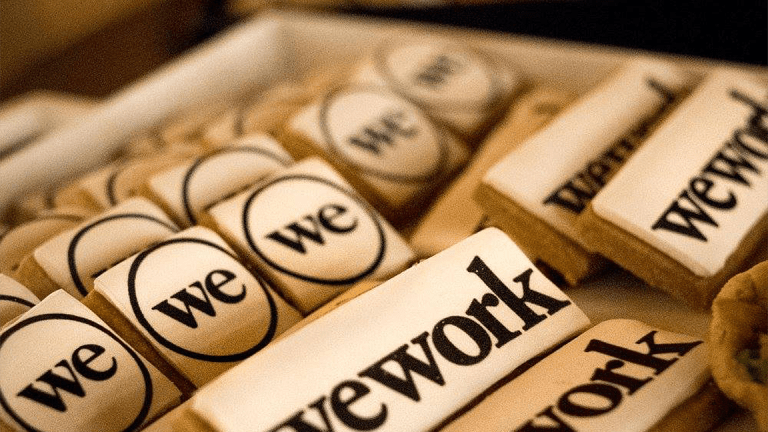 The initial public offering of the newfangled property management company WeWork appeared to lose ground this week, as Bloomberg and The Wall Street Journal both reported the company was looking to cut its offer price by as much as half, and might even delay its share sale until next year, citing unnamed sources. 
The publications had previously reported that a WeWork roadshow would start next week.
The slashing of the offer price, if true, is attributed to a lack of interest in the offering but also concerns about the business model. The revised price would place WeWork's valuation in a range of $20 billion to $30 billion, the publications noted, which would be less than half the recent valuation of $47 billion. 
WeWork's filing comes as the largest offering this year, Uber (UBER) - Get Uber Technologies, Inc. Report , has fizzled. Uber shares are down 23% from their IPO price on May 10.
The biggest issue facing WeWork, at least on paper, is a massive commitment to future leases of over $17 billion, years into the future, at a time when the world may be headed to recession. When future lease obligations come due, the commercial property market may be much less conducive to WeWork's business. 
Bloomberg and others have reported on a number of issues, including the company's large losses to date the super-voting shares of management, large insider share sales in the private market by founder and CEO Adam Neumann (he holds 22% of the shares) and the obscure nature of the economics of the business.
The We Company, the entity that is actually going public, owns 100% of a subsidiary, WeWork, which runs the actual operations. WeWork has been losing money at a furious clip, according to an updated prospectus filed on Wednesday (the original filing was made in mid-August).
Originally founded in 2010, New York-based WeWork takes out leases on commercial property and then carves up the space and rents it to businesses, who it refers to as "members," in return for providing various services as a management company, including installing telecommunications and various amenities, and managing the properties. 
The IPO prospectus, filed in mid-August, shows that total expenses, including WeWork's cost to manage properties and its general corporate costs, led to an operating loss of $1.37 billion in the first six months of this year, or 89% of its total revenue. That is up slightly from the same period of last year, even though revenue doubled in that period to $1.54 billion.
More concerning is the balance sheet, which describes arrangements the company has entered into to secure future property to rent. Those "lease obligations" are a bet there will continue to be demand for WeWork's property management for years into the future. 
The balance sheet shows long-term lease obligations of $17.92 billion, and the company describes a future value of "cost payment obligations" totaling $47.2 billion. 
Noted real estate investor Sam Zell on Wednesday delivered a scorching appraisal of WeWork on CNBC's "Squawk Box" segment. Characterizing WeWork as a company that "loses 50 cents out of every dollar of revenue," Zell's harshest comments were about that large future obligation in the face of possible recession.
Comparing WeWork to the U.S. Savings & Loan industry, which has been through repeated periods of boom and bust, Zell attacked the practice of "creating long-term liabilities and short-term assets," as he characterized it.
"Every other time in history when they create that, the results are predictable, why is this any different?" said Zell.
In a downturn, if WeWork has to re-negotiate rents, it might protect bond holders, said Zell, but, "it doesn't do a lot for the equity holder."  
Tiernan Ray neither trades nor owns any shares of any company mentioned in this report.