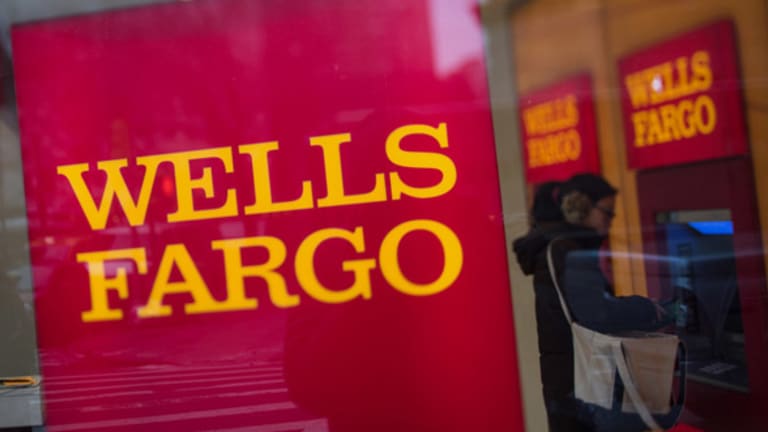 Wells Fargo Works to Regain Trust as Bogus Accounts Curb Growth
As the fallout from the Wells Fargo continues, the bank's November credit card applications and new account openings are down over 40% from a year ago.
As the fallout from the Wells Fargo continues, the bank's November credit card applications and new account openings are down over 40% from a year ago.
The number of new checking accounts and credit card applications at Wells Fargo  (WFC) - Get Reportis down more than40% from a year ago, showing the bank still needs significant work to regain customer trust lost during a scandal over the opening of bogus accounts.
The San Francisco-based bank saw new consumer checking accounts fall 9% from October and 41% from last November, which perpetuated a 3% drop in branch banker interactions, the company said Thursday in its monthly retail banking customer activity report.
New credit card applications, meanwhile, fell 45% from last year, which costs the bank revenue from the Federal Reserve's 25 basis-point increase in interest rates on Wednesday. Shortly after the decision, Wells Fargo said it was raising its prime rate from 3.5% to 3.75%, affecting cards that have variable annual rates. 
"My No. 1priorityremainsrebuildingtrust," Mary Mack, Wells Fargo's community banking senior executive vice president, said on a conference call Friday. "We'rebeginningtoslowly reintroducemarketingandinselectmarketsthroughoutthecountry,we'vereintroducedsomeproduct offers."
The company is working on a new compensation plan for its retail banking team members, which will be rolled out in January and replace the sales-based incentive targets linked to the opening of more than 2 million unauthorized customer accounts by workers trying to meet sales goals. More than 5,300 were fired over a five-year period for their involvement, and the resulting scandal prompted Congressional hearings and the abrupt retirement of former chairman and CEO John Stumpf. 
While customer account closings were down 13% from the prior month, the number of customers wanting to close checking accounts still rose 2% over the previous year.
Overall, customers reported a 74.8% satisfaction rate with the financial services company, down from 77.7% a year earlier. 
The poorer showing following an announcement by federal bank regulators this week that Wells Fargo' failed to correct deficiencies in its living will, a plan the biggest financial institutions are required to develop to prevent a bailout from taxpayers in case of failure. The mandate was instituted after the 2008 financial crisis.
As a result, the Federal Deposit Insurance Corp. and the Federal Reserve barred the bank from expanding international or buying non-bank companies.
November and December are slower months for account openings, which may have affected the numbers disclosed Thursday, Wells Fargo said.
"The headline risk for Wells has become unbearable for many, and that's the first time that I can ever recall that to be the case," TheStreet's Jim Cramer said.
Shares of Wells Fargo rose 0.07% Friday to $55.23, adding to its year-to-date gains of 1.6%.
EXCLUSIVE LOOK INSIDE: Wells Fargo is a holdings in Jim Cramer's Action Alerts PLUS charitable trust portfolio.Want to be alerted before Cramer buys or sells the stock? Learn more now.