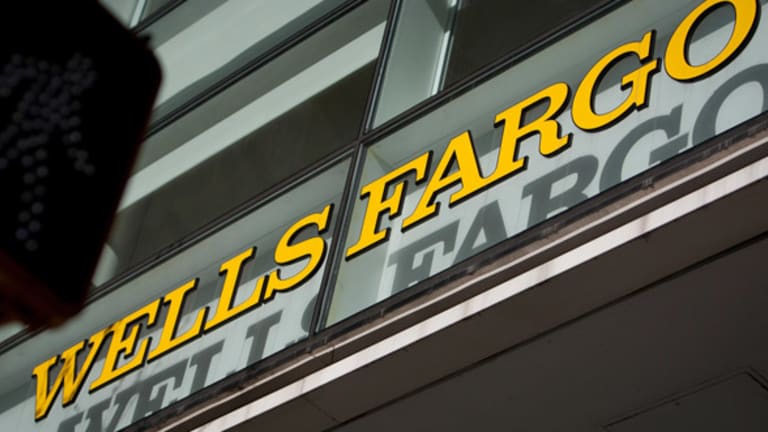 Publish date:
Wells Fargo Slashes Energy Firms' Credit Lines as Oil Slump Lingers
Wells Fargo cut credit lines on a majority of outstanding loans to energy exploration and production companies reviewed as crude prices hovered at less than half of a 2014 peak.
Wells Fargo cut credit lines on a majority of outstanding loans to energy exploration and production companies reviewed as crude prices hovered at less than half of a 2014 peak.
This article, originally published at 2:14 p.m. on Tuesday, May 24, 2016, has been updated with comments from analysts and executives.
Wells Fargo (WFC) - Get Report has reduced available credit lines on 68% of loans to energy exploration and production companies reviewed amid an ongoing slump in crude oil prices.
So-called E&P loans account for 55% of the San Francisco-based company's $17.8 billion in outstanding oil and gas loans, and the bank has completed a review of more than half of them so far, CFO John Shrewsberry told investors in a presentation on Tuesday.
Shares of the San Francisco bank and its rivals have tumbled this year as sliding oil prices spurred concern that energy companies would default on loans taken out when prices were more than twice as high.
Crude fell from a 2014 peak above $107 to around $26 a barrel earlier this year amid a global supply glut, before paring losses. The commodity was trading at $49.56 a barrel on Wednesday.
"We expect continued stress in the oil and gas portfolio," Shrewsberry said. "More credit losses will undoubtedly be realized," he noted, and the bank may have to increase its reserves against losses. Including credit lines that borrowers haven't yet drawn down, the San Francisco-based bank's oil and gas portfolio was valued at about $40.7 billion at the end of March. About 22% of those borrowers were investment grade.
Wells Fargo has the highest ratio of problem loans to total energy loans of the large-cap banks tracked by Morgan Stanley, analyst Betsy Graseck said in a note to clients last week. That may force the bank to increase reserves and lead to lower earnings per share this year than last, she noted, since each percentage-point increase in reserves lowers per-share profit by 50 basis points.
"Energy exposure is a major overhang on shares of Wells Fargo, despite the recent increase in the price of oil," Brian Kleinhanzl, an analyst at brokerage firm Keefe, Bruyette & Woods, said in a note to clients on Monday.. 
At Wells Fargo's last investor day two years ago, executives highlighted the wholesale banking unit's support of Breitburn Energy Partners, particularly through dealmaking, Kleinhanzl noted. One week ago, Breitburn filed for Chapter 11 bankruptcy protection in New York.
"This is a perfect example of why investors are concerned about Wells' energy exposure," he said. "There is a fear in the market that bankruptcies and restructuring in the energy sector will increase, and Wells may be disproportionately affected."
While the company's risk of energy-loan defaults appears manageable, he noted on Wednesday that if oil falls back below $30 a barrel, "and stays at those low levels for an extended period of time, then our EPS estimates could prove to be too optimistic."
A bigger risk to the stock is the potential for broader deterioration in the U.S. economy, and there are no signs of that so far, Susan Roth Katzke, a Credit Suisse analyst, said in a note to clients.
Wells Fargo, a holding in Jim Cramer's Action Alerts PLUScharitable trust, has fallen 9.8% this year to $50.50, a larger decline than the broader KBW Bank Index or the S&P 500 Financials Index. 
"Our total exposure is manageable," Shrewsberry said on an April earnings call. "While the level of losses we have in our oil and gas portfolio will continue to be impacted by the volatility and stress in the industry, and it will take time to move through this part of the cycle, the experience of managing through many cycles will continue to be beneficial."
One point in the bank's favor is the potential for an interest-rate increase, possibly as soon as June, Cramer said in a note to investors on Friday. Bank margins have been constricted since 2008, when the Federal Reserve cut interest rates to nearly zero and kept them there for seven years.
The central bank projected as many as four rate hikes this year, after raising them by 25 basis points in December, but quickly halved that forecast amid global market volatility spurred in part by falling oil prices.
While Wells may not benefit as much as its rivals, "the prospect for higher rates still helps widen the spread between what banks charge on loans and what they charge on deposits, thus lifting margins and boosting earnings power," Cramer said. 
EXCLUSIVE LOOK INSIDE: Want to be alerted before Cramer buys or sells Wells Fargo? Learn more now.