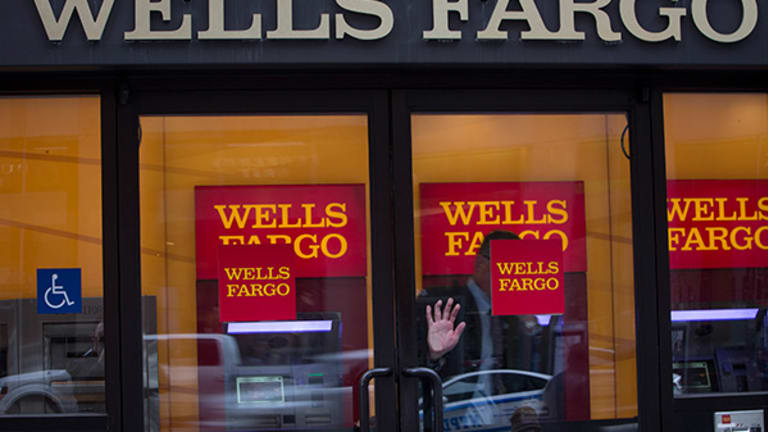 Publish date:
Added Worry for New Wells Fargo CEO: Branch Visits Dip After Scandal
Wells Fargo's revenue and net income beat analysts' estimates, but were dragged down by higher expenses related to the phony account scandal and personnel costs.
Wells Fargo's revenue and net income beat analysts' estimates, but were dragged down by higher expenses related to the phony account scandal and personnel costs.
The following article, originally published at 9:42 a.m. on Friday, Oct. 14, 2016, has been updated with comments from analysts and executives.
Wells Fargo (WFC) - Get Report  declined Friday after the embattled bank reported a nearly 3% drop in net income and CEO Tim Sloan fielded questions about how a phony accounts scandal might affect future earnings.
The shares dropped 0.4% to $44.56 in midday trading in New York, widening a previous year-to-date decline of 10% amid the disclosure that as many as 2 million unauthorized customer accounts were created over a five-year period by employees trying to meet sales goals.
The scandal, which led to a $185 million settlement with federal and state regulators, has also prompted a pullback by some customers, lawsuits by employees and investors and the abrupt retirement this week of CEO John Stumpf.
Sloan, his successor, attempted to reassure analysts and investors on an earnings call that the bank is taking the necessary steps to repair its reputation and make sure its business culture is "service-oriented" rather than "sales-oriented."
Wells Fargo's unauthorized accounts, which included checking, savings and credit cards, were opened by workers under pressure to meet cross-selling targets of as many as eight products per customer or lose their jobs. The revelations were particularly embarrassing for a company that had long bragged about the depth and profitability of its customer relationships.
The bank ended those targets at its retail branches on Oct. 1, and Sloan said it has also "made several changes to enhance our oversight, expand customer transparency, and improve the customer experience." 
The CEO noted that executives are paying close attention to branches, where customer visits fell 10% from the year before, consumer checking accounts plunged 25%, and credit card applications dropped 20%.
EXCLUSIVE LOOK INSIDE:Wells Fargo is a holding in Jim Cramer'sAction Alerts PLUS charitable trust portfolio.Want to be alerted before he buys or sellsthe stock?Learn more now.
At the same time, Wells Fargo's net interest margin, which measures lending profitability, dropped four basis points to 2.82%, noted Richard Bove, a Rafferty Capital Markets analyst who has a "sell" rating on the stock. 
"With that decline in the net interest margin, you have to do more sales to offset the decline," he said in a phone interview.  If, he added, "they ramped up the sales efforts because they weren't getting an increase in operating earnings and now they have to slow down the sales effort and they have to increase their costs, which would further reduce their margins, they are being squeezed at both ends."
Non-interest expenses rose 5% in the three months through September to $13.3 billion, with higher litigation costs, salaries and Federal Deposit Insurance Corp. coverage payments, the company said. The company says it expects to spend $50 million to enhance quality-assurance monitoring.
Profit of $1.03 a share at the bank, the third-largest in the U.S., compared with the $1.01 average of estimates compiled by FactSet, though net income fell 4% to $5.6 billion.
Despite its challenges, the San Francisco-based bank posted revenue of $22.3 billion in the three months through September, higher than analysts' projections and a 2% increase from the year before. That was fueled in part by higher interest income and improvements in its energy lending business, the company said. Wells Fargo also returned $3.2 billion to stockholders through dividends and buybacks.
Many of Wells Fargo's businesses reported their best non-interest income results in five quarters, a total of $10.4 billion, bolstered by strong mortgage banking income of $1.7 billion. Average loan balances jumped 7% to $957.5 billion.
Net interest income -- the difference between interest earned and interest paid -- increased by $219 million from last quarter to $12 billion, as "growth in investment securities, loans, trading assets and mortgages held for sale" helped make up for low rates.
"We see core businesses performing well, and we see Wells Fargo well-positioned for a possible rate increase, but also expect elevated expenses for several more quarters," Erik Oja, an analyst with CFRA Research, said in a note to clients. He has a buy rating on the stock and price target of $50. 
Barclays analyst Jason Goldberg also has a buy rating on the stock, but noted that its "monthly customer activity figures bear watching post recent sales-practice headlines."