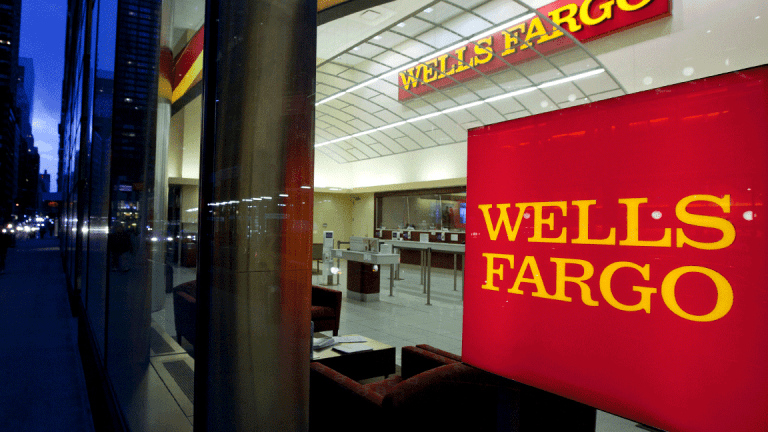 Wells Fargo Slips on UBS Downgrade to Neutral, Reduced Earnings Estimates
Wells Fargo shares slip after UBS reduces its rating on shares of the bank to neutral from buy.
Shares of Wells Fargo (WFC) - Get Report were down slightly to $48.23 Tuesday after UBS reduced its rating on the bank to neutral from buy and cut its earnings estimates.
Analyst Saul Martinez said the downgrade represents three factors: reductions to estimated 2020 and 2021 earnings per share from lower net interest income estimates; continued uncertainty about the timing and magnitude of efficiency improvements; and valuation considerations after outperformance in recent months.
The scandal-plagued Wells Fargo entered into a consent order Office of the Comptroller of the Currency and Consumer Financial Protection Bureau for a series of issues.
"We believe that WFC needs to move past the consent order before improving efficiency," Martinez wrote. "To improve operational risk/compliance practices, WFC has identified 'high single digit thousands' of processes across businesses and is evaluating risks/controls related to these processes. The efforts have added costs, and it is unclear to us when WFC can more fully shift focus from risk control to efficiency enhancements."
Martinez said he doesn't see return on total capital expanding until 2021 and net interest margin pressure is likely to be pronounced in the second half of 2019 and 2020.
"Getting past the consent order may be necessary to reduce expenses," he wrote, "but the timing of this remains unclear. For 2020, we forecast a ROTCE of 12.6% (13.0% in 2019), among the lowest in our coverage. 2021E ROTCE rises to 13.9%."
In July, Wells Fargo reported second-quarter earnings of $1.30 a share, up 32.6% from the same period last year and well ahead of the Wall Street consensus forecast of $1.15 a share. Revenue edged 2.6% higher to $21.6 billion, a figure that matched analysts' estimates. Mortgage income rose 7% from the prior quarter to $758 million.
Net interest margin, a key measure of bank profitability, slipped 9 basis points from the first three months of this year to 2.82% and was down 11 basis points from the same period last year. Net interest income was also lower, down $533 million to $13.4 billion.