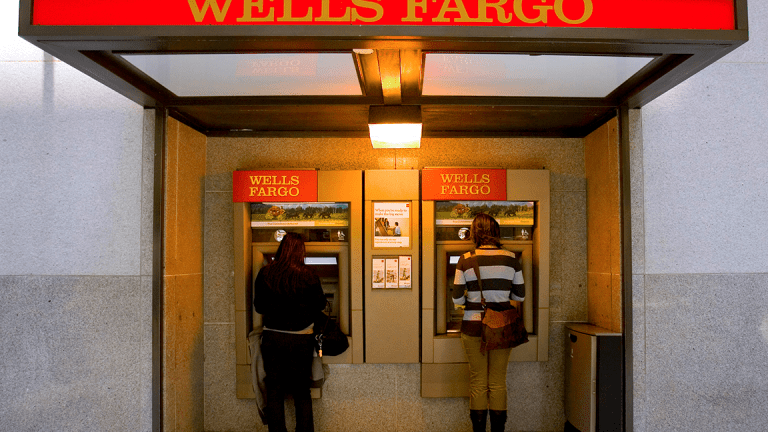 Wells Fargo Closes Lower in Wake of Network Outages
Shares of Wells Fargo fell for a second day Friday as the bank struggled to recover from a nationwide outage that hit its network yesterday.
Shares of Wells Fargo & Co. (WFC) - Get Free Report  fell 0.9% Friday, a day after an outage that disrupted its banking system nationwide on Thursday.
It was the second outage to hit the troubled bank in a week.
In a statement late Friday, the bank said it is keeping its branches open an extra hour Friday and Saturday and that any Wells Fargo fees incurred because of the outages would be reversed. 
The bank said mobile and online banking systems are still experiencing some delays.
In addition, the bank said that some transactions, balances and payroll deposits were not visible online or at ATMs Thursday or early Friday, but that the transactions had been processed. 
Wells Fargo CEO Tim Sloan said "our recovery from these issues was not as rapid as we or our customers would have expected. We will review the system issues in detail, and do all we can to ensure that this type of disruption doesn't happen again," according to the statement.
The bank blamed the outages on " an automatic power shutdown at one of Wells Fargo's main data-center facilities, triggered by a smoke condition created by routine maintenance activities in the building."
It said "Applications were systematically re-routed to back-up data centers throughout the day yesterday. By end-of-day, most critical systems had been recovered, and Wells Fargo continues to restore services across all business and operational areas."
Wells Fargo shares fell 2.3% late Thursday as the outages spread. 
Wells Fargo CEO Tim Sloan recently announced that severe restrictions by the Federal Reserve which limit the bank's growth will continue through the end of 2019. The Fed imposed the limits to force the bank to reform its management structure following a series of consumer abuse scandals in recent years.
Sloan has been targeted by Sen. Elizabeth Warren, who called for his removal in a series of tweets last month.