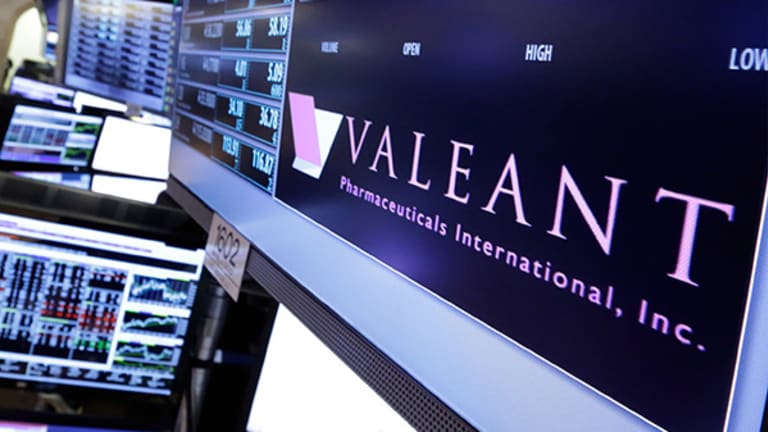 Wells Fargo Says Even Bausch & Lomb Sale May Not Solve Valeant Problems
In a research note to investors, Wells Fargo analyst said he believes a possible sale of Bausch & Lomb may not solve all Valeant's debt problems, as it may...
In a research note to investors, Wells Fargo analyst David Maris said he believes a possible sale of Bausch & Lomb may not solve all Valeant's (VRX) debt problems, as it may be worth less now than what the drugmaker paid to acquire it three years ago. Maris reiterated his call to sell Valeant shares, maintaining an Underperform rating on the stock. Although expressing similar concerns, BMO Capital analyst Gary Nachman is less bearish on the company, initiating coverage of Valeant yesterday with a Market Perform rating.
BAUSCH & LOMB NOT WORTHLESS, BUT WORTH LESS: Wells Fargo's Maris, who has maintained an Underperform rating on Valeant since initiating coverage of the stock on February 19, said in a new note to investors that he believes selling Bausch & Lomb will not bring what some may expect to Valeant if the company were to pursue a sale of the unit as it explores options to pay down debt. It seems like Bausch & Lomb may not have grown during Valeant's ownership and appears to be worth less now than the $8.7B Valeant paid for it in 2013, the analyst added. Assuming a sale in the $7B-$8B range, Maris believes Valeant may still be at risk of violating debt covenants in 2017. The analyst sees the shares carrying too much risk, given opaqueness related to accounting issues, unanswered questions related to business practices, and confusion over how the Walgreens (WBA) deal actually benefits Valeant. Maris reiterated a $17-$22 price range target on Valeant's shares.
STAY ON SIDELINES: Yesterday, BMO Capital's Nachman initiated Valeant with a Market Perform and $26 price target. In a note to investors, the analyst noted that the company's debt remains a "substantial overhang," the fundamentals of its businesses have changed dramatically, and guidance has come down hard and fast. Also remaining on the sidelines, Morgan Stanley analyst David Risinger lowered his estimates for the company on Friday, saying he over-estimated earnings and under-estimated SG&A. The analyst lowered his second quarter earnings estimate to $1.50 from $1.68, versus consensus of $1.59, due to higher costs from ongoing legal fees, Board expenses, and its ad hoc committee. Additionally, Risinger lowered 2016 EPS expectations to $6.40, below the low-end of management's guidance range of $6.60 to $7.00 per share. While he believes future divestitures could yield much needed debt paydown, it may also result in lower go-forward income statement figures. Risinger reiterated an Equal Weight rating and $33 price target on Valeant shares. Last Thursday, JPMorgan analyst Chris Schott downgraded Valeant to Neutral from Overweight as he sees a number of near-term uncertainties around its core business trends outweighing the attractive sum-of-the-parts valuation he attributes to the company. Schott does not see a clear path to re-acceleration for Xifaxan for the treatment of irritable-bowel disease, which he believes is a key growth driver for the company. He reiterated a $35 price target on the shares.
PRICE ACTION: In morning trading, shares of Valeant are up fractionally to $20.02. Over the last three months the stock is down over 30% and over the last twelve months Valeant shares have plunged by more than 90%.
Reporting by Jessica de Sa-Mota.
Exclusive Look Inside:
You see Jim Cramer on TV. Now, see where he invests his money and why Walgreens is a core holding of his multi-million dollar portfolio.
Want to be alerted before Jim Cramer buys or sells WBA? Learn more now.

The Fly
is a leading digital publisher of real-time financial news. Our financial market experts understand that news impacting stock prices can originate from anywhere, at any time. The Fly team scours all sources of company news, from mainstream to cutting-edge, then filters out the noise to deliver short-form stories consisting of only market moving content. Follow @theflynews on Twitter. For a free trial, click