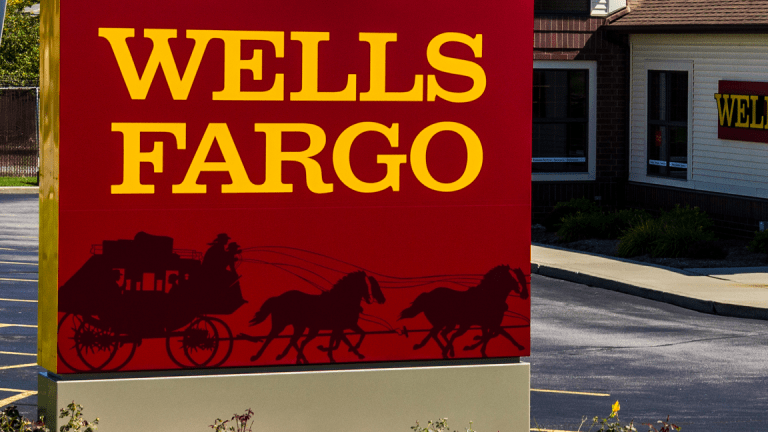 Wells Fargo Falls Most in a Year on Signs Scandals Taking Toll
Wells Fargo posted a decline in earnings, a further setback as the bank tries to revamp its practices following a series of scandals.
Wells Fargo & Co. (WFC) - Get Report  shares fell the most in six months after the bank posted an unexpectedly large drop in third-quarter profit and executives signaled that the scandals of recent years are now clearly weighing on loan growth and driving up expenses. 
Net income plunged 19% to $4.6 billion, reflecting not just the shrinking profit margin but a one-time cost of $1 billion to cover regulatory investigations into mortgage-underwriting practices prior to the 2008 financial crisis. Earnings per share were 84 cents, below the $1.02 average estimate of 28 analysts in a FactSet survey.
The company has been under pressure to prove it can maintain earnings growth following allegations by customers, regulators and former employees that it used overly aggressive sales practices -- including the creation of unauthorized customer accounts -- to boost account numbers and achieve business targets over the past decade.
Instead, Wells Fargo CFO John Shrewsberry, during a conference call with analysts on Friday, detailed how profit margins are shrinking, party due to increased costs to address regulators' concerns along with additional expenses for cybersecurity and data modernization. At the same time, Shrewsberry acknowledged, the beleaguered consumer bank's efforts to overhaul its sales strategy has led to a drop in the number of internal customer referrals for products like mortgages, home-equity loans and credit cards. 
The stock tumbled 3.3% to $53.40 in New York Stock Exchange trading. The lingering impact of the scandal has pushed Wells Fargo's share price down this year, even as rivals like JPMorgan Chase & Co. (JPM) - Get Report , Bank of America Corp. (BAC) - Get Report and Citigroup Inc. (C) - Get Report have notched double-digit-percentage gains.
"We believe the consumer bank will be a drag on performance well into 2018 from prior aggressive sales tactics," Ken Leon, an analyst with CFRA Research, wrote in a note to clients on Friday, Oct. 13.  
In September, the lender agreed to a $185 million settlement with federal and local regulators over the creation of more than 2 million unauthorized customer accounts from 2011 through 2015 by workers trying to meet their quotas. An expanded review that included 2009 and 2010 revealed as many as 1.5 million additional unauthorized accounts. 
This year, the company further conceded that it had erroneously charged some 490,000 car-loan customers for insurance they didn't need.
Tim Sloan, Wells Fargo's CEO, has been under pressure from investors, regulators and lawmakers to overhaul the bank's culture, in which branch staff were pressured to meet aggressive goals for sales growth and product referrals. 
Wells Fargo's board of directors on Oct. 12, 2016, named Sloan to replace former CEO John Stumpf, who presided over the bank as many of the improper sales tactics were developed and deployed. A three-decade veteran of the bank, Sloan was called to testify in Washington before U.S. lawmakers on Oct. 3, and U.S. Senator Elizabeth Warren called for him to be fired.
Sloan noted to investors on Friday's call that he's now been CEO for exactly a year and one day.
"Maybe two, I don't know," he said. "It seems like forever."
Revenue in the third quarter slipped by 2% to $21.9 billion, as fees from mortgage banking and other income declined, the bank said. At the same time, non-interest expenses climbed 8% to $14.4 billion. 
The bank's "efficiency ratio" -- non-interest expenses divided by revenue, a sort of profit margin in reverse -- climbed to 66% during the quarter from 61% in the second quarter and 59% a year earlier. 
Shrewsberry said the full-2017 efficiency ratio is likely to come in near the top end of a previously projected range of 60% to 61%. The bank still hopes to get the number down to 59% "at some point next year," he said.
"The reason why our 2017 efficiency ratio is now expected to be higher than we anticipated last quarter is due to lower-than-expected earning-asset growth and higher-than-expected expenses, primarily for cyber, regulatory initiatives and data modernization," he said.  
Asked by one analyst when the bank might be able to safely assert that no more scandals are likely to be disclosed, Wells Fargo CEO Tim Sloan declined to answer. 
"I can't commit to you that we've finished everything because things are still in progress," Sloan said. "It would be a mistake to put a stake in the ground and say everything's got to be done by a certain date, because then what happens is people might rush to get an answer. I don't want them to rush the answer. I want them to get the right answer." 
Updated from 8:40 a.m. ET on Friday, Oct. 13, 2017
More of What's Trending on TheStreet: