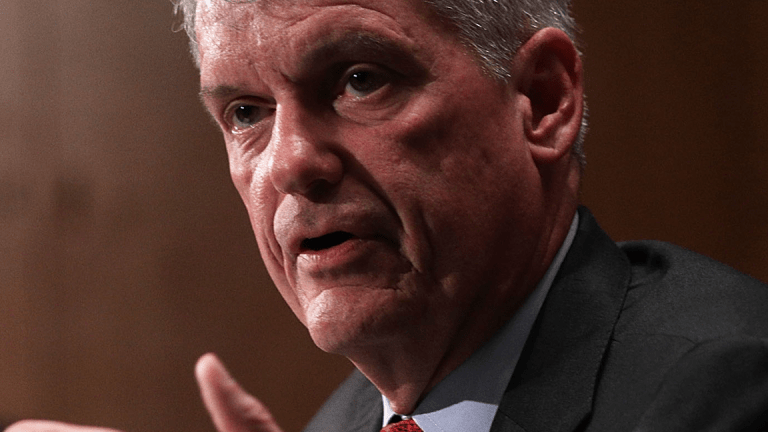 Wells Fargo, Poster Child for Bad Customer Service, Seeks to Be the Best
Wells Fargo, led by CEO Tim Sloan, is struggling to recover from a series of scandals stemming from an alleged corporate culture of aggressive sales practices, including the opening of millions of unauthorized accounts on behalf of customers and selling them unnecessary auto insurance. In a presentation Thursday, Sloan said the company's turnaround plan is hinged partly on improving customer service.
Here's a lesson Wells Fargo & Co. (WFC) - Get Wells Fargo & Company Report CEO Tim Sloan appears to have learned: Be nice to your customers.
The San-Francisco bank has paid about $2 billion in fines and extra legal costs to resolve allegations that it used overly aggressive sales practices over the past decade, including opening millions of accounts without customers' knowledge and charging auto borrowers for insurance they didn't need.
Yet in a presentation to investors on Thursday, Sloan said that Wells Fargo now wants to be "THE financial services leader" -- his emphasis -- in customer service and advice. As in, better than big-bank rivals like JPMorgan Chase & Co. (JPM) - Get JPMorgan Chase & Co. Report and Bank of America Corp. (BAC) - Get Bank of America Corp Report as well as the thousands of smaller regional and community firms in the U.S.
Following a slew of costly regulatory probes into the sales practices and an unprecedented ban on future asset growth imposed earlier this year by the U.S. Federal Reserve, Wells Fargo's customer service had become something of a punchline, and a case study on how not to run a business. The scandal has sent Wells Fargo's shares down 9.8% this year, while JPMorgan shareholders have seen a 6.9% gain and the Standard & Poor's 500 Index of large U.S. stocks is up 1.8%.
Wells Fargo is "examining our practices and processes, working to address issues and taking steps to ensure they never happen again," Sloan, 57, said in the presentation. "We want to exceed customer expectations and build relationships that last a lifetime."
The shift would represent a remarkable turnaround in corporate strategy following years in which former Wells Fargo CEOs Richard Kovacevich and John Stumpf touted the benefits of "cross-selling," essentially the idea that account executives would push customers hard to buy as many of the bank's products as possible, from simple checking accounts to home loans, brokerage accounts and insurance.
Wells Fargo disclosed last week that it reached agreement to pay $480 million to resolve a securities-fraud case brought by shareholders alleging that the bank misstated and omitted key facts about its sales practices. Last month, the bank agreed to pay a total of $1 billion in penalties to the Consumer Financial Protection Bureau and Office of the Comptroller of the Currency related to its auto insurance policies and other allegations that mortgage applicants were unfairly charged for extending interest-rate guarantees.
The bank has also overhauled its board of directors, installing former Fed Governor Betsy Duke as the new chair and retiring members who failed to stop the scandal. The company also has given women a greater share of the votes on the board -- a practice that corporate-governance advocates argue will improve risk management and lead to superior long-term investment returns.  
Wells Fargo CFO John Shrewsberry told investors Thursday that the estimated after-tax costs due to the Fed's asset-growth ban would be less than $100 million this year, due to lower-than-expected loan growth. Previously the bank had estimated that the sanction would cost $300 million to $400 million.
On the downside, the company now is planning for the ban to remain in effect "through the first part of 2019," according to a Wells Fargo regulatory filing Thursday. 
"The company has had constructive dialogue with and received detailed feedback from the Federal Reserve regarding the governance and oversight," the company said, citing comments by Sloan at a meeting with investors. The extended timeframe will allow "enough time to incorporate this feedback into the plans in a thoughtful manner." 
In the meantime, though, the bank's corporate strategy is increasingly looking like a primer on best business practices.
One key change entails "creating solutions that help our customers live better lives," rather than "delivering products that best fit our capabilities," Sloan said in the presentation. There's also a plan to move away from the self-serving tactic of "offering products through the channels that work best for us" in favor of "striving to meet our customers' needs wherever they are."
The bank also plans more tailoring of its product lineup, going from "similar value propositions for all customer segments" to "enhanced and differentiated to ensure we meet the unique needs that matter most."
Customers are now getting some 20 million alerts a month warning them of low or zero deposit balances, and the bank introduced a new program that will help some 800,000 customers avoid overdraft fees, according to the presentation.
And he said that any internal analysis of new and existing businesses at Wells Fargo will incorporate their "strategic importance to customers," which should help to deliver "strong returns and sustainable earnings growth."
Who knew?
JPMorgan & Chase is a holding in Jim Cramer's Action Alerts PLUS.