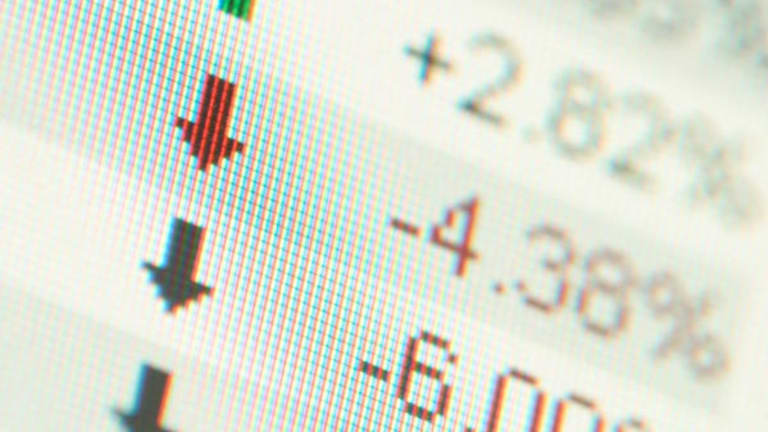 JPMorgan, Wells Fargo: Financial Losers
A JPMorgan rethink and foreclosure woes sinks the sector.
Story updated with closing prices.
NEW YORK (
) -- Bank stocks got hammered Thursday as investor fears deepened over potential fallout from improper foreclosures.
Wells Fargo
(WFC) - Get Wells Fargo & Company Report
, which, unlike
Bank of America
(BAC) - Get Bank of America Corp Report
and
JPMorgan Chase
(JPM) - Get JPMorgan Chase & Co. Report
has been resistant to demands it halt foreclosures, is the latest subject of negative headlines over the issue.
Investors appeared indiscriminate, however, driving down shares of all those banks, as well as
Citigroup
(C) - Get Citigroup Inc. Report
, a relatively smaller player in the U.S. home loan market. Wells shares were down by 4.22% to $24.72, Bank of America was off by 5.19%, to $12.60, Citigroup was down by 4.47%, to $4.06 and JPMorgan was lower by 2.81% to $38.72.
Late Wednesday,
Financial Times
found court testimony from a midlevel Wells Fargo employee, Xee Moua, who said she signed off on up to 500 "foreclosure-related documents," daily.
A report by
The New York Times
found that many of the banking industry employees working through the mortgages were so inexperienced they barely knew what a mortgage was, with one unnamed former JPMorgan executive deriding them as "
." The report says some of these off-the-turnip truck employees worked for
Goldman Sachs
(GS) - Get Goldman Sachs Group, Inc. Report
-owned
Litton Loan Servicing
. Shares of Goldman were down by 2.03% on Thursday.
"The banks are clearly guilty of sloppiness: there's no doubt about it," says Anton Schutz, president at Mendon Capital, which owns all the largest banks, though in relatively small concentrations. Still, Schutz believes the banks must have some rights as well, a fact he believes investors are ignoring at the moment.
"The majority of these people
being foreclosed upon have not paid their bills in a year." Schutz says he believes the banks are a buy amid the selloff, though he declined to discuss what action he will take with the funds he manages.
Rochdale Securities analyst Dick Bove does not believe the selloff is being driven by the foreclosure issue, but rather by weak earnings from JPMorgan Wednesday morning.
Bove points to the fact that bank stocks began the selloff Wednesday afternoon, after analysts had a chance to digest the numbers and talk with investors. Though the headline number was strong, Bove argues it was driven largely by clever accounting.
"They used every trick in the book to produce a good number for the quarter, but the underlying businesses were lousy," Bove says.
In a report published Thursday, Bove cites seven things management did "back in the day" to give earnings an artificial lift, including borrowing aggressively in the Federal Reserve funds and repo markets at low rates and reinvesting the funds in securities that generated low margins but high volume.
"It appears that the bank understands well the "back-in-the-day" mechanics and may have used them in the third quarter," Bove writes.
--
Written by Dan Freed in New York
.
Disclosure: TheStreet's editorial policy prohibits staff editors, reporters and analysts from holding positions in any individual stocks.