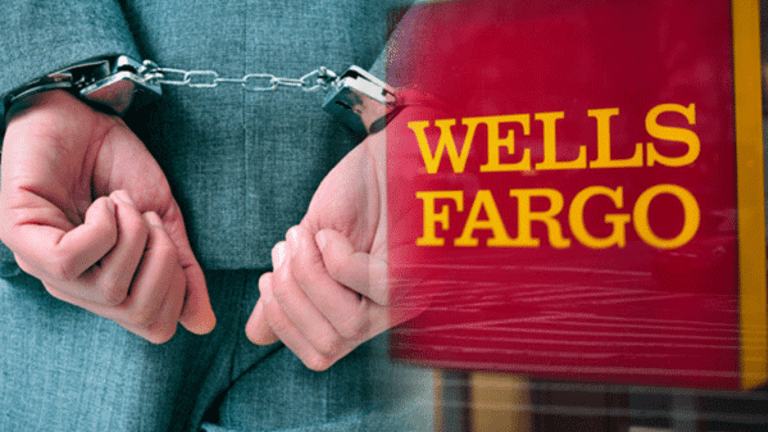 Don't Forget, the Barrage of Bad News for Wells Fargo Will Soon Become a Distant Memory
Another day, another Wells Fargo scandal. But this too shall pass.
Monday's news about Wells Fargo (WFC) - Get Wells Fargo & Company Report is certainly damning: the bank announced that it is "clawing back" another $75 million from two top executives, former CEO John Stumpf and community bank executive Carrie Tolstedt, excoriating them for playing key roles in the scandal whereby the bank set up unauthorized accounts for customers.
These harsh disciplinary steps stem from a 110-page, six-month investigation by Wells Fargo's independent directors into the overly aggressive sales culture that spawned the creation of as many as 2 million fake accounts.
Wells Fargo's new and highly regarded CEO, Tim Sloan, said in a conference call with reporters it was "frustrating" to hear these charges. The bank already has paid $185 million in fines to federal and local authorities, settled a $110 million class-action lawsuit, and fired 5,300 employees.
And yet, it's telling that WFC's stock price hardly moved on Monday. That's because Wall Street is wisely focusing on the bank's strong numbers, not on this temporary (albeit warranted) bad publicity. Despite these political embarrassments, WFC remains a solid long-term bet on growth.
Wells Fargo is the fourth-largest holding in Warren Buffett's Berkshire Hathaway (BRK.A) - Get Berkshire Hathaway Inc. Class A Report (BRK.B) - Get Berkshire Hathaway Inc. Class B Report , which should tell you something. The Oracle of Omaha is a big advocate of the bank and has stuck with WFC through thick and thin. Wells is by far the leader in the U.S. mortgage market, which continues to recover as the economy expands and unemployment declines. That said, the bank also is diversified and provides wealth management and brokerage services, two segments with high margins.
Thursday is an important day for WFC and the banking sector, when the following banks are scheduled to report earnings: Citigroup (C) - Get Citigroup Inc. Report , Commerce Bancshares (CBSH) - Get Commerce Bancshares, Inc. Report , First Horizon (FHN) - Get First Horizon Corporation Report , First Republic Bank (FRC) - Get First Republic Bank Report , JPMorgan Chase (JPM) - Get JPMorgan Chase & Co. Report , PacWest Bancorp (PACW) - Get PacWest Bancorp Report , PNCFinancial Services Group (PNC) - Get PNC Financial Services Group, Inc. Report , and Wells Fargo. Generally, earnings for the sector are expected to be healthy.
The Wall Street consensus is that WFC's earning per share (EPS) in the quarter will come in at 97 cents, a modest dip compared to EPS of 99 cents in the same period a year ago. However, earnings momentum us expected to pick up over the long haul.
The average analyst expectation is that WFC will rack up year-over-year earnings growth of 4% in the next quarter, 3.7% in the current year, 9.5% next year and 7.4% over the next five years on an annualized basis.
WFC's trailing 12-month price-to-earnings ratio (P/E) is only 13.7, compared to 16.5 for its industry. The dividend yield is a healthy 2.77%.
The upshot: Buy WFC shares ahead of earnings. The negative headlines will soon become distant memory, but the bank's growth trajectory will prevail.
Boring, Predictable, No-Surprises Strategy Safely Generates $67,548
If big, triple-digit winners get your adrenaline pumping, then stop reading this right now. Because this probably isn't for you... Only traders who would calmly enjoy raking in an extra $67,548 with no surprises or hiccups will appreciate this strategy. In fact, over the course of 1,586 days, I've been leisurely collecting giant payouts with this boring approach. I win 8 out of every 10 trades - GUARANTEED. Click here to join me.
John Persinos is an analyst with Investing Daily. At the time of publication, he owned stock in Wells Fargo.
Action Alerts PLUS, which Cramer manages as a charitable trust, is long WFC and C.