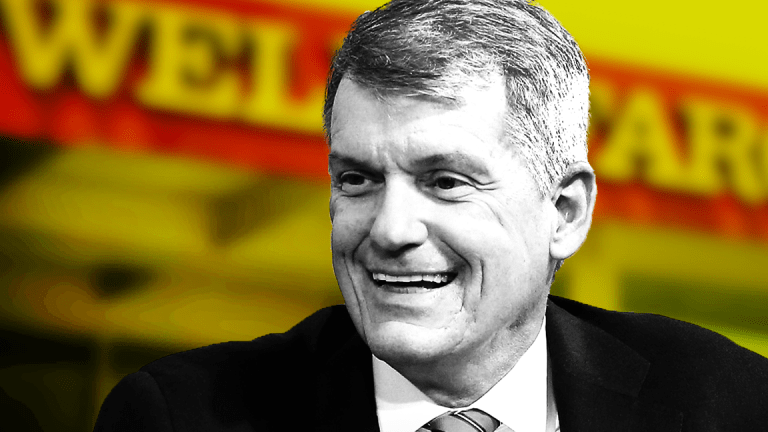 Wells Fargo CEO Tim Sloan Steps Down, Allen Parker Promoted to Interim CEO
Sloan had been under fire for numerous missteps and scandals at the bank under his leadership.
Embattled Wells Fargo (WFC) - Get Wells Fargo & Company Report CEO Tim Sloan has told the company's board that he will retire on June 30, 2019, and will step down as CEO, president and board member effective immediately. 
The board has elected C. Allen Parker, who previously served as the company's general counsel, to serve as interim CEO and President and board member. Sloan had served as Wells Fargo's CEO since October 2016 and the company said it would now begin a search for a new permanent CEO and President.
Wells Fargo shares were rising 2.6% in after hours trading after the news was announced. Shares have declined about 5% over the time that Sloan has been CEO. 
"Tim Sloan has served this Company with pride and dedication for more than 31 years, including in his role as CEO since October 2016," said Wells Fargo Board Chair Betsy Duke in a statement. "His decision, and today's announcement, reflect that commitment and his belief that a new CEO at this time will best position the Company for success."
Wells Fargo has been at the center of numerous scandals over the past three years and recently faced growing political pressure to replace Sloan. 
In September 2016, the company admitted that it had created millions of accounts in the names of clients without their permission. That incident brought with it $185 million in fines from the Office of the Comptroller of the Currency (OCC), the Consumer Financial Protection Bureau, and the city and county of Los Angeles.
Later on that month, the Department of Justice chastised the San Francisco-based bank for improperly repossessing the cars of members of the military. The bank ended up paying $20 million in fines to the OCC for the misstep. 
Then in March 2017 the company upped the number of fake accounts that it created to 3.5 million from the initial figure of 2.1 million. 
In April 2017, the Occupational Safety and Health Administration ordered the company to pay a former wealth manager $5.4 million in restitution after he was fired in 2010 after reporting potential fraud to a hotline. 
In February 2018, the Federal Reserve announced that it would restrict the bank's growth due to "widespread consumer abuses and compliance breakdowns."
In March 2018, the Wall Street Journal reported that the Justice Department ordered Wells Fargo to investigate its wealth-management business to make sure that there were no "inappropriate referrals or recommendations."
Finally, in April 2018 the bank reached a $1 billion settlement with the CFPB and OCC for auto-loan issues and mortgage practices. The bank admitted that it charged people with car loans for insurance without their knowledge, sometimes even if they already had insurance. 
All of these incidences, and others, led Wells Fargo, and Sloan in particular to become a target of U.S. Sen. and Democratic presidential candidate Elizabeth Warren (D-MA), who told Sloan at a hearing on Capitol Hill that he should be fired.
Warren also sent a letter to Federal Reserve Chairman Jerome Powell calling on the Fed to maintain its growth cap on the bank until it decided to replace Sloan.